The Clark Fork River continues its tear through Missoula, with new evacuation orders issued for 10 homes late Thursday and more than 800 homes under  evacuation warning.
Also Thursday night, first responders pulled from the churning river a man who'd been trying to get back to his camp on a now-partially submerged island in the Clark Fork near the Reserve Street bridge.
The man apparently had purchased a raft earlier Thursday, but when he set out on the river, "he underestimated the current," said Jeff Brandt, assistant chief of operations for the Missoula Fire Department.
Fire department personnel had been working along the riverbank Thursday evening, assessing the situation with the fast-rising river — now approaching 100-year flood levels — when they noticed the man in his raft, hanging onto a tree, Brandt said. The department deployed its rescue watercraft and the man was pulled to safety, he said. Aside from his time in the cold water, the man appeared to be all right, he said.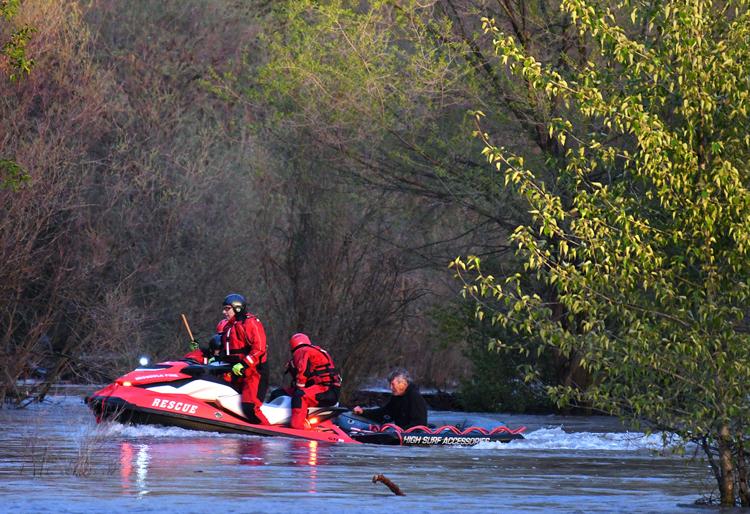 Although eight people camping on the island initially heeded warnings and left, four returned Thursday, he said. "Their situation is not the best," said Brandt.
Most of the homes under evacuation warning are in the Orchard Homes area. Flows at the river gauge upstream from Missoula put the water level at 13 feet Thursday afternoon, and the National Weather Service predicts flows will crest at 14 feet by Saturday. Below Missoula, where the Bitterroot and Clark Fork converge, the water was flowing close to 50,000 cubic feet per second, which is close to five times the daily median at this time during the past 88 years.
"This is going to be one of the top floods in the last 100 years," said Ray Nickless, a hydrologist with the National Weather Service in Missoula. "People need to be aware coming into the Orchard Homes area that the water is spreading out and it's unpredictable how it's going to move. Be aware that at any point in time we don't know the water depth in that Orchard Homes area."
Sheriff T.J. McDermott said on Thursday morning that this is a critical time to assess if, when and where additional evacuation orders will be necessary, both in the Missoula area and in Seeley Lake.
Late Thursday, three more homes were ordered evacuated, and 10 more were issued evacuation warnings, this time in the Harpers Bridge Road area, west of Missoula off of Mullan Road. Those who received evacuation orders were working on moving livestock, according to the Missoula County Sheriff's Office. Two evacuation orders were also issued on Hamel Road after water started running across the street.
Lt. Gov. Mike Cooney toured the portion of Orchard Homes where 60 residences — mainly mobile homes — already are under evacuation orders. Many of those living there declined to leave, and Cooney noted that he understood their dilemma, after facing an evacuation order himself when a wildfire threatened his home in Helena last summer.
As he surveyed the scene around him — where water flowed like a river past the trailers, and former gardens were flooded, their faded prayer flags fluttering from fence posts — Cooney pledged to offer state aid if needed.
"Even one house that's affected is one house too many," Cooney said. "I feel bad for the families that have to deal with this. It will take a long time to come back and make it feel like home again. It's a very, very sad situation."
Dale Hopkins lives with his wife on Flamingo Drive near the worst of the flooding. However, groundwater was his foe on Thursday. His entire crawlspace had flooded, and he had been running a pump for hours to drain water into the street in front of his house.
"I've lived here since 1998 and it's about as bad as I've seen it," he said. "We're OK, though. I feel bad for the people closer to the river."
Earlier in the day, Cooney stopped by the sandbagging operation near Wheat Montana off Reserve Street and loaded a few bags himself. He also thanked the volunteers working there, including Bill Tocholke, whose truck was loaded with a pallet of sandbags.
"I'm a 100 percent disabled vet with nothing else to do, so why not help out?" Tocholke said. "That's how things are done here."
The Army Corps of Engineers has brought in more than 75,000 bags that volunteers have loaded with 200 tons of sand as of Wednesday and distributed.
The threat of flooding hasn't stopped development in the Orchard Homes area. Nearby, a 4.14-acre piece of land is slated to become the Grove Street Townhomes, a controversial high-density subdivision that would include roughly 30 homes. That piece of property looked as though rainwater and groundwater had collected in areas that had been excavated for utilities, but the subdivision is actually farther from the river than a neighborhood of newer homes nearby.
Nickless said meteorologists haven't seen flooding like this since 1981.
"It's already surpassed the flood of 2011," Nickless said. "The massive snowpack we've built this winter is melting out of the mountains and now we have the rain coming in. So all that's combining to a flood like we haven't seen in about 40 years. It's a pretty historical type of flood and the impacts will be here in Missoula and areas downstream."
Temperatures are expected to drop into the 50s on Friday, but bounce back into the 70s by Monday. Nickless said the water levels could drop slightly, but he expects them to start climbing again next week.
"We still have so much snow in the mountains. Some of the snow-measuring devices show upward of 50 to 60 inches of snow water content," Nickless said. "One inch at a time will put the river continually up during the month of May. Hopefully we don't get a huge storm on top of it."
You have free articles remaining.
Keep reading for FREE!
Enjoy more articles by signing up or logging in. No credit card required.
Jess Jordan with the Army Corps of Engineers said his team is checking the levies and they all appear to be holding up well. They've also looked for problems at the water treatment plant, which flooded in 2011, and said that work done since then appears to be keeping the rising water at bay.
On Thursday, the Corps sent crews to Plains and Sanders County to help strengthen two areas at risk of scour on the 1948 levee. 
Jordan is working with Adriane Beck and the Missoula Office of Emergency Management to ascertain the stability of the earthen berms at the old Smurfit-Stone mill site that separate historic holding ponds and their contaminants from the river channel. Both Missoula County and the Clark Fork Coalition have voiced concerns, especially since little if any regular maintenance has been done on the ponds since the mill closed in 2009.
Travis Ross with the Missoula Valley Water Quality District said the sludge ponds hold a mix of metals including cobalt, manganese and arsenic, as well as dioxins and fly ash. The floodwaters are at the same level as the 2011 flood, which leaves them about 7 or 8 feet from the top of the berm.
But he's not just worried about the water flowing over the 2.5-mile berm; he's also concerned that the saturated groundwater may push through the unlined ponds and carry contaminants with it.
"There's quite a bit of material behind the berms, as well as in the ponds," Ross said. "Two major concerns are the waste being inundated from underground and the groundwater saturating and mobilizing the metals and dioxins. That could be catastrophic." 
In another area of concern, Capt. Anthony Rio with the Missoula County Sheriff's Office said they're also working with the Army Corps of Engineers to stabilize three trailers in the Schmidt Road area that came off their foundations due to floodwaters reaching halfway up their walls.
"Yesterday we tried to go there to retrieve them, but it was too dangerous with the flooding and debris — there's full trees floating by them," Rio said. "If we need to, we can do something like build a temporary levy to divert the water so we can get the equipment in there. It would be a fairly large effort, but we are looking at doing that if the situation becomes acute."
They fear that the trailers could float downstream and catch on or take out the Kona Bridge.
Officials helped about half a dozen transients off of a small island on the southwest corner of the Reserve Street bridge. 
"One male needed to be rescued, and six or seven others were trying to facilitate that," Brandt said. "We are arranging for housing and food for them at this time. We have one person who said he's staying there no matter what."
Montana Fish, Wildlife and Parks has closed many fishing access sites in west-central Montana on Thursday. On the Clark Fork, those include Sha-Ron, Kelly Island, Kona, Deep Creek and Harpers Bridge. The Council Grove State Park also is closed, and access is limited at Schwartz Creek and Turah.
FWP also closed the gates or created temporary barriers at sites along the Bitterroot and Blackfoot rivers
Rio said they're also trying to work with landowners who are sandbagging their property and inadvertently pushing the water onto their neighbors' property.
Brandt urged people to limit their exposure to the floodwaters and stay away from affected areas if possible. If they can't stay away because they're helping those affected by the floods, he warned that the water is extremely cold and can cause hypothermia.
Ha also warned about other hazards, including underground and overhead utilities. Natural gas has been shut off in 54 homes to try to mitigate that hazard and protect the large lines as well as the smaller "feeder" lines.
"If you see overhead power lines that are down, treat them as live or energized," Brandt said. "Stay away and we will get folks there."
Cooney praised Missoula County's efforts, noting that the county was well prepared.
"You're dealing with it and your citizens are dealing with it," Cooney said. "You've done a very good, very competent, very thorough job. If there's anything else we can do … open up a few more doors for resources or things like that, please let us know how to help you do your job.
"This will continue, probably for the next month, and beyond that. Let us know how whatever we can do to help you."
McDermott acknowledged that his staff is getting tired — as are area residents — and they anticipate that the flood season will quickly segue into fire season.
"Obviously this will be a long-term event," he said. "I think as the event moves forward we need to figure out something. Everybody is tired."
David Erickson contributed to this story.
---