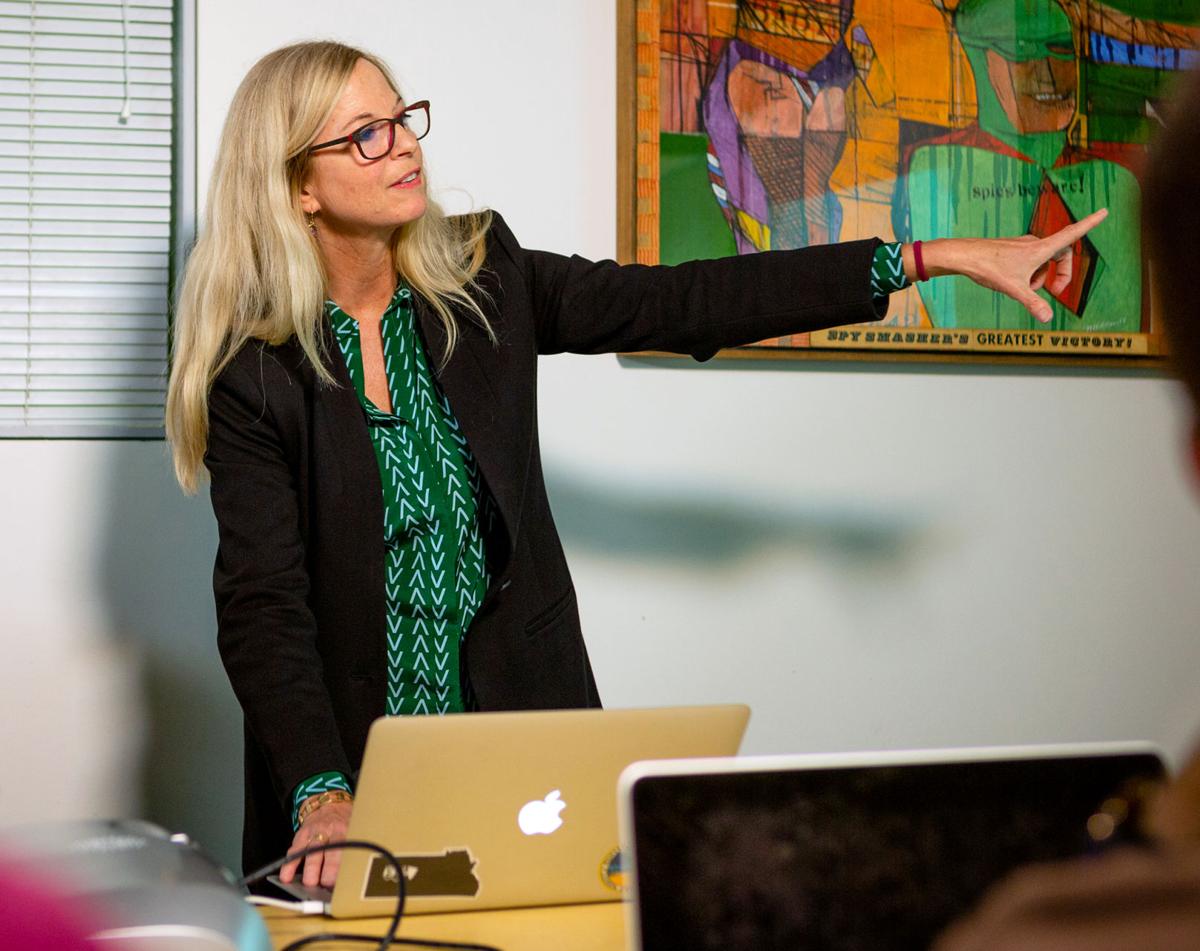 Last month, Lisa Parks learned she would be named a 2018 MacArthur Fellow, but the Massachusetts Institute of Technology media scholar and professor could only tell one other person until the foundation formally announced the news.
"I said to them, 'How am I going to decide whether to tell my husband or my mom?'" Parks said.
Parks' ancestors were born in Montana and she considers Montana her home. After moving to the Treasure State from California, she grew up in Missoula, attended Hellgate High School and graduated from the University of Montana.
Her parents, Marilyn and Sam Lemaich, live in the Garden City, but the MacArthur Foundation had a suspicion about Parks' mom and her ability to keep a secret.
"They said, 'Moms talk a lot, so you'd better tell your husband.'"
For roughly a month, the fact she had earned a "genius award" felt like a dream or a prank, Parks said. Thursday, however, the John D. and Catherine T. MacArthur Foundation released the names of its 25 MacArthur Fellows for 2018, and Parks said the public announcement made the news real.
The honor comes with an award of $625,000 over the course of five years, and it will influence research on technology as far away as space and as near to her old stomping grounds as Browning. Parks, 51, said she will use the money to support her Global Media Technologies and Cultures Lab, or GMTaC — she studies the influence of satellites on modern culture, among other areas — and she hopes to bring some of the funds to Montana for a technology project she's working on with the Blackfeet Tribe and Blackfeet Community College.
Over the course of five years, Parks said she'll likely work with dozens of students in her research, and she's privileged to teach at MIT. At the same time, she said she's a product of public education; she started in kindergarten, earned her bachelor's degree in political science and history at UM, and received a master's and doctorate from the University of Wisconsin at Madison.
"I'm grateful to the people for supporting public education, and I want to tell the Montana students to dream big, think big, appreciate your roots, but don't be afraid to travel far and learn from and listen to other people so that we can appreciate each other's differences and have a society that values those differences," Parks said.
Parks believes she may be the first media scholar to be named a MacArthur Fellow. She isn't sure who nominated her, but she expressed gratitude to those who supported her nomination. She believes colleagues from the University of California at Santa Barbara, where she taught for nearly 20 years, proposed her as a candidate.
"I'd like to extend my deep thanks to all of them," Parks said.
Her areas of research are satellite technologies and media cultures; media infrastructure; and media, militarization and surveillance. (One of her students is doing research on Russian interference in U.S. politics.)
When people hear the phrase "media scholar," many think only about television or news media or Hollywood, but Parks said she's tried to approach the topic from new perspectives. That interest led to her research on satellites, and she explores what it means to have a global media culture driven by a technology that's in orbit and invisible.
"It shapes everything we do from using Google Earth to getting money out of an ATM machine to navigating using Google Maps and watching live international television," Parks said.
People are socialized to look at screens and frames, Parks said, but she is focused on the back ends of media technology. And she wants to know the consequences of failure for the societies and economies bound by those systems.
"What happens when our machines break down? Why might they break down, and what's at stake? Like if the internet were to shut down?"
She said the award is unique in that it comes with no strings attached. Parks will continue to support international outreach through her lab, working with people in different countries, especially those in low-income, rural communities, on understanding the use of media technologies in diverse contexts.
Her work in media infrastructure includes the internet and mobile phone networks and how people use them in particular communities. That's the area she's working on with the Blackfeet Tribe and college through a National Science Foundation grant.
"My interest in Native American issues goes back to my classes I took at the University of Montana," Parks said. "I took Native American Studies classes, and always as a former Montana resident, I believe that tribal sovereignty, tribal rights, tribal cultures are extremely important and valuable and should be protected."
Parks said she has done much research around the world, in Mongolia, Zambia, Tanzania and Turkey.
"Recently, I thought, it's really important to look in the backyard of Montana where I grew up, where very similar issues are faced by Native Americans in the U.S. with regard to digital literacy and connectivity and using the technology to build up the cultures and enable people to have skills so they feel they can contribute to the workforce in their community and beyond."
Next month, she plans to visit Browning as part of that project. Despite her satellite research, her travel aspirations don't extend beyond Earth into space.
"It intrigues me, but as long as I can climb Montana mountains, I feel like I can get high enough," Parks said. "Honestly, I love Montana mountains, and I miss that more than anything."
In Montana, Parks received praise from UM, where she graduated in 1990, and props from the Blackfeet Community College, a partner in her current research.
"We are incredibly excited and happy for Lisa," said UM President Seth Bodnar in an email. "A MacArthur Fellow — or 'genius' — is someone who's shown exceptional creativity and demonstrated world-changing impact with their work. These are exactly the qualities we strive to nurture in all of our students, and we're proud to call Lisa a UM alum."
Victoria Augare, director of grants and research at Blackfeet Community College, said she's thankful Parks is willing to share her knowledge. She said the researcher worked with people in Browning to develop the project on network sovereignty, which will include an assessment of technology infrastructure.
"I'm really glad that she is coming up and going to do this study to find out what we have, what we need, and then maybe we can move on from there," Augare said.
With help from Parks and the grant, the community will be able to evaluate and potentially improve its connectivity, and college students will learn about specific technology, such as flying drones. Augare is thrilled with both aspects of the project.
"Who doesn't want a drone? We have beautiful country, and we don't have a lot of interference," Augare said.
Augare works with the U.S. Department of Agriculture and already has seen some practical uses for them, such as the way the devices can help a rancher assess property.
"It'd be great to go out and check your cows with a drone," Augare said.
She hasn't met Parks in person yet, but she's proud to be getting to know her via email and looking forward to meeting the professor and newly deemed "genius" in person soon.
"A little girl from Montana, you know? That is so cool. And I can say I know her," Augare said.
Be the first to know
Get local news delivered to your inbox!