On a cold May evening in Billings, hundreds of people took to the Rimrocks dressed in red, standing side by side on the sandstone rock formation in a display of unity organized to continue awareness for missing and murdered indigenous people.
The event, called Line the Rims in Red, was planned by two local organizations that focus on Native American issues. The groups wanted the event to coincide with the national day of awareness for missing and murdered indigenous people.
"We see a need and we're trying to address that need to allow our community to express their feelings about the situation, that's near epidemic proportions of missing and murdered indigenous people," said MSUB Native American Achievement Center Director Reno Charette. "All this kind of personal heartache, people that see the injustice are called by that."
The broader goal of continuing to raise awareness with Line the Rims in Red also hopefully served two other purposes, Charette said.
The first was to produce compelling imagery, reusable for future events and activism, to keep the issue on peoples' minds. The second purpose was to re-brand the awareness efforts of the MSUB Native American Achievement center and its partner organizations, including the Native American Development Corporation, from missing and murdered indigenous women to missing and murdered indigenous people.
Charette said some of the big issues raised by the missing and murdered indigenous women movement also affect men, and so the trio of organizations is hoping to make their efforts more inclusive.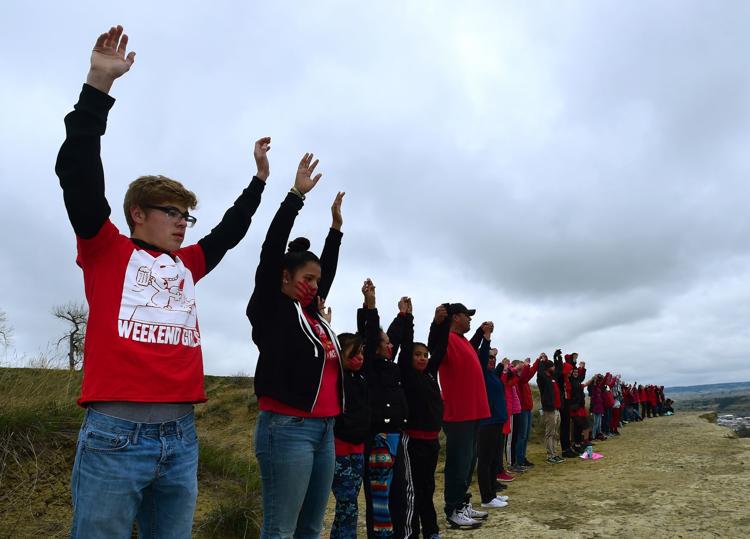 Photographers were encouraged to come out and capture the event, which involved more than two hundred people standing side by side and striking four different poses in coordination along the Rims. Charette said she hopes that those photos will be available on social media, providing her organization and others with imagery to continue driving messaging on the issue. 
"We'll need imagery to help tell the story as we move forward," she said.
Several groups of families wore red shirts with imagery of their deceased loved ones, or messages of remembrance.
Hanging from Paula Castro's ears were heart-shaped images of her daughter, Henny Scott. In her arms, she held a young child wrapped in a blanket and leaning into her for warmth.
Scott died of hypothermia but an FBI investigation into her death remains ongoing. 
You have free articles remaining.
Earlier in the day Castro attended a march for missing and murdered indigenous women in Lame Deer on the Northern Cheyenne Reservation. She said events like these are like "an eye-opener." 
"People who don't know about it before, they know about it now," she said.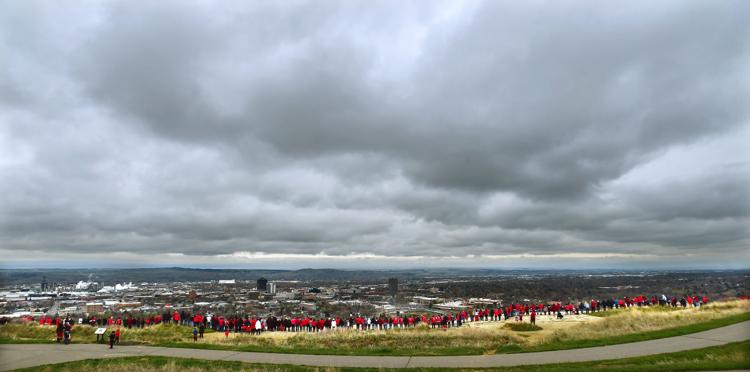 Castro said that though it hurts her to say it, she believes her daughter's death at such a young age has also grabbed the attention of many people. "It's sad to say but it kind of had to take something like this for everybody to open their eyes for something that's been happening all along." 
Nearby was Amber Old Horn and her 6-year-old daughter Auria. On Old Horn's mind was her sister Cheyenne Fiddler, who was killed at age 23 in a murder-suicide in Wisconsin in 2012. As Old Horn, a single mother, cared for one of her children who she says had a rare brain disorder that proved fatal, it was Fiddler who always called to see how she was doing. 
"Absolutely, I wanted her to see this," she said of her 6-year-old attending the event. "She's still asking questions. She never did get to meet her late aunt. She knows the rest of the family, but she just never got to meet somebody like that, that was taken from us, that was a beautiful soul. Like I said said, she always checked up on me and my late oldest when she was alive. That meant the world to me." 
Wearing a ribbon skirt and standing along the Rims, Lorna Knowshisgun said she has stood on the Rims because of what happened to her granddaughter Redwillow Horsecapture in 2016. 
Horsecapture was beaten unconscious by a Billings man in 2016. Johnny LaFountain ultimately received an eight year jail sentence for a series of assaults he committed, with Horsecapture being his last victim. She had been walking on the Rims at night when he attacked her. Her jaw was broken and required extensive medical care to repair. 
"So that's why I'm here," Knowshisgun said. "Because of the attacks on indigenous women." 
She believes her granddaughter was targeted because of her race. She said she thinks motivations for violence like that can be stopped with a deeper understanding of the diverse Native American community by non-Natives. 
"I think things can change through cultural teaching and, you know, letting people know who we are as a people," she said. "It seems like we've been vulnerable so many years now and people just don't understand who we are."