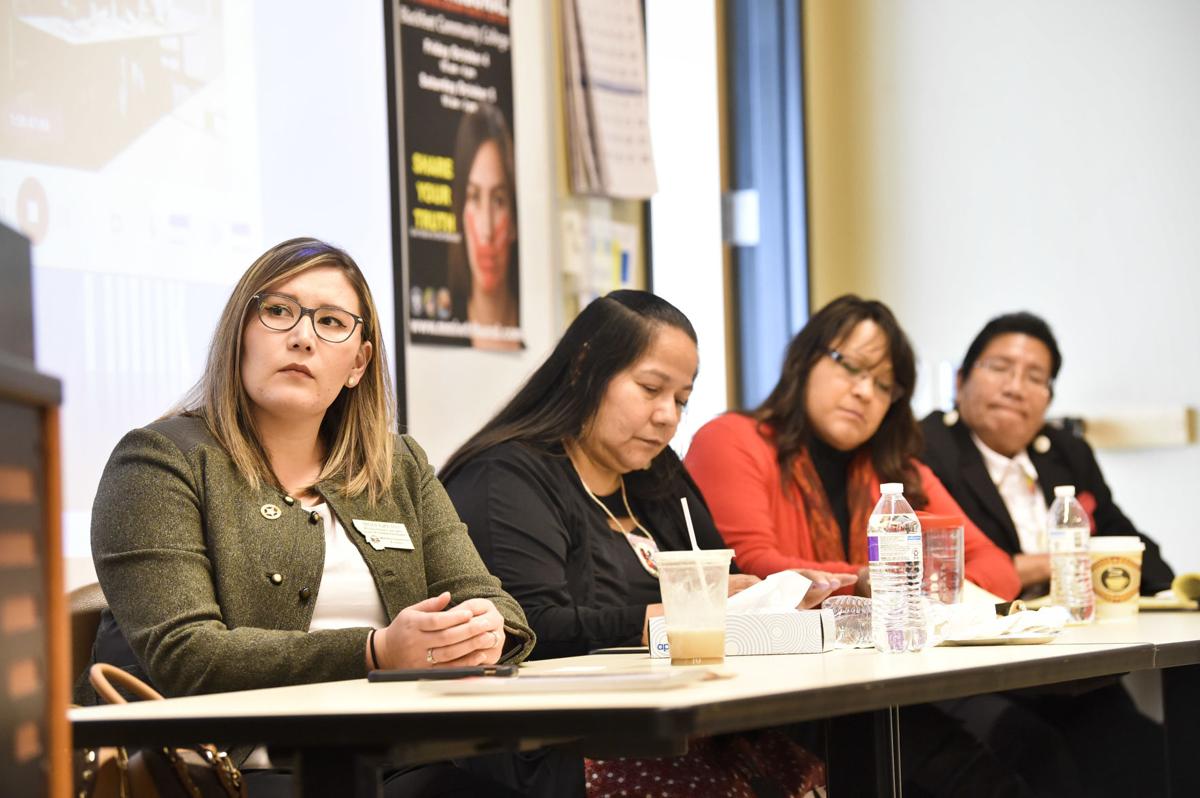 Misty LaPlant said Wednesday that there are now 148 people in the clearinghouse, down from 179 when she started Sept. 8. The number of missing Native Americans in the clearinghouse dropped from 56 to 35.
"I was able to very quickly take a look at the list, example problems and gaps that I saw and then do follow-ups with law enforcement agencies and Child and Family Services," LaPlant said. "One of the biggest issues I saw with the list is the number of runaway juveniles."
By reaching out to the state Child and Family Services Division, LaPlant said she was able to identify several runaway juveniles who were reported as missing but at some point returned or were located, but their cases were never cleared from the database. That resulted in removing 10 cases from the list.
She's also working with the division to revise the policies and response to youth in need of care who go missing, but said it was too early to discuss the specifics of those efforts.
LaPlant said she's also worked with law enforcement agencies around the state, and after discussions with the Bureau of Indian Affairs and tribes around the state was able to add historical cases to the clearinghouse that were never entered before.
"I've been adding and clearing (cases)," LaPlant said.
"On my very first day on the job, I had a family member call and say 'This agency is handling a case and I'm having a really hard time communicating with this investigator. I don't know what's going on. Can you help me talk to them?'" LaPlant said. "I've had a variety of different inquiries from family members, not only topics like transparency but also engaging in searching and helping to be a real liaison between them and law enforcement agencies."
Frustration over a lack of resources to conduct searches is something LaPlant hears frequently. She said law enforcement is strapped nationwide, and pointed to a place like the Crow Reservation, which she said has three BIA officers to cover 2.5 million acres.
"We should always have in the back of our mind that law enforcement is just stretched so thin. There's never going to be enough manpower to meet the need, not only in the state, not only on the reservations, but nationwide, we need more law enforcement officers," LaPlant said.
"The general public talk a lot about the lack of resources for several different things like searching, (support to create) missing persons posters, just resources in general. The public feels like law enforcement, like there's a lack of compassion there on their behalf," LaPlant said. Though the specialist position does not focus solely on Native cases, the epidemic has been at the forefront of discussions about missing people in Montana.
When a person goes missing, it's critical that the case is reported to law enforcement as soon as possible with as much information as is available, LaPlant said. Incorrect assumptions about missing persons cases can hamstring investigations.
"I think the biggest myth is waiting to report somebody missing. You wouldn't believe how many people think you have to wait 24 or 48 hours. That's not the truth," LaPlant said. "That stems from TV, old crime shows. That's never been true at all."
Updating the website for the clearinghouse has also been a priority for LaPlant. It's now mobile-friendly and people can search by race and gender. She's also adding a resources tab where people can get help with things like creating flyers for missing people.
As she continues in the job, LaPlant said her ultimate goal is to keep shrinking the list of missing people in Montana and build relationships with families, law enforcement, child protective services and other agencies around the state.
"I'd love to see the list get smaller and I would love to see different approaches not only from law enforcement but the public as well," LaPlant said.
LaPlant came to the job of missing person specialist after working as a sheriff deputy in Glacier County. She is an enrolled member of the Blackfeet Tribe and has a background of investigating missing persons cases and working on a sexual assault response team. She has also been a police officer with the Blackfeet Law Enforcement Services.
"In just two months, Misty LaPlant has reduced the number of missing person cases, including Native American cases, in Montana. She is doing excellent work and I am proud to have her on the team," Fox said.