In the picture, the young mother, 23, wears a peach dress and poses sidesaddle on a porch rail. She stares beyond the camera to a point on the horizon known only to her. The baby in her lap is squirming, legs stiffening, arms outstretched.
Diane Medicine Horse splays her fingers across the baby's ribs, turns toward the camera and waits for the shutter click. Soon after this image is taken, she will go missing.
The photo will be pinned to the wall to of every apartment and every home that daughter Natasha Rondeau lives in.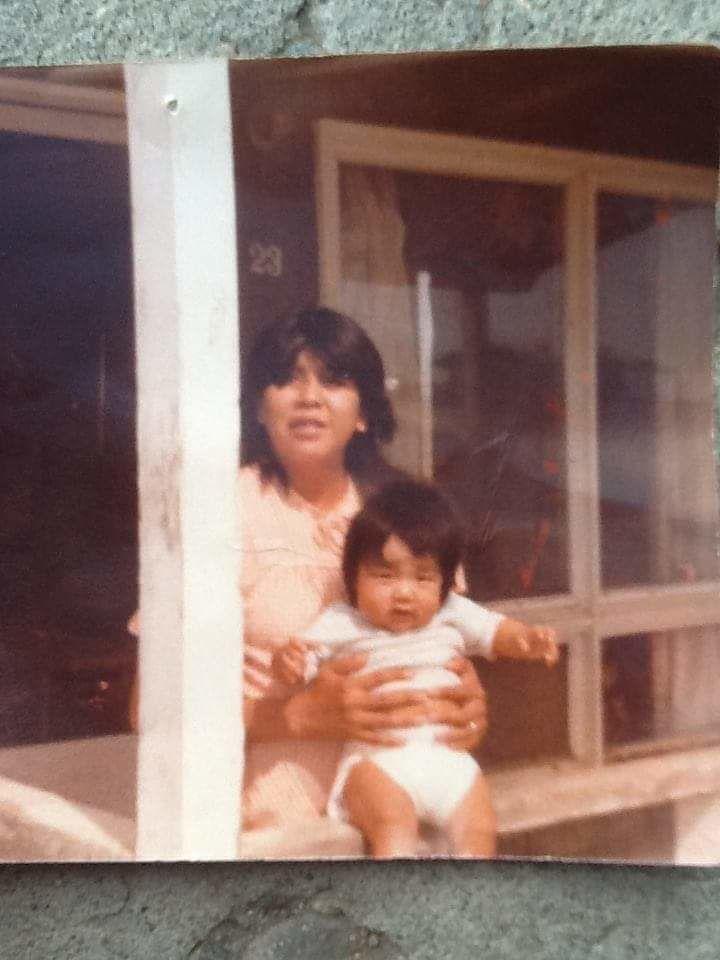 The woman in the peach dress never turns away. She stares unflinchingly at Rondeau's struggles.
"They say I'm just like her. Small, we're both small," Rondeau says with a glint her eye as she makes the connection. "They call me Tiny. When my father heard that, he got watery eyes. He said, 'Let me tell you something, girl. Did you know, your mother's name was Tiny?'"
Tiny Rondeau is about to become a mother to a fifth child. Her unborn baby is seven pounds, five ounces and still three weeks from entering the world. When it moves, it shortens her breath.
She will soon need a car. At 39, she is talking about getting a car for her trip to obstetrics, for the ride home from St. Vincent Healthcare on what is sure to be a cold March day. It seems like the perfect time for her phone to chirp a signature ringtone and light up with a three-letter caller ID, "mom." But it doesn't.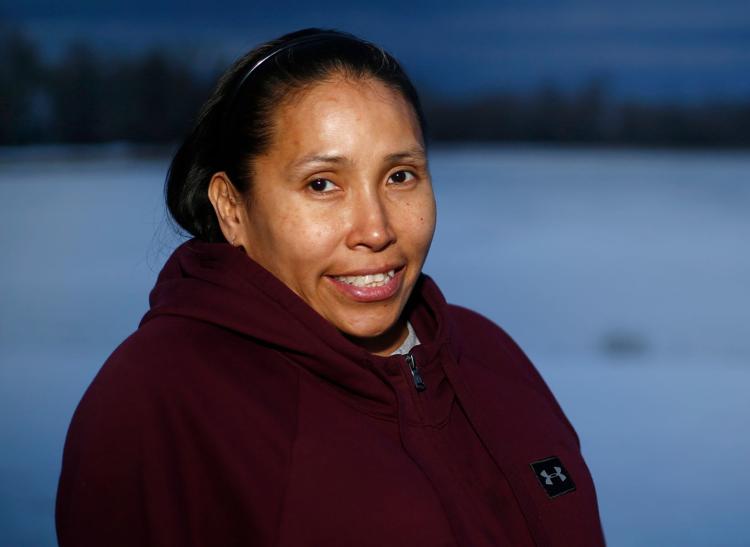 There are many like Tiny Rondeau living without mothers, because there are too many missing American Indian women. American Indians make up 6.7 percent of Montana's population, but 26 percent of Montanans reported missing. Because the count of missing and murdered American Indians is poorly kept, the assumption is the number is higher still.
The children of the missing live with historical trauma, harmed not only by the unresolved absence of the most important people in their lives, but also the unresolved grief of a multigenerational wound that has not healed.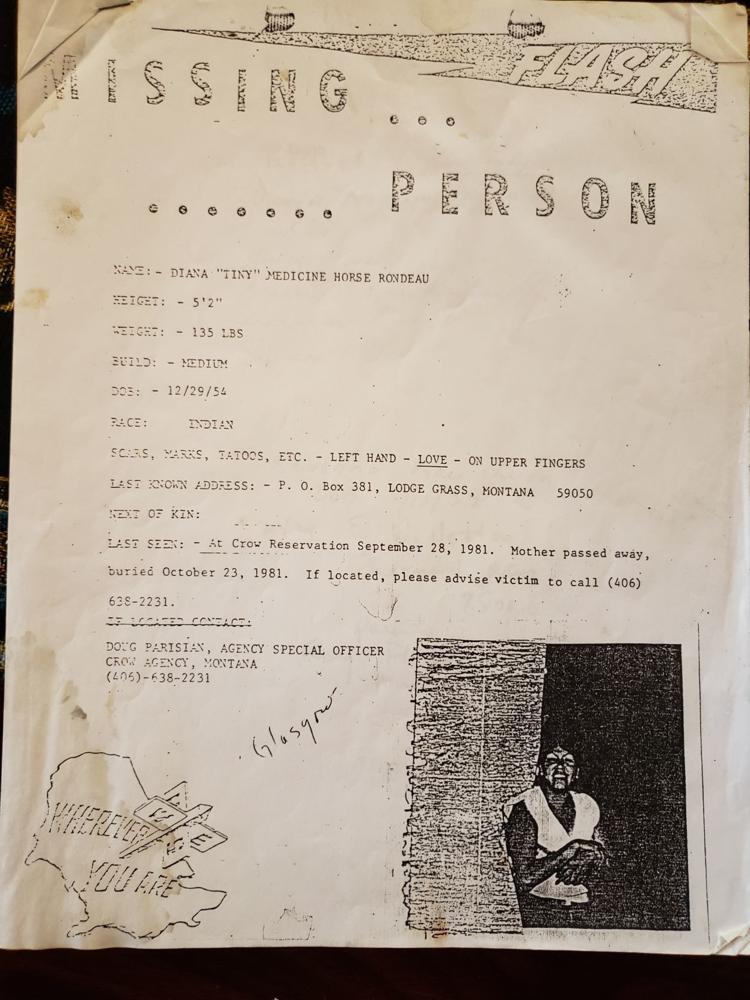 You have free articles remaining.
Diane Medicine Horse was last seen alive Sept. 28, 1981. She was standing in the front yard of Rondeau's uncle Tim in Crow Agency. That's where Rondeau's father, Henry, was staying at the time. Medicine Horse had driven there to drop Rondeau off. After doing so, the young mother pulled her white car back onto the street and drove away.
"It might have been the best thing she ever done for me," Rondeau said, noting that just minutes earlier she was riding in the back seat of that car.
No one looked for Medicine Horse right away. A product of the federal government's Indian boarding school system and a childhood home that wasn't always sober and peaceful, she, too dealt with trauma, by drinking too much and never staying put long. She had a son, Nathan Shike, in Glendale, Washington, living with a grandmother who saw trouble in the lifestyle of Medicine Horse and Shike's father. Alcohol was the gasoline they reached for to douse their personal fires.
Her sisters reported her missing after Medicine Horse didn't show up for their mother's funeral. The Bureau of Indian Affairs investigated, but yellowed documents in Medicine Horse's BIA case file are few in number.
The file possessed by Nathan Shike indicates that agents checked a drug treatment center in Glendive and followed a tip that Medicine Horse might be in Fort Berthold, North Dakota, and then maybe buried in a Lodge Grass basement, which turned out to be a crawl space. To this day, the FBI considers Medicine Horse case to still be open. Although her children have asked to see the case for closure, the government has declined to share.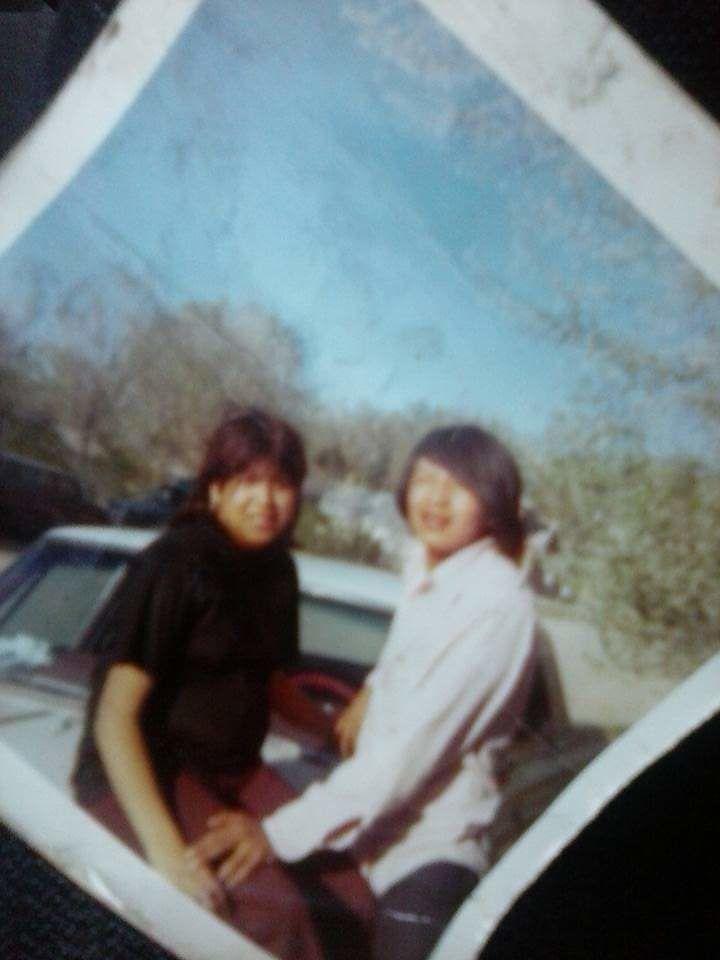 These dead ends for years fueled Rondeau's hope that her mother could still be alive, that Medicine Horse might be more than just a photo on the wall. There's hope in not knowing. What adults told Rondeau while she was growing up was that Medicine Horse had wandered far and hadn't found her way home, or that Medicine Horse was in an asylum and couldn't recall who she was.
Rondeau thought she could feel her absent mother's gaze growing up. She took solace in it. There has never been a day Diane Lynn Medicine Horse's children didn't think of her, Rondeau said. She is in their hearts.
"I don't know, I just thought she might be watching me," Rondeau said. "Maybe from a car parked on the street. Just watching. Maybe too, I don't know, embarrassed to approach to me.
"I thought that until my daughter was born. Then I realized, how could anyone do that? How could you miss their birthdays? Wouldn't you knock on their door and ask to see your grandchildren?"