Walter Runsabove has been to hundreds of powwows in his lifetime, every year since he was born. His family traveled all over the U.S. to celebrate dance, music, food and culture.
This year, many powwows across Montana have been dedicated to the missing and murdered indigenous women and girls, including the 51st Annual Montana State University Billings Powwow.
"It's not just missing women and girls, its people," said Runsabove, powwow coordinator at the Native American Achievement Center at MSUB. "There are men missing, too. I just found out I have two buddies that are missing."
In conjunction with the MSUB powwow, there will be a march from 10 a.m. to noon on April 5. It'll travel from campus to the Yellowstone County Courthouse lawn downtown, where speakers, including a Native American woman whose daughter is missing, will address the MMIP epidemic. The powwow will also feature a candlelight dance to honor the missing.
The powwow has always featured a basketball tournament, but this year, the trophy for men and women is a traditional ribbon skirt in remembrance of missing and murdered indigenous women and girls.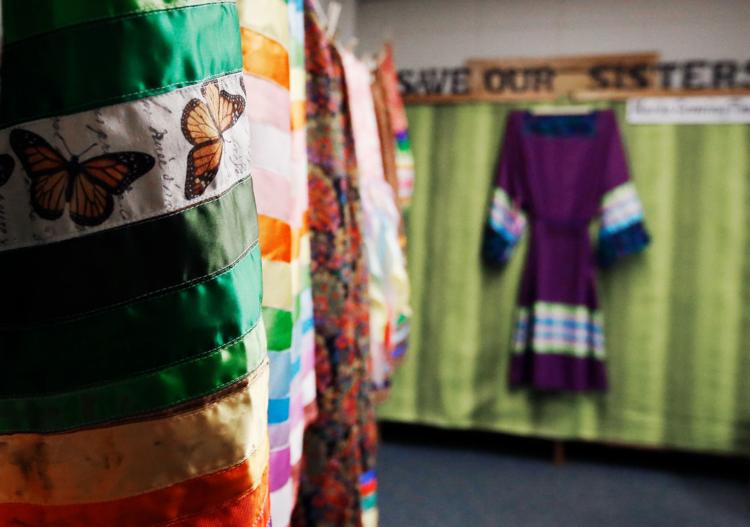 To find Marita Growing Thunder at the 50th Annual MSUB Powwow, follow the blue and yellow paper footprints taped to the tile floor.
"We wanted to honor these women — the female players can proudly wear their skirts and the male players can share theirs with a woman in their life," said Runsabove.
The steady beating of an ancestral drum is a symbol for the heartbeat of the Native American tribes — their people and the powwow.
"It's said that dance is a form of prayer. When you are at a powwow, you dance for life," Runsabove said. "We are dancing for the living in the circle, and it ripples out to everyone."
Runsabove strives to bridge gaps and change the stigma and misunderstandings of Native American people.
"We want all of our students and faculty to know this powwow is for them too," Runsabove said. "We want everyone to be part of it — greet old friends and make new ones."
The 51st Annual MSUB Powwow is April 5-6, at Alterowitz Gymnasium and open to the public. Those who would like more information can call Runsabove at 406-657-2011 or visit msubillings.edu.
The 44th Annual American Indian Council Powwow
The 44th Annual American Indian Council Powwow at Montana State University Bozeman will be held Friday-Saturday, March 29-30, at the Brick Breeden Fieldhouse with grand entry at 6 p.m. on Friday.
With as many as 700 students from tribes all over the state, it is one of the largest powwows in Montana. This year, the powwow is dedicated to missing and murdered indigenous women and girls.
Leroy Pine III, co-president of the American Indian Council at Montana State University in Bozeman, wants the dedication to raise awareness about the MMIWG in Montana with a lasting result.
"The numbers are staggering — and that's just what has been reported," said Pine. "It continues to happen because of a lack of coverage, lack of understanding and lack of protection. Enough is enough."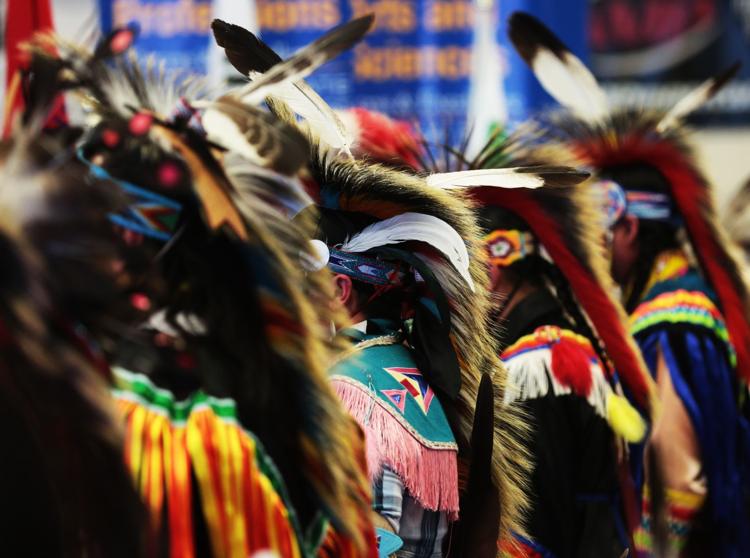 Native American women and children go missing at an alarming rate in Montana, and their families and investigators can spend years searching for them, sometimes to no avail. 
This year's powwow will include a dedication ceremony with a moment of silence and prayer as lights will be turned down to remember those who have passed on and those still missing.
"The presence will be there — we are motivating younger generations to take the reins and say 'no more,'" said Pine.
Pine has watched the Bozeman community show up and support the MMIP movement, including dedicating the Women's March to the MMIWG.
"It is so important to bridge the gap between Native American cultures and the surrounding communities. People are willing to help and be here," said Pine. "We need as much involvement as we can."
Last Chance Powwow
Held at the Lewis and Clark Fair Ground Exhibition Hall, the powwow used to be held at the Civic Center in Helena until someone sprayed xenophobic graffiti across the building.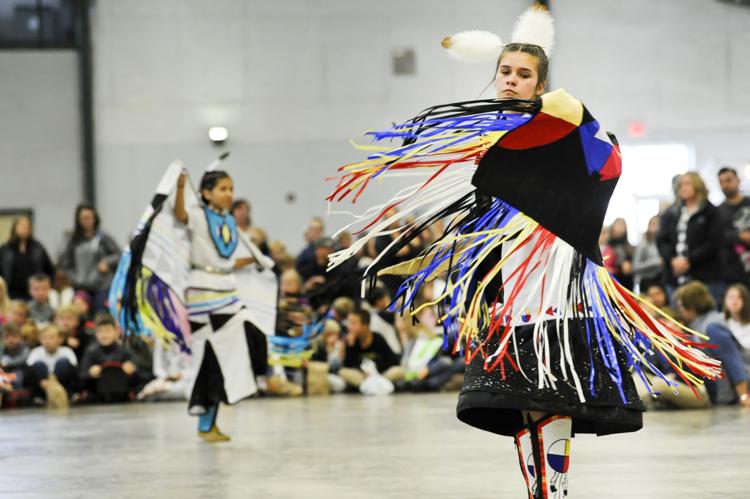 "It felt like a hate crime," said powwow committee member Cary Youpee. "We had to pay to restore the paint job for the building. So, we moved the powwow — we felt the fairgrounds would be a safer place."
Now celebrating its 21st year, the powwow is alcohol-free, open to the public and entry is free.
You have free articles remaining.
Keep reading for FREE!
Enjoy more articles by signing up or logging in. No credit card required.
"Everyone is welcome — diversity helps make us all better," said Youpee.
With anticipated attendance at 3,000, this year's powwow honors the MMIP and will serve as a call to stop the prejudice and stereotypes that have aided in the loss of the many Native Americans.
"These people aren't just drunk and stumbling off somewhere; they aren't at a cousin's house; they didn't just wander off — they are gone, and it's not treated with the urgency it should be," said Tina Cox, powwow chair.
The relative silence over the disappearance of two Native American women was Deborah Maytubee-Shipman's call to action.
Last Chance Powwow will host a Red Dress Special, a dance to heal and honor the missing indigenous people.
"Every step is a prayer to heal all people," Cox said. "We want to recognize our missing family members."
The Last Chance Powwow will also have MMIP shirts available for purchase. Proceeds go back into the powwow.
"We want everyone to come — white, black, Native American — everyone," said Cox. "It is a forum to stand up and speak out for the missing and murdered people. This is how we call for action."
Dates haven't yet been announced for the Last Chance Powwow. It took place in September in 2018. For more information, go to lastchancepowwow.com.
Rocky Boy's 55th Annual Powwow
"Our powwow is at the end of summer — it's a turning point," said Caryn Sangrey, powwow committee member. "The dances are ceremonial — but the powwow is a celebration."
Just 30 miles outside of Havre, the powwow is Aug. 1-4 at the Rocky Boy celebration grounds.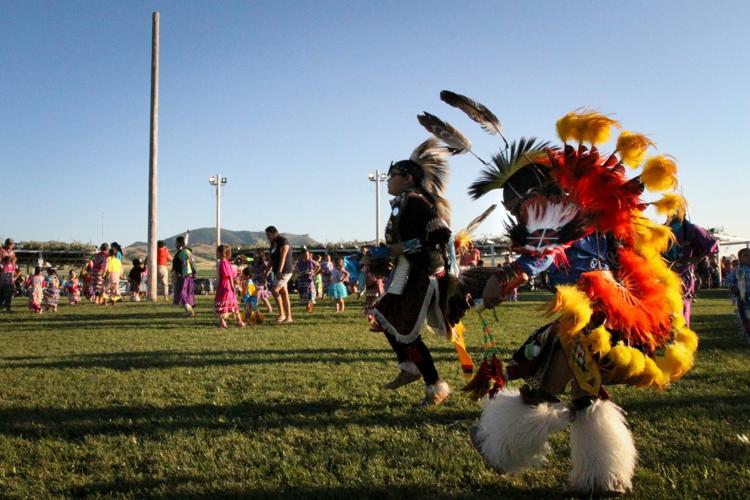 For the Rocky Boy Tribe, the celebration is a way of life that connects the tribe and surrounding communities and brings newcomers to the reservation.
"We want more to happen — we do not get the same attention," Sangrey said. "We are hoping the MMIP movement will get our local and state agencies involved — not just the federal agencies."
Many feel stigma has contributed to the prevalence of missing and murdered indigenous people.
"It needs to be understood that these people really are missing — they aren't runaways or just visiting someone and are unaccounted for — this is a huge problem," Sangrey said.
A 14-year-old girl was reported missing then found dead two weeks later on the Northern Cheyenne Reservation. Grieving the loss of Henny Scott, her family raise questions about the investigation into her disappearance and death.
It can take as long as 10 days, a month, or even more before the FBI or law enforcement are able to begin an investigation on the reservation, she said. By that time, it's usually too late.
"The missing people on the reservation do not get a quick response. There are certain prejudices, stereotypes and assumptions that play a large role in the epidemic," said Sangrey.
The powwow unifies the reservation, she said, calling everyone to notice the beauty of its people, tradition and cultural value.
The powwow is free and open to the public. For more information, call Caryn Sangrey at 406-395-5705.
Coming full circle
While the origin may be controversial, the powwow concept is a European term, originated as part of Buffalo Bill's Wild West Show.
The show traveled throughout the U.S. and Europe exploiting Native Americans as they performed their sacred dances.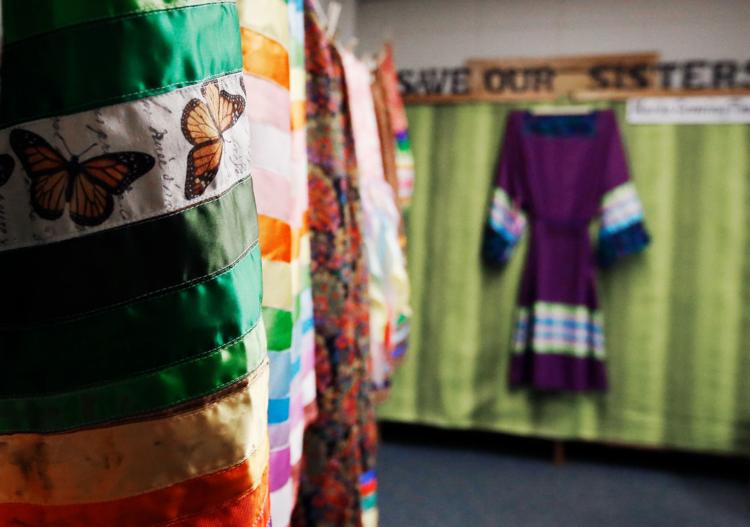 For some time during the early 1900s, powwows were all but abolished. After the Freedom of Religion Act, it is believed powwows gained momentum and have become somewhat of a holiday for tribes all over the U.S. and Canada. Somehow, traditions were preserved, families remained and tribes regathered.
Once again, Native Americans are rising above the oppression that has pushed their human rights underground — using a platform that has been used and taken away to demand the salvation of their culture.