The Division of Criminal Justice will assist with and review the investigation into Selena Not Afraid's death, after the lead investigating agency requested help. 
Big Horn County Sheriff Lawrence Big Hair on Tuesday asked for help from the Montana Department of Justice's Division of Criminal Investigation for the investigation into the Hardin teen's death.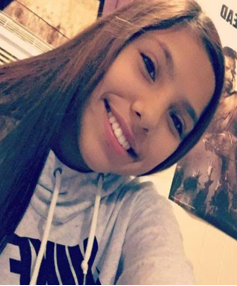 The 16-year-old's body was recovered about a mile from where she was last seen on New Year's Day at a rest stop along Interstate 90 between Billings and Hardin on Jan. 20. 
She died of hypothermia, and there was no evidence of violence, according to the preliminary autopsy conducted by the state medical examiner. 
You have free articles remaining.
The DCI will begin reviewing the "investigative materials and evidence" from the county and other agencies involved in the investigation, according to a statement from DCI administrator Bryan Lockerby. 
"One of our primary roles in a tragic incident like this is to help provide an external professional perspective for the lead law enforcement agency," Lockerby said. "The results of our review often assist local agencies with their ongoing investigations and provide direction for a future course of action."
Only a local, county, state or federal law enforcement agency can ask for help from the DCI, according to state law. The DCI averages about 60 new cases per year in its major case section, according to DOJ spokesperson John Barnes. The DCI is working on a number of cold cases of missing women, Barnes said, although he wasn't aware if they were cases of missing or murdered indigenous women.
In a press release issued Jan. 23, Crow Chairman Alvin "A.J." Not Afraid asked for assistance in the investigation into Selena's death from Montana Attorney General Tim Fox. In a Monday response, Fox expressed grief at Selena's death, but said a law enforcement agency would have to request assistance before the DCI could intervene. 
Fox responded to Not Afraid's letter on Monday, a day before Big Hair formally requested help. A funeral service that drew more than 1,000 people was held in Hardin for Selena on Sunday. 
---
Understand it better: Our stories on the missing and murdered indigenous people crisis

The Billings Gazette has continued to examine one of the most urgent issues in Montana and our region — missing and murdered indigenous women and girls.
In Montana, Native Americans are just 6.7% of the total population, but make up 26% of missing persons cases.
The problem has persisted for generations, and many of the cases remain unsolved. The causes are numerous and complex, and any lasting solutions have been elusive.
The Gazette is exploring the reasons the crisis has persisted and what can be done about it. 
Be the first to know
Get local news delivered to your inbox!