Thursday marked the 140th day since Kaysera Stops Pretty Places was found dead, and medical examiners still don't know the cause of her death.
The investigation into her death is still open and active five months later, but medical examiners were unable to determine a cause for Stops Pretty Places' death, according to Big Horn County Attorney Jay Harris.
Some causes of death were "ruled out," but nothing in the autopsy or toxicology report were conclusive to rule a cause, he said. The ruling was based on an autopsy conducted by state deputy medical examiner Dr. Andrea Orvik, Harris said.
State medical examiners found no evidence of injury or natural disease, Harris said.
No arrests have been made in the case. The investigation, which is led by the Big Horn County Sheriff's Office, is under direct supervision of his office, he said.
Her family still feels investigators should treat her death as murder, and are frustrated that five months later there have been no tangible results with the autopsy or arrests or charges, said Stops Pretty Places' aunt Melissa Lonebear. 
Detectives are following all credible leads, Harris said.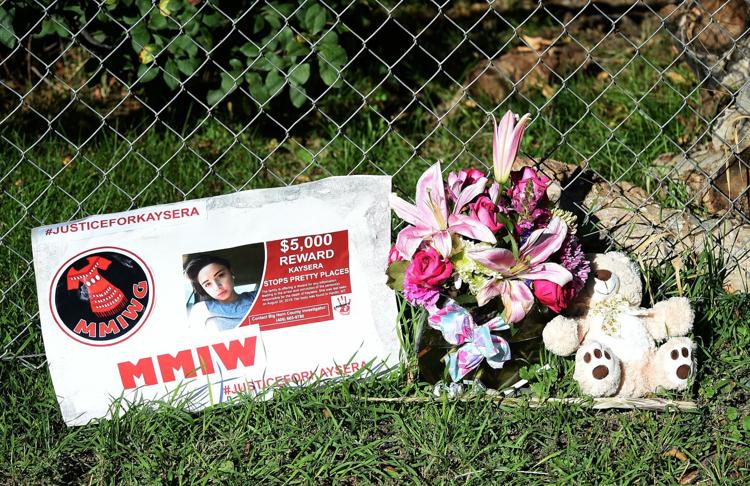 The family wants to keep pressure on investigators. That's partly why they held a march and rally at the end of September at the Big Horn County Courthouse. As many as 100 people marched to urge a thorough investigation.
There have been three more rallies since then on the courthouse steps, including one on Jan. 8., which also raised awareness for missing Hardin teen Selena Not Afraid.
The sheriff's office is working closely with the task force, Harris said. He still wants to recruit members from the Bureau of Indian Affairs and the FBI.
The task force's goal is to supervise active investigations, refine current policies and identify causes and solutions for the high number of missing and murdered people in Big Horn County, Harris said. 
The task force is a local effort amid statewide and national attention to the crisis of murdered and missing indigenous people.
Still, a lack of action and accountability from the sheriff's office was the family's complaint when Stops Pretty Places initially went missing at the end of August. Little has been done to assuage those fears, Lonebear said. 
"My greatest fear is that they are going to try and sweep it under the rug and stamp it solved," Yolanda Fraser, Stops Pretty Places' grandmother, told The Billings Gazette in September. 
They say the sheriff's office didn't do enough to proactively look for Stops Pretty Places before she died.
"When they reported her missing, Big Horn County didn't put posters out," Lonebear said. "They didn't put anything out."
Stops Pretty Places did not receive a Missing and Endangered Person Advisory, nor did the sheriff's office issue an alert to the media about her disappearance.
"That was the same situation with Henny," Lonebear said. 
Months later, attention is again on Big Horn County, as law enforcement searches for Selena Not Afraid. Harris said the response from the community and law enforcement to the 16-year-old's disappearance shows changing attitudes.
"The magnitude of the response is certainly a strong indicator of a rebuke of the status quo," Harris said. "We're fed up with this dynamic."
Anyone with information on Selena's whereabouts, or with tips on Stops Pretty Places' case, can call the Big Horn County Sheriff Office's tip line at 406-665-9780. 
---
Complete coverage: The search for Selena Not Afraid
Selena Not Afraid, 16, went missing on New Year's Day 2020.
She was last seen at a rest stop between Billings and Hardin along Interstate 90 near mile marker 474.
Anyone with information on Selena can call Big Horn County Sheriff's Office tip line at 406-665-9800 or call 911.
Be the first to know
Get local news delivered to your inbox!