Hardin High School students on Tuesday morning gathered at the rest stop where Selena Not Afraid was reportedly last seen. They gathered to make posters and keep hope alive for the missing 16-year-old.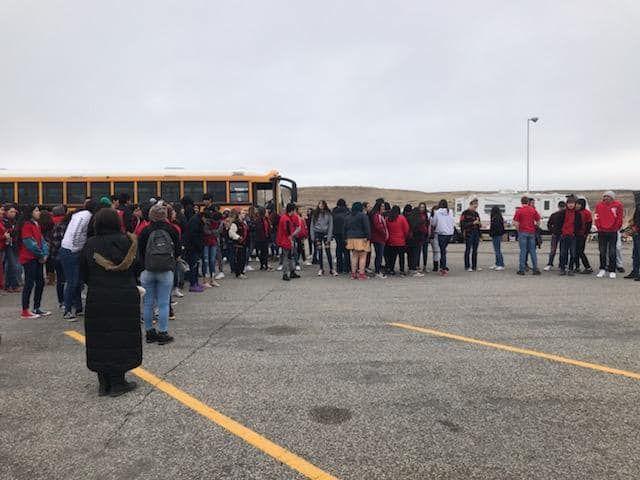 In the meantime, law enforcement officials awaited help from a specially trained FBI child abduction team.
Tuesday marked the seventh day searching for the girl, who went missing on New Year's Day in the afternoon after purportedly walking away from the rest area between Billings and Hardin along Interstate 90 near mile marker 474.
The people giving her a ride to Hardin from Billings said they left here there after their van broke down and then restarted. 
Selena is a junior at Hardin High. Posters made by some of the high school students were hung on the chain link fence near the rest stop, many expressing 'Hope 4 Sal.' Another read 'Her life matters.'
The "#hope4sal" hashtag has been circulating amid concerted social media efforts to find Selena and spread news of her disappearance to other states.
"It felt so good," said Selena's aunt, Cheryl Horn, of the Hardin students. "We needed those kids and their vibes. We need them to see this too." 
Horn and other family members have been at the rest stop night and day since Selena was reported missing. There, kids heard about the severity of running away, and officials stressed they should be diligent and safety-oriented, Horn said. Horn said Selena wasn't a partier, leading her to believe someone took advantage of the teen.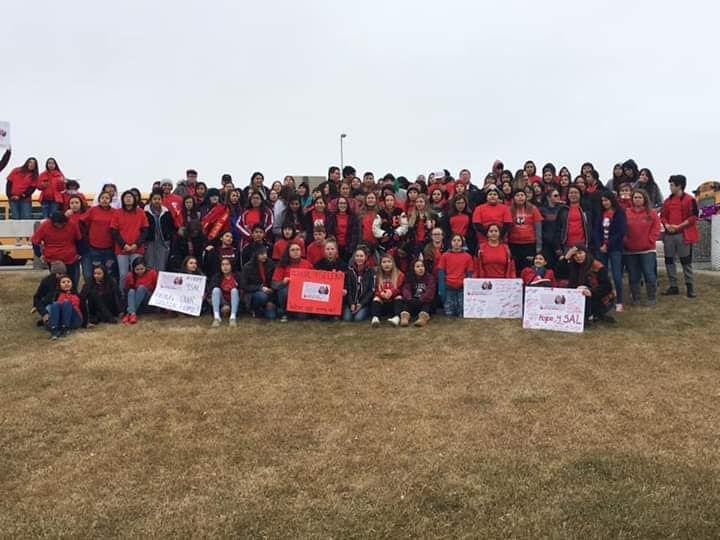 On Friday the investigation escalated after Bighorn County Sheriff Lawrence Big Hair said her disappearance was beginning to look "suspicious." Big Hair said the investigation and search are ongoing.
Law enforcement are looking for a green Subaru, possibly a Forester with Wyoming plates, that was seen at the closed rest stop Wednesday, he said.
Police are also continuing to investigate the Billings house where Selena apparently attended a New Year's Eve party the night before her disappearance. 
Tuesday, an FBI team that specializes in child abduction and disappearances was en route from Denver to assist in the search, Big Hair said.
The sheriff was optimistic the arrival of the federal Child Abduction Rapid Deployment team would lead to new discoveries.
FBI spokesperson Sandra Barker confirmed the FBI was sending additional resources, but couldn't comment more specifically, she said. The FBI has been assisting from the beginning of the search, she said.
You have free articles remaining.
The CARD team is a group of specialized investigators working from the sight of an abduction, often with behavioral analysis experts and technical specialists, according to the FBI.
Search moves online
As searchers continued to comb the area near the rest stop, flyers and Facebook and social media posts have spread quickly, much of it pushed by Selena's family.
"It's up to the family, and it's not to pass out one flyer; it's to pass out 100," said Horn, Selena's aunt.
"I've scrolled past many faces, when Selena went missing I thought, 'I can't let them forget her face,'" she said, adding that missing person posters coming across her Facebook feed have become all too common.
Posts with Selena's information and missing person flyer have been shared thousands of times. She's gotten responses from around the nation, she said. The family has also set up a Gofundme.com page to raise money for a reward.
Getting word out nationally of her disappearance is crucial as family increasingly suspects that Selena may have been abducted or taken out of state, Horn said.
"Whoever it is, we're putting the pressure on, and they need to let her go," Horn said. The response from Montana and out of state has been "outrageous," Horn said.
People have reached out from all across Montana, Wyoming and the Dakotas — and farther — to express support, offer a prayers or share a poster of Selena. Horn wanted to express thanks from Selena's family to everyone who has searched, volunteered, donated food and everything in between. 
Horn said she thinks the family's social media push, and the public pressure on law enforcement, has been one reason officials have rushed to search for the girl. A search was mounted the same day Selena went missing, and a Missing and Endangered Persons Advisory was issued for the girl Wednesday.
"I hate to say it but that's how it has to be (to get law enforcement involved). The family has to be aggressive. We're not going to be quiet," she said. 
In Montana, Native Americans are four times more likely to be victims of homicide than white residents, according to data compiled by the Centers for Disease Control and Prevention. Native Americans also make up 26% of missing people reported in Montana, despite being only 6.7% of the state's population.
Horn is optimistic that Selena will be found safe, especially with the response of law enforcement. Friends and family will not give up, she said. 
"She knows we're here. She knows I won't quit and her mom won't quit," Horn said. "She doesn't know where we're at or what we're doing. But, I'm being loud. We're going to find her. I'm positive."
Anyone with information on Selena is asked to call Big Horn County Sheriff's Office at 406-665-9780 or call 911.