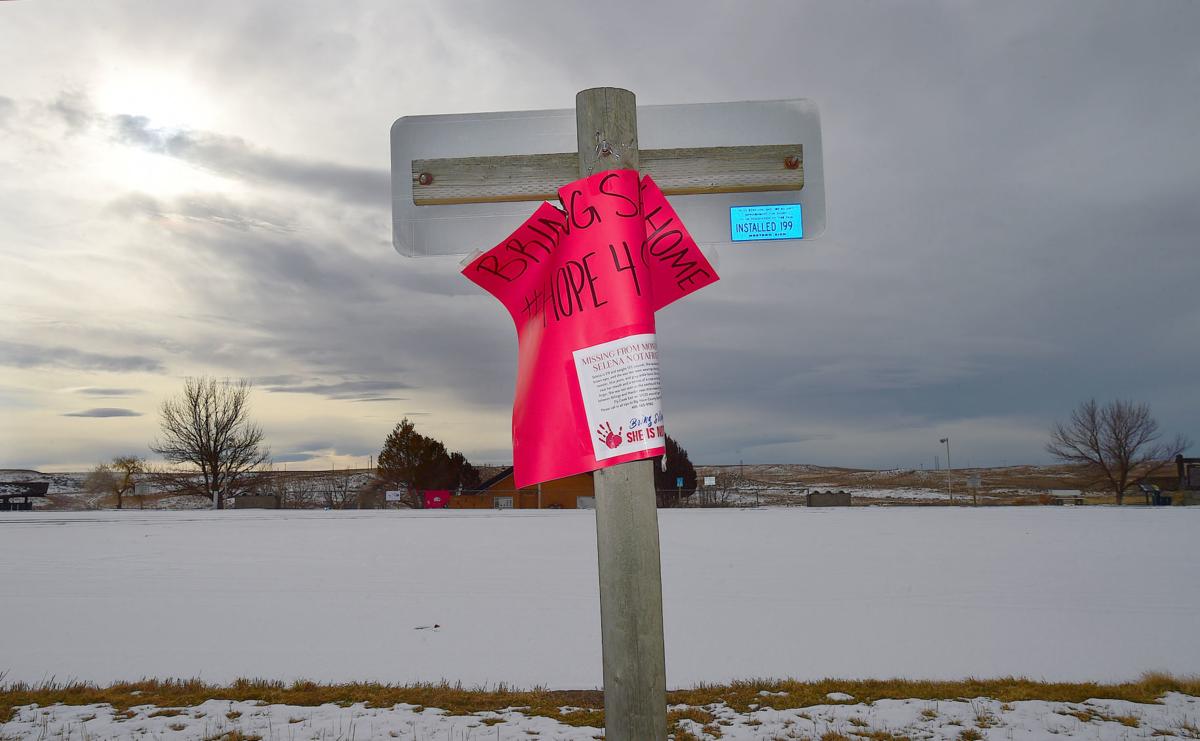 The Big Horn County Sheriff's Office is still investigating the death of Selena Not Afraid a day after saying they didn't suspect foul play.
Selena, 16, was found Monday morning by a federal search team about a mile southwest of the rest stop she had reportedly walked away from on New Year's Day between Billings and Hardin. 
"There's no evidence that anybody dropped her off. No foot or boot prints around her," he said. " ... We don't rule anything out until the autopsy has been released." 
An autopsy is scheduled on Wednesday at the state crime lab in Billings. The location where searchers found the body was processed as a criminal investigation, Winburn noted. 
Selena's cellphone was found on her, Winburn said. The battery was dead. She didn't have a wallet or purse on her when she was found, he said. 
Selena was found by a federal search team with the Department of the Interior during a systematic grid search, according to the press release. The search team had been conducting the grid search for more than a week and were methodically working through the area of the rest stop, Winburn said.
Search efforts from the DOI team began toward the east before making its way southwest, he said. Other areas toward Hardin, Billings and near Fly Creek were searched.
"We had no clue where she was," Winburn said.
Where she was found had been searched by volunteers and law enforcement. Areas near the rest stop had been searched with a helicopter, thermal drone, foot search and K-9s, but had not been searched by the DOI team until Monday, he said. 
"We had people on horses and 4-wheelers, but if you don't do every section by section, they could've gone by her," he said. Sheriff Lawrence Big Hair told KTVQ News that he had looked in an area about 200 yards from where Selena was found and had not seen her. 
The five people who were in the van with Selena when she was last seen have all cooperated with authorities, officials said. All of the people in the vehicle were believed to be intoxicated at the rest stop, Winburn said. County Attorney Jay Harris declined to comment on whether he would pursue charges against the adults. 
In a Tuesday press release, Harris said his office would pursue any provable criminal activities surrounding the circumstances of Selena's disappearance. The office issued a subpoena to review the investigation process for the sheriff's office and for federal agencies that assisted. 
Selena had purportedly walked away from the rest stop on New Year's Day around 2 p.m. She was in a group of six driving to Hardin from Billings.
The van they were in broke down at the rest stop. The driver restarted it, but was worried it would stall again and drove off without Selena and another woman. A relative of the driver was about 10 to 15 minutes behind and was expected to pick up the girls, according to the sheriff's office. 
When the relative arrived, Selena was gone. Selena supposedly scaled a fence, asked the woman she was with to cross the fence with her, and then walked off alone toward some trees, Winburn said. 
She wasn't dressed for the winter weather, according to a Missing Endangered Person Advisory issued that day. New Year's Day saw a high of 50 degrees during the day in the area, but had cooled to a low of 25 degrees by the next morning, according to the National Weather Service in Billings.
A MEPA alert was issued for Selena around 9:30 p.m. on Jan. 1. A MEPA alert is sent to local media and pushes out a text notification to smartphone users who have the CodeRED app. An Amber Alert, which is typically reserved for young, abducted children, was not issued for Selena. 
The first search was conducted the day she went missing. By dark the area saw light rain and snow, according to NWS. 
Searches by officials did not stop until she was found, Winburn said. Volunteers and family members packed up Jan. 13. The rest stop at mile marker 474 acted as a headquarters for family and friends. Hardin High School students gathered at the area a week later to pray, and fans wore red at sporting events Tuesday to honor Selena.
Tuesday morning, the Hardin High School principal said that extra resources and counselors would be provided to students. Selena was a junior at the school.
In a press release, Crow Tribal Chairman Alvin "A.J." Not Afraid expressed thanks to those who searched for his niece. Selena's aunt Cheryl Horn also took to social media to thank those who had assisted in the search. 
A candlelight vigil for Selena was planned for 7:30 p.m. Tuesday at Swords Park on the Rims in Billings. Attendees were asked to bring their own candles.
Understand it better: Our stories on the missing and murdered indigenous people crisis

The Billings Gazette has continued to examine one of the most urgent issues in Montana and our region — missing and murdered indigenous women and girls.
In Montana, Native Americans are just 6.7% of the total population, but make up 26% of missing persons cases.
The problem has persisted for generations, and many of the cases remain unsolved. The causes are numerous and complex, and any lasting solutions have been elusive.
The Gazette is exploring the reasons the crisis has persisted and what can be done about it. 
Be the first to know
Get local news delivered to your inbox!