The relative silence over the disappearance of two Native American women was Deborah Maytubee-Shipman's call to action.
It was 2014. Maytubee-Shipman was enrolled in a Navajo community college and volunteering as a native liaison for Missing in New Mexico. A native Navajo woman, Amy Lynn Hanson, had gone missing during the Thanksgiving holiday. Maytubee-Shipman was working with Hanson's family, and was getting increasingly frustrated by the community response. No one was sounding the alarm.
"I found there was a real lack of emotion," Maytubee-Shipman said, both before and after Hanson was found in a gully outside Gallup, New Mexico, three weeks after disappearing.
"After I experienced a couple more murders, I saw they were so used to it, they couldn't react. And that broke my heart," she said. "There was a hopelessness you could sense, even driving through there." A second case not long after Hanson's played out the same way.
"It was there that I saw the gravity of the situation, but I thought it was centralized in the Southwest."
It wasn't just the Southwest. The Chickasaw woman started a Facebook group, MMIW USA, dedicated to finding information about missing and murdered indigenous women nationwide. The requests for help poured in. Since 2015, nearly 800 reports of mostly indigenous women, but also children and some men, have been submitted to Maytubee-Shipman's Facebook page. The list of profiles of the missing people on her Facebook page is so deep a computer must pause and reload several times before reaching the bottom.
At the top of the list March 1 were a Yakima, Washington, mother of four, last seen Oct. 2, and two Billings teens: Cecellia Rose Marie Whitford, 15, missing since Feb. 26, and Jacy Lynn Gonzalez, 16, missing for 39 days. Three posts farther down, there was another Native American teen, missing from Billings since January, recently identified as a runaway staying with friends. There's Freda Knows Gun, a Crow Agency woman last seen in Kennewick, Washington, in 2016.
In Montana, MMIW USA, by just listing the known reports of missing indigenous people, has produced something that federal and state law enforcement never have — an easily accessible database of nothing but missing Native Americans.
If found, contact...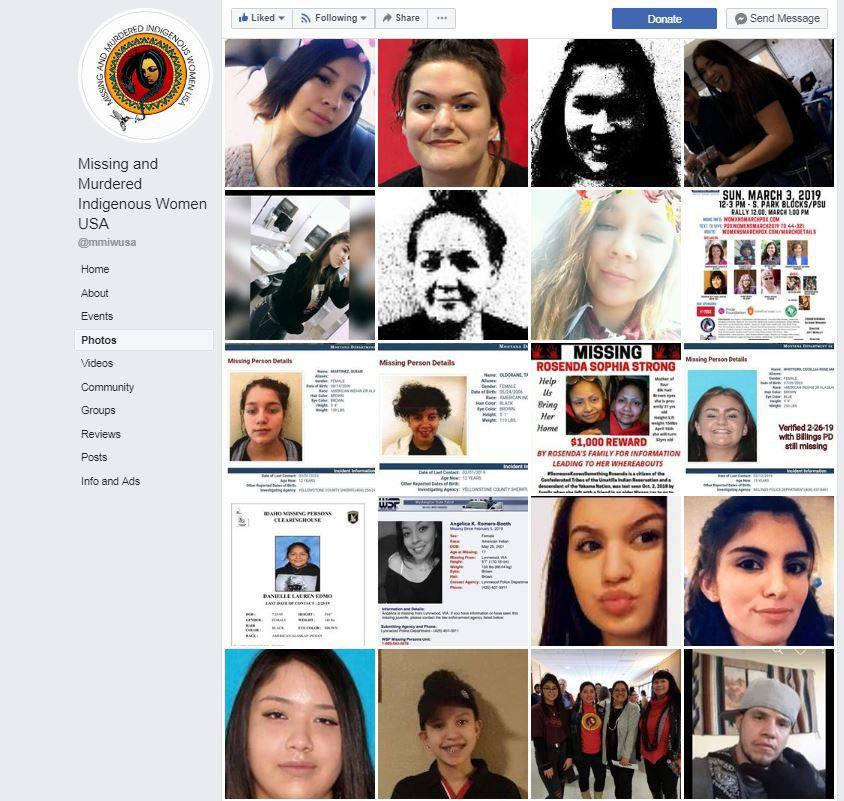 Indigenous people make up 26 percent of Montana's missing persons cases, but only 6.7 percent of the state's population. That's nearly 300 Native Americans reported missing in Montana in 2018 alone, according to the State Department of Justice. And though most eventually turn up, at the end of year when the still missing are tallied, Native Americans remain more than a quarter of Montana's unfound.
There's been little interest at the state level to make a better accounting of missing indigenous people. State Republican senators rejected a plan in February to improve reporting of missing indigenous persons reporting, concluding that anything Native American-related should be paid for by the federal government.
Social media pages have become essential for indigenous families struggling to get the word out about missing and murdered loved ones, because even when someone is reported missing to authorities and law enforcement adds that missing person to the official state database, a public advisory often isn't issued right away, or at all.
In December, 14-year-old Henny Scott, a Northern Cheyenne girl, was missing 19 days before the FBI issued a public advisory based on information that was listed on the state's public database website but not widely broadcast. Her body was found two days later. Pages like MMIW USA crafted their own advisories using the same state database law enforcement wasn't disseminating. Maytubee-Shipman's posted her alert 10 days before the FBI's. She reaches more than 22,000 people across the country.
It can be difficult getting the word out without help from law enforcement. For the loved ones of Freda Knows Gun, the effort for a homespun advisory started with a poster board with photos of the missing mother of three children and their own phone numbers as contacts. It's not uncommon for indigenous families to want to be listed as first contacts on self-made alerts, especially when law enforcement hasn't been communicative. In Freda's case, the family went three months without a word from authorities, long enough that they weren't sure the case was being worked on.
"The first poster we made like this, we used my phone number and Frances' phone number and these people (Lost and Missing in Indian Country) told us we shouldn't have done that because of our own safety," said Aldean Good Luck, a close relative of Freda's and Frances Knows Gun. "And they got hold of me, and when I gave them all the information, they created the poster for us."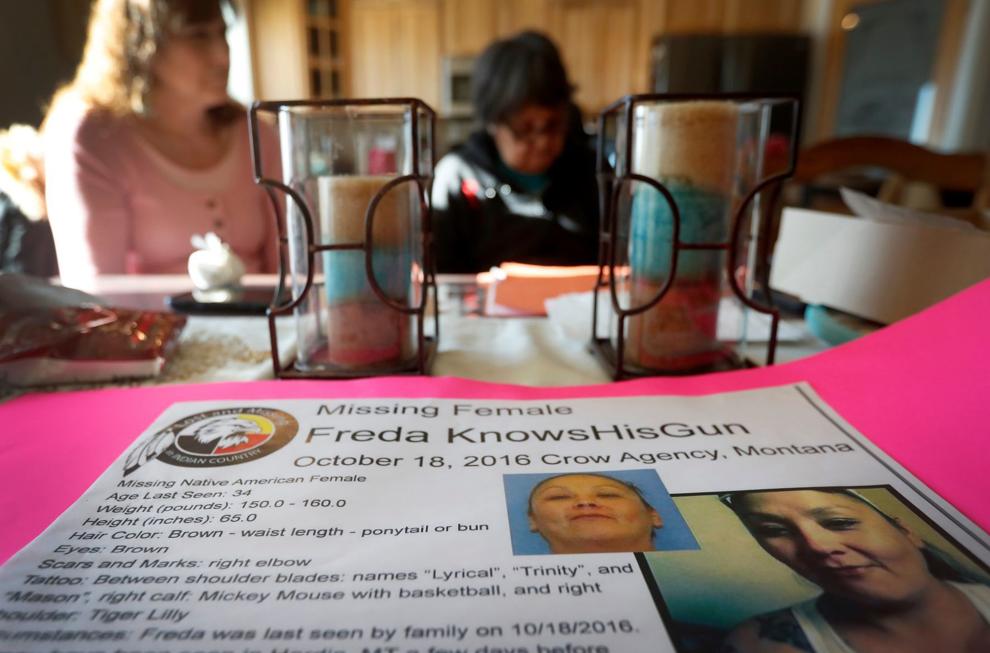 Freda Knows Gun went missing in October 2016, after phoning a friend from a Walmart in Kennewick, Washington, asking the friend to wire her money. The friend sent the money, but Freda never picked it up. The mother who vowed to be back in Montana by Halloween to take her children trick-or-treating hasn't been heard from since.
There has never been a statewide advisory for Knows Gun, who seemed lost not only between federal and state agencies in Montana, but also Washington. But social media pages dedicated to missing and murdered indigenous people have shared and re-shared Freda's profile since it was first posted in January 2017. Good Luck checks the social media sites regularly to see whether anyone posted anything about Freda.
Connecting the disconnected
The social media pages have empowered women to exert control over a crisis that's struggled for action at every level of tribal, state and federal government, places of power where women are typically underrepresented. Women are keenly aware of the disadvantage they have in places of political power where men dominate.
The power of social media is allowing Native American women to take some action where tribal governments and law enforcement aren't leading, said BethYana Pease, a Crow Indian who worked with members of other tribes to launch Montana Missing and Murdered Indigenous Persons. The state Senate's vote against a program making missing persons reports easier to file in Indian Country drew Pease's wrath in February.
"Indian Country is what made Montana, in my opinion, and women and children and men, Native men, they deserve a voice, especially those ones who are missing and murdered," Pease said. "They still have families, and it appalls me sometimes that we can't find support for it. I'm speechless. It's 2019, and we still don't matter."
Montana MMIP launched last year at a Western Native Voice workshop in Great Falls. Pease teamed up with Regina Mad Plume and Patrick Yawakie, community organizers on Flathead Nation, and Briana Lamb, a Gros Ventre from Fort Belknap. The page includes information about people missing, but also posts subjects that keep the discussion about MMIP going. Reservation life can be so isolating that people don't always know what's being done about missing and murdered indigenous persons, Mad Plume said. Facebook is a way to bring the discussion to them.
"It just takes a few of us to start raising awareness," Mad Plume said. "We can be so disconnected from the outside world."
The plan is to develop the Montana MMIP into a nonprofit organization that works full time to organize and educate Native Americans about everything from human trafficking to sexual assault.
That charitable status is what MMIW USA now has, through its partnership with Tryon Life Community, an Oregon nonprofit. Maytubee-Shipman moved beyond publishing missing persons reports to be more proactive. MMIW USA now helps indigenous families pay for the funeral costs and grave markers. In Portland, where the organization is based, the site helps organize volunteer search parties for missing Native American children, two of whom were recently found by the searchers who knew the girls better than local law enforcement.
Portland has a liaison that interacts with the Native American community on missing persons cases, something for which MMIW USA has advocated.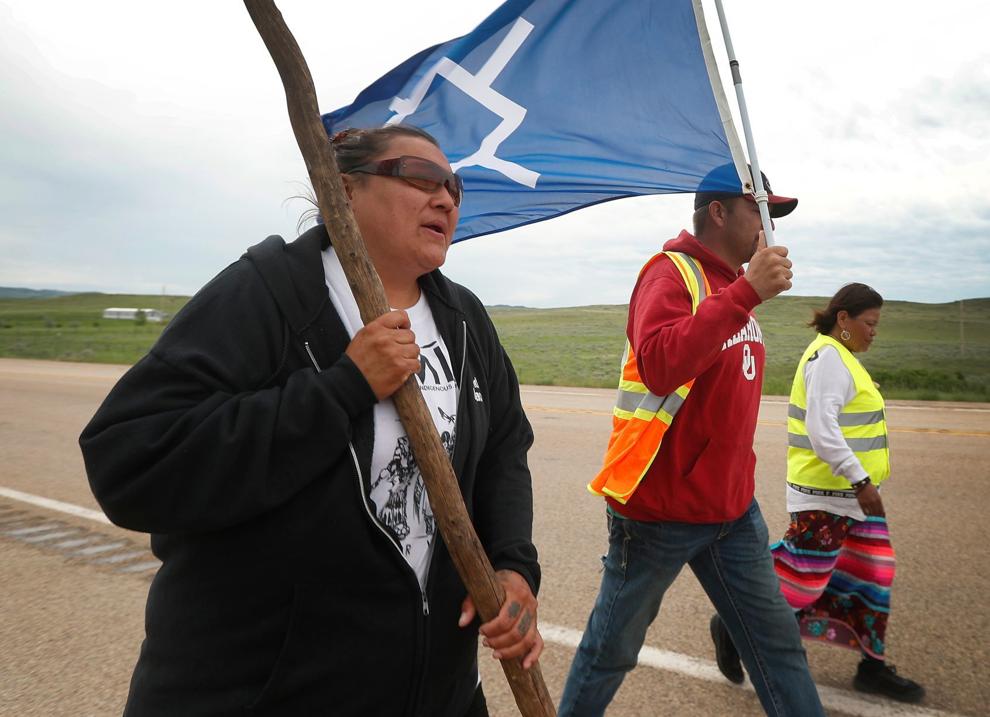 "We were strictly in the beginning informational and of course we've tried to find these individual women. And one year into this, we had families from across the United States writing to us. It was always the same story, they were abandoned. It's not unique when every single family experiences it," Maytubee-Shipman said.
"Since then, we've bought quite a few tombstones and helped a lot of families have vigils of remembrance of their loved ones," she said. "We've helped with funerals. They shouldn't have to spend everything they own to put a family member to rest. I figured pretty early on that we were going to get here. We wanted to be a place where families could come for help."