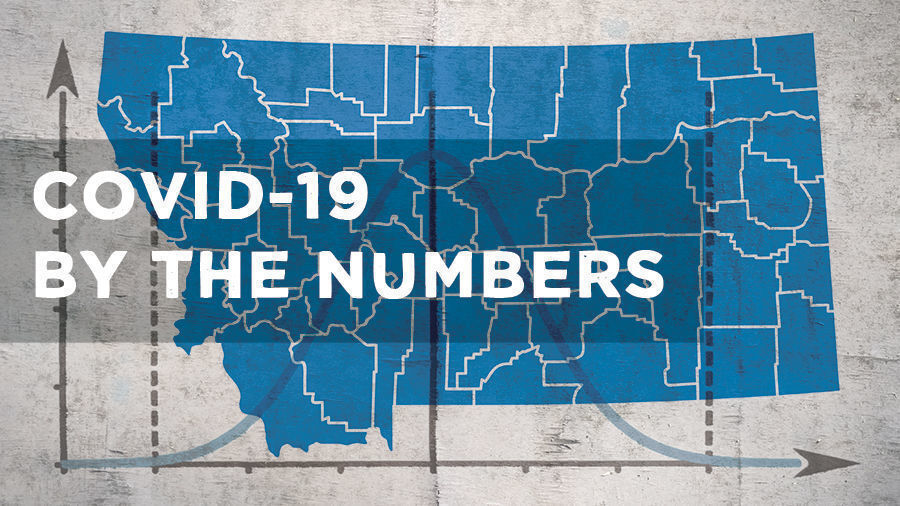 Montana health officials confirmed that three more residents died of COVID-19 Saturday, and the state currently has more than 6,500 active cases.
The state added 721 new cases Saturday morning, according to the latest data from the Department of Public Health and Human Services. Since Monday, the state has tallied 17 deaths due to COVID-19, bringing the total to 209.
As of Saturday morning, there have been 18,117 cases of COVID-19 in Montana since the start of the pandemic. While 11,361 people have recovered from the virus, there still are 6,547 active cases in the state.
In the past week, the virus has hospitalized 91 people. A total of 280 are in hospitals throughout the state receiving treatment for COVID-19, an all-time high for Montana. Since March, DPHHS data show a total of 885 hospitalizations.
Yellowstone County, continuing to lead the state in both active and overall cases, added 159 new cases of COVID-19 Saturday. With 1,342 active cases, the county accounts for about 20% of all active cases in the state.
The latest number puts the county past the rate of 50 cases of COVID-19 per 100,000 residents, and RiverStone Health spokesperson Barbara Schneeman said in an email that a press conference would be held Monday where Felton will issue a health officer order.
"Restrictions will be announced at the press conference," she wrote.
In an earlier press conference, the Billings Gazette reported that Felton said if Yellowstone County reports more than 50 cases of the virus per 100,000 people in a week before Oct. 31, then public gatherings in the county would be limited to 25 people. Restaurants, bars and places of worship would be capped at 25% of their capacity, and all businesses serving alcohol would have to close by 10 p.m.
The group gathering limitation, he said, would not apply to schools.
Flathead County, second to Yellowstone County in active cases, added 92 cases of COVID-19 Saturday morning. The county is currently tracking 909 active cases, and the Flathead Beacon reported Friday that the Flathead County Detention Center confirmed that an inmate had tested positive for the virus.
Roosevelt County also added 92 cases Saturday morning to bring its total number of active cases to 289. Roosevelt Medical Center, a critical access hospital for residents of the sparsely populated county, reported that 14 of its beds were dedicated to treating COVID-19 patients as of Friday. According data from DPHHS, the facility has 27 beds total. One of the three deaths reported Saturday was a Yellowstone County resident.
The state tallied 1,903 new tests for COVID-19 completed by Saturday morning, bringing the overall total of tests analyzed to 388,649.
The counties with the 10 highest active case total added the following number of cases Saturday:
Yellowstone County with 159 (1,342 active)
Flathead County with 92 (909 active)
Cascade County with 28 (596 active)
Missoula County with 64 (590 active)
Gallatin County with 76 (471 active)
Glacier County with 14 (455 active)
Roosevelt County with 92 (289 active)
Lewis and Clark County with 29 (195 active)
Big Horn County with two (138)
Hill County with 20 (133 active)
Other counties reporting new cases Saturday include:
Ravalli County added 18 cases (64 active)
Fergus County added 16 cases (47 active)
Deer Lodge County added 13 cases (108 active)
Custer County added 11 cases (25 active)
Carbon County added nine cases (27 active)
Dawson County added eight cases (34 active)
Stillwater added eight cases (59 active)
Pondera County added seven cases (59 active)
Park County added six cases (30 active)
Butte-Silver Bow County added six cases (81 active)
Powder County added five cases (13 active)
Teton County added five cases (19 active)
Phillips County added four cases (nine active)
Lincoln County added three cases (72 active)
Valley County added three cases (56 active)
Madison County added two cases (11 active)
McCone County added two cases (four active)
Mineral County added two cases (five active)
Powell County added two cases (seven active)
Sheridan County added two cases (11 active)
Sweet Grass County added two cases (six active)
Toole County added two cases (54 active)
Beaverhead County added one case (81 active)
Broadwater County added one case (five active)
Chouteau County added one case (14 active)
Jefferson County added one case (51 active)
Lake County added one case (87 active)
Petroleum County added one case (two active)
Prairie County added one case (22 active)
Richland County added one case (71 active)
Rosebud County added one case (85 active)