When Deputy Jay Groskreutz spotted an eagle on the side of the road while patrolling Wednesday, he told Deputy Steven Horn to turn around. Something seemed off about the bird.
The Cascade County deputies turned around to help the distressed bird. About an hour later the immature bald eagle was on its way to a rehab center in Helena with Montana Fish, Wildlife and Parks. 
The eagle appeared to be snacking on a nearby deer carcass when it got stuck and wasn't able to fly away, Groskreutz said. It didn't seem hurt, but something wasn't right, he said.
Groskreutz got a blanket from his car and threw it over the eagle. He pinned the wings and picked it up without much trouble, or injury to him or the bird, he said.
Carrying it seemed more dangerous, so he decided to put the eagle in the back of the patrol car.
"They're spooky," he said. "They can turn their head all the way around. The size of their beak is very intimidating, but not as scary as their talons."
They called FWP, who quickly responded. The eagle was taken from the back of Groskreutz's car and put in a dog kennel.
It's not the first time Groskreutz has rescued an eagle, he said. Last July the deputy found and rescued an eagle a few miles away from where he found this eagle.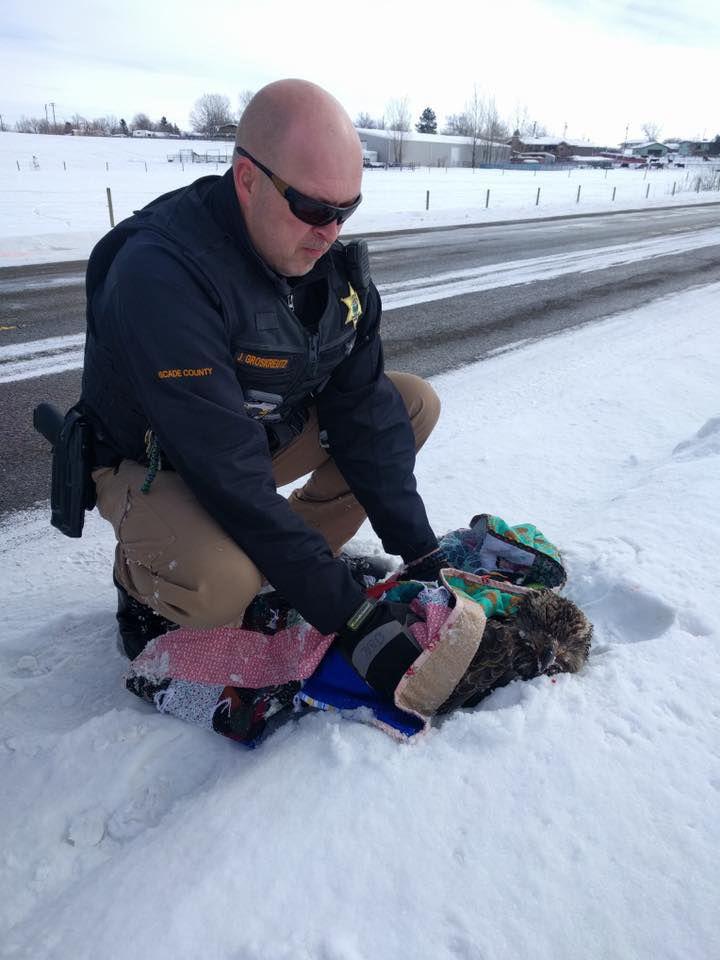 You have free articles remaining.
"Eagles mean an awful lot to me," he said. "We've had some relatives that have passed away, and when we see an eagle we always say it was one of our relatives watching us."
Groskreutz has taken to calling the eagle Walt, after the TV character Walt Longmire — "he just looked like a Walt," he said.
On Thursday, he heard from FWP that the eagle was going to be just fine, and said he requested frequent updates on the bird. 
Cascade County Sheriff Jesse Slaughter praised his deputy's efforts.
"It's a very coveted species. I was very proud of my deputy having the courage to go help it out," he said. "Hopefully it'll make a full recovery." 
The bird was malnourished and is being nursed at the Montana WILD Wildlife Rehabilitation Center in Helena, said FWP Administrator Greg Lemon. Rescuing and rehabilitating raptors isn't uncommon, and the goal for all rescued birds is to release them back to the wild, he said. 
Lemon advised members of the public to call their local animal control or FWP if they see a sick or injured wild animal.
It's illegal to hunt, capture, kill, possess, sell or transport a raptor without a certificate, license or permit, according to Montana law.