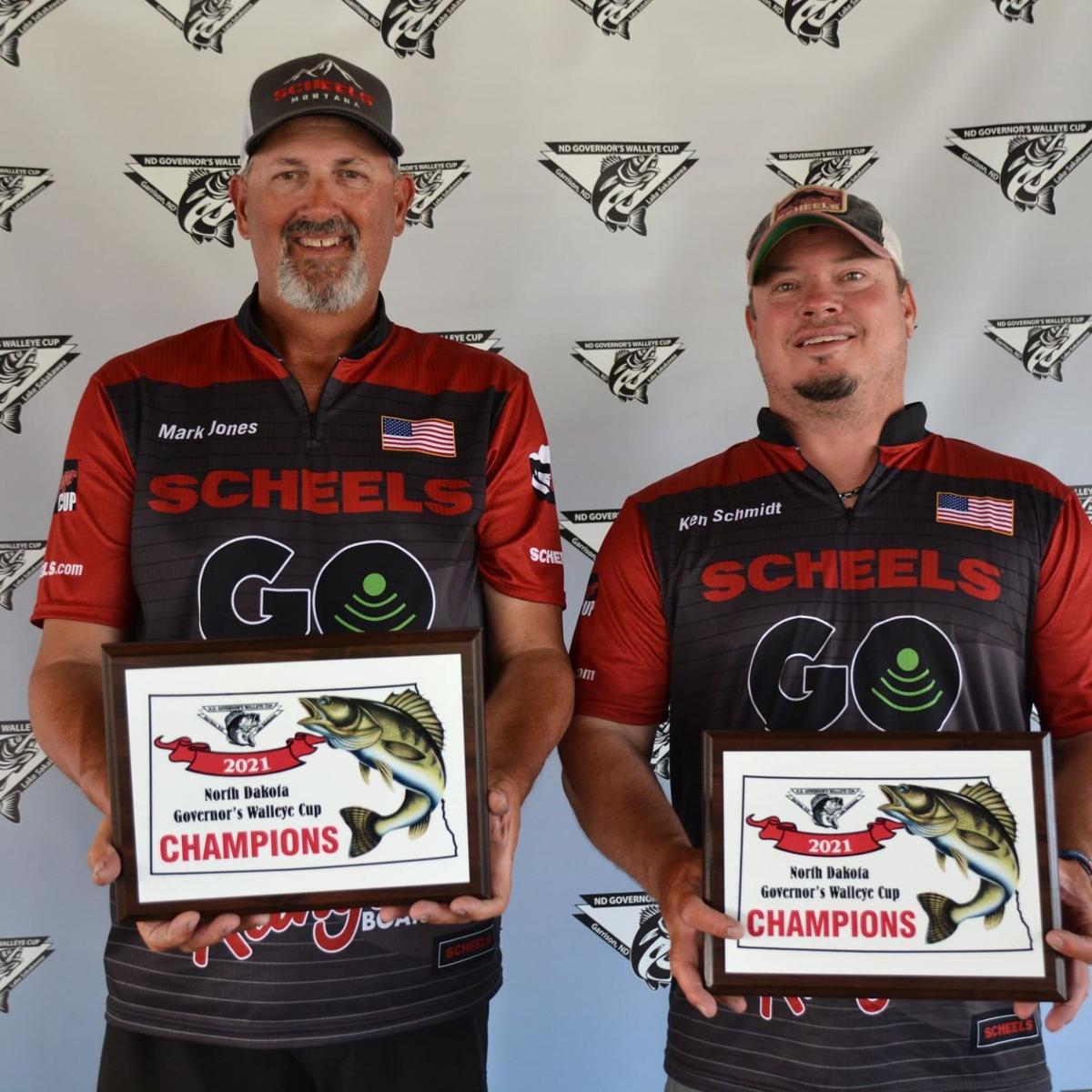 Montana anglers Ken Schmidt and Mark Jones struggled to catch fish the final day of the 2014 North Dakota Governor's Walleye Cup but wound up winning the fishing tournament anyway. They faced no such adversity this year.
Schmidt, of Glasgow, Montana, and Jones, of Billings, Montana, had five fish in the boat on Lake Sakakawea in just a few hours on Saturday morning, "and those were the ones we ended up weighing," Schmidt said.
Teams were allowed to catch eight fish and weigh five each of the two days of fishing, for a two-day total of 10. Schmidt and Jones had come into the second day of the 2021 tournament in sixth place but ended the day atop the leaderboard. With an overall two-day weight of 40.44 pounds -- nearly 8 pounds more than their 2014 total -- they took home the trophy for a second time, along with the $15,000 first prize.
"We found good quality fish in an area," Schmidt said, adding that they had their best luck with leeches for bait, on the east end of Sakakawea. "We knew it was holding not huge fish but really nice fish, in that 23- to 25-inch range, and they were just fat and healthy."
Schmidt, director of the Home Oxygen Department at Frances Mahon Deaconess Hospital, and Jones, district sales manager at Shamrock Foods, bested 259 other teams to win the 46th annual tournament and what is generally considered the most prestigious fishing trophy in the state. They also prevailed against the weather, which tournament Chairwoman Joyce Pfliger said included lightning and hail on the south side of the big lake the first day, along with gusty winds.
Schmidt said the wind gusted to 35 mph on Friday.
"The first day it was miserably windy ... boat control was a big deal," he said. "The second day, it was way more manageable."
Schmidt estimated the duo's biggest fish at about 6 pounds. Bismarck angler Brian Mazigian had the biggest fish of the tourney, at 7.72 inches.
The tournament was the first since 2019 -- last year's event was canceled due to the coronavirus pandemic. Pfliger said big crowds turned out for the daily weigh-ins at Garrison City Park. 
"It was a great tournament," she said. "We usually get a good turnout, but I think people just wanted to be out and about."
Top Ten
The Top 10 teams in the 2021 North Dakota Governor's Walleye Cup, with total weight and prize money:
Schmidt and Jones, 40.44 pounds, $15,000
Jeff Enzminger, Bismarck, and Gary Cayko, Mandan, 39.45, $5,200
Justin and Dorothy Jo Selzler, Velva, 39.40 (won tiebreaker), $4,200
Jacob Heilman, Minot, and Kent Heilman, Glenburn, 39.40, $3,600
Tim Sandstrom and Dani Sandstrom, Minot, 38.90, $3,000
Clayton Folden, New Town, and Wayne Olson, DeBequi, Colorado, 38.04, $2,200
Shane Crawford and Ward Heinzen, Garrison, 37.44, $2,050
Lonnie Jacobson and Janine Landsiedel, Douglas, 36.69, $1,900
Rory Hochsprung and Julie Hochsprung, Pick City, 37.72, $1,850
Don Schumaker and Jessie Schumaker, Bismarck, 34.50, $1,800
The 2019 winners and defending champions Ricky Schumacher and Kerry Wentz, of Bismarck, finished 110th, with 17.63 pounds. The tournament paid down to 42nd place.