During the last week of September, cattle trucks rumbled past Kristi Lewis' extension office in Glacier County. With more than two feet of snow in the weekend forecast, ranches and farms were scrambling to wrap things up.
The storm that prevented much of Montana from escaping September without snow arrived weeks earlier than many in farming and ranching were prepared for. Glacier County got some of the worst of it.
"Cattle were coming in, but there were still a few in the mountains," Lewis said. "There were cattle trucks driving by the office last week to haul animals before the weather hit."
At Lewis' family operation, she and her father talked about the possibility of a "South Dakota situation." Ranchers still talk about South Dakota's 2013 early October blizzard that dumped more than three feet of snow and killed 100,000 head of cattle. In the end, the Montana blizzard didn't deliver a similar death toll for livestock because it didn't begin with a drenching rain as South Dakota's had before temperatures dropped below freezing.
Tuesday, ranchers were still rounding up strays. Snow drifts high over fences can make a nice ramp for cattle inclined to roam. It will get sorted out eventually, Lewis said.
Across Montana, weather conditions had already been challenging for much of the year. Cold and wet conditions in the spring prevented many farmers from seeding early. Those late seedlings, coupled with a cool summer, pushed harvest later than usual. There will still be farmers struggling to finish the harvest as September rain and snow showed up uninvited.
Ahead of the weekend blizzard in Glacier County, there were farmers swathing spring wheat before the snow hit, Lewis said. The plan was to finish the job once the snow melted. But there were some producers already done and others who were close.
Things were worse further east along the Hi-Line. In Sheridan County, where the eastern boundary doubles as the Montana-North Dakota state line, roughly half the durum wheat crop was still waiting to be harvested last week as the weather turned sour. There wasn't much for snow in the forecast, but there had already been about six inches of rain in September, making it nearly impossible to get in the field and harvest.
The grain was in danger of sprouting and ruining farmers' chances at fetching a reasonable price. Whether the grain was profitable would depend on its "falling numbers," a measurement of enzyme activity that affects wheat's ability to make quality dough. A good number would put the durum's value at $6 a bushel. A bad falling number would put the durum's price at $2.50.
There's going to be a lot of $2.50-a-bushel durum in northeast Montana this year, said Terry Angvick. Some of the poor quality durum will make its way to Canada to be turned into ethanol; some will be fed to animals.
Northeast Montana and North Dakota are the hub of U.S. durum production. As heavy rains assured the pasta-making grain would be in short supply, the going price for quality durum has climbed out of the doldrums. A $6-per-bushel payment would have pleased durum farmers, particularly because yields this year are unusually high. Angvick said farmers in his corner of Montana are harvesting 40 to 60 bushels an acre. In a normal year, they'd cut 35 bushels.
You have free articles remaining.
Keep reading for FREE!
Enjoy more articles by signing up or logging in. No credit card required.
"The biggest thing here is, we're in a lot of trouble," Angvick said. "I don't know if we're more than 50% harvested."
The U.S. Department of Agriculture's National Agricultural Statistics Service reported Monday that only 55% of Montana's durum crop had been cut. That includes Sheridan and neighboring counties, a region where nearly all Montana's durum is raised.
By Wednesday, Cassidy Marne was getting calls from foreign grain buyers curious about availability of Montana durum. Prices for quality durum had jumped 28% in 10 days as word got out about weather-fouled crops in Montana and North Dakota.
Northeast Montana farmers, who had held on to quality durum from past low-priced years, were poised to cash out. But for farmers with rain-soaked grain in the field, the road would be rough, said Marn, WBC's interim executive vice president. Already there was talk about how to deal with vomitoxin, and other fungi that thrive in the wet and can be hard to eradicate.
In Richland County, Don Steinbeisser Jr. said the fields were so wet that grain truck drivers parked on county roads rather than risk sinking up to their axles in muddy fields, and that decision was made before the trucks took on grain. Grain carts and combines drove the road shoulder to deliver spring wheat and durum, that like Angvick's was losing quality to wet weather.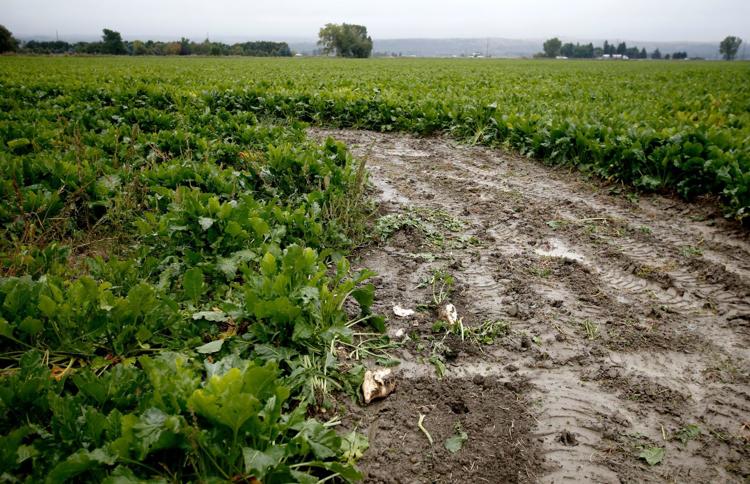 In September, Steinbeisser's region received 13 inches of rain.
"Thirteen inches of rain is more than enough," Steinbeisser said. "Usually, we get 12 inches of rain in a year."
Sidney Sugars planned to open its beet piles Thursday for farmers who had tons to deliver, Steinbeisser said, but he questioned whether the lots where the piles were located would be firm enough to withstand the traffic.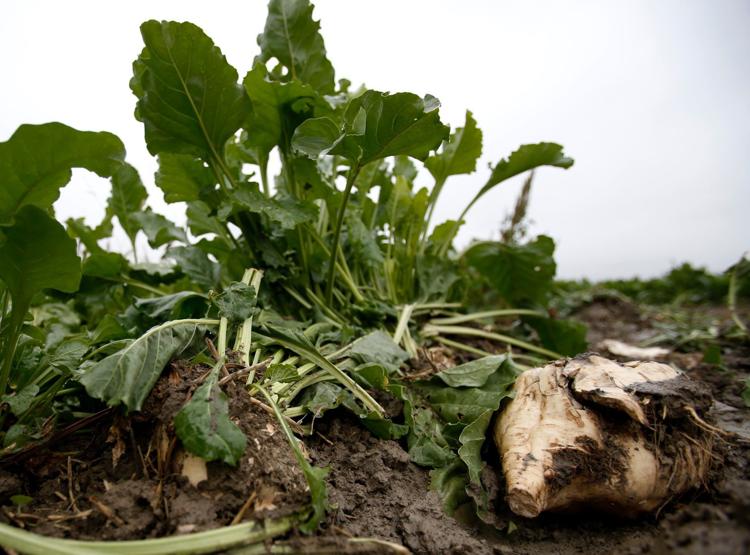 In Billings, Western Sugar Cooperative had piled enough beets to keep its factory making sugar. Randall Jobman, Western's vice president of agriculture for the north region, said the work continued.
"It's been a wet September thus far, but we have been able to harvest an adequate beet supply for factory operations," Jobman said. "We plan to open all the receiving stations late this week and begin piling beets for long term storage."