A new $2.1 million grant will aim to help schools teach students harmed by childhood trauma to rewire their brains and build resilience in the future.
The PAX Good Behavior Game is an evidence-based classroom teaching strategy that rewards students for good behavior and smart choices. It seems simple, but it's grounded in neuroscience.
"If you want to get geeky, it's trauma-focused cognitive coaching, but the kids don't see it that way," said Zoe Barnard, administrator for the Department of Health and Human Services Addictive and Mental Disorders Division. "Over time, it builds new neurocircuitry and it teaches kids to be emotionally resilient."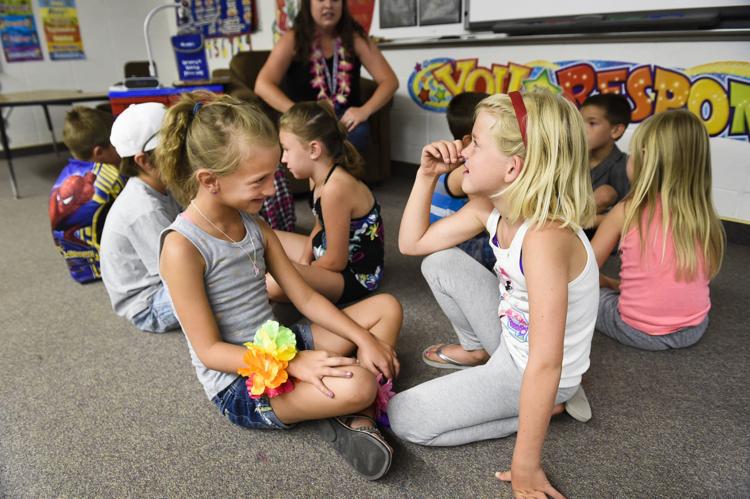 The small choices and rewards, with repetitions and consistency, can help students avoid long-term outcomes like substance abuse and suicide. Students who have experienced childhood trauma are especially at risk.
Adverse childhood experiences — things like the death of a parent or abuse and neglect — can be tabulated into an ACE score. Children with high ACE scores are more likely to get locked into a fight-or-flight pattern of thinking without being able to break out, leading to poor decision making. That makes them more likely to end up in jail, abuse drugs, or die by suicide.
But, as RiverStone Health director of health promotion Dr. Claire Oakley wrote in the Gazette in 2018, "a high ACE score doesn't determine your destiny."
Oakley is an early promoter of PAX in Montana. She helped spearhead getting the game into elementary schools from Billings to Wibaux.
"Being able to handle the ups and downs of everyday life is important for every child, but it's especially important for children who have been exposed to multiple ACEs," Oakley wrote.
The topic is also especially important in Montana, where the youth suicide rate is consistently among the highest in the nation. In the 2017 Montana Youth Risk Behavior Survey, 20% of high school students reported thinking seriously about suicide. Almost 10% reported attempting suicide.
You have free articles remaining.
Keep reading for FREE!
Enjoy more articles by signing up or logging in. No credit card required.
Schools
The grant will target getting a whole school on board, focusing on grades K-3.
"It works best when it's not just an isolated classroom or an isolated teacher but rather a critical mass," Barnard said. "Brains are not hardwired when you're a little kid. Brain circuitry can be grown and changed when you're in elementary school."
DPHHS projects that at least 35 schools can use the grant, which includes a $500 training stipend for teachers to use on supplies to implement that program.
The grant will also send some money to a longitudinal study underway at the University of Montana. The Center for Children, Families and Workforce Development began evaluating school in 2017 after some used money from new state suicide prevention funding to implement PAX. Students will be evaluated throughout their childhood to help determine the effectiveness of PAX, Barnard said — a type of longitudinal research that is rare in Montana.
Barnard reckoned that a growing number of Montanans understand the neurological effects of childhood trauma, but that it's still limited.
"I still think that it's a subject that a lot of people don't fully understand. But the link between early childhood trauma and adult substance abuse and mental health is well established," she said.