A little talked about a U.S. trade war with India is doing real harm to Montana agriculture.
Montana's pea and lentil farmers have been all but shut out of India by tariffs of up to 60 percent. The state leads the nation in pulse crops, producing more than 700,000 tons of peas and lentils annually.
India is the world's largest consumer of peas and lentils, eating 3 to 4 million tons every year. But selling into the market has always been a delicate dance, which has become more precarious as the United States and India battle over tariffs on Indian steel.
Friday, trade representatives for the two countries were supposed to meet in Delhi to iron out differences on a host of issues. But the talks were called off after the U.S. Trade Representative concluded there wasn't enough progress to justify a meeting.
Thursday, President Donald Trump revoked duty-free status on 50 Indian exports to the United States.
Tim McGreevy CEO of the U.S. Dry Pea and Lentil Council, had indicated a week earlier that U.S. pulse farmers would remain stuck in a market of low prices if trade negotiations fell apart.
"The U.S. pulse industry will continue to suffer low prices until the trade disputes are resolved around the world," McGreevy said in a news release.
Prices have been in the dumps for about nine months, said Gordon Stoner, who farms lentils, peas and garbanzo beans in northeast Montana. Trade conditions with India have been erratic. India raises its own peas and lentils and adjusts tariffs accordingly to protect its farmers.
When the India pulse crop is poor, tariffs are lowered. When its farmers do well, tariffs are maxed out, not just on the United States, but also on Canada, which is now crowding U.S. markets with Canadian lentils India has no appetite for. Prices have fallen as a result.
"The tariffs went up in Canada, too, which is one of the major suppliers. Now Canada pulses are trying to find a home and a lot of what Canada produces is coming this way," Stoner said. "We raised chickpeas this year. Chickpeas have tanked. Green peas are not great, they're kind of holding their own. Lentils aren't worth much."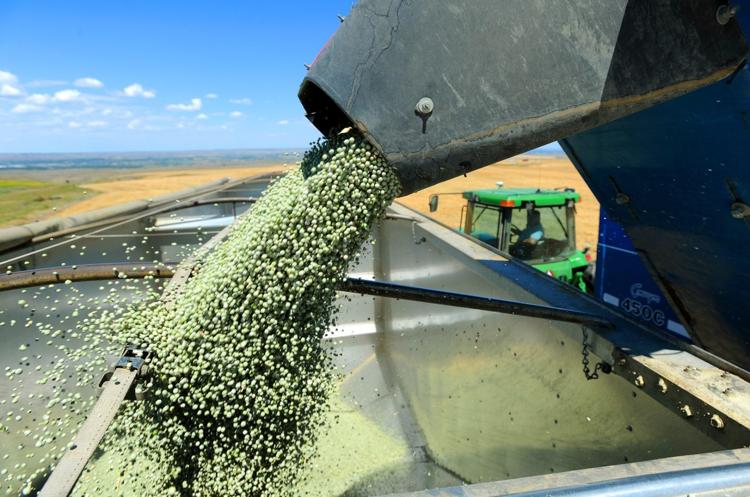 Montana crops that used to land on dinner plates in India are now being folded into dog food at a much cheaper sales price for farmers. Those name brand bags of dog food now announcing that they're grain free? There's a reason for that, Stoner said. Discounted peas and lentils are replacing wheat and corn in pet food. Purina is one of Stoner's better customers at the moment, but the Canadian pulse business is the industry's big dog and it's pawing at the United States' door.
The hope at the U.S. Dry Pea and Lentil Council was that trade talks at the U.S. and India Trade Policy Forum, which started at the end of this week, would mean lower tariffs on American pulses. It's been 18 years since U.S. farmers were paid so little for lentils and peas, according to the council.
Chickpea prices are half what they were before India ratcheted up tariffs. Lentil prices have been cut 40 percent. Dry pea prices are down 36, according to the U.S. Dry Pea and Lentil Council. As the United States has imposed tariffs on products from India and China, those countries have retaliated with tariffs on U.S. goods.
India's tariffs on U.S. lentils and peas used to be about 50 percent. They increased 10 percent in retaliation to U.S. tariffs on India's steel and aluminum. The new, higher tariffs start Friday.
"If prices remain at current levels during this marketing year it will trigger a dramatic decline in pulse acreage in 2019," McGreevy said in his announcement
That acre decline is bad news for Montana agriculture. Between 2014 and 2017, the number of Montana acres planted in pulse crops increased fivefold. The global price of wheat was falling, and Montana farmers turned to peas and lentils, which paid better. The trend peaked in 2017 with 1.16 million acres of pulse crops planted by Montana farmers. Then India's tariffs came into view earlier this year. Montana's pulse acres declined.
The emerging trade war with India is now getting some attention from the national press. The New York Times reported that President Trump's focus has been on getting favorable terms for Harley Davidson motorcycles, while other U.S. products sold to India aren't given the same priority.
The U.S. trade deficit with India is large, at $30 billion, said Robert Lighthizer, United States trade representative in a statement leading up to the now-canceled trade talks. Harley is a small part of that. Agriculture exports are a bigger contributor for the United States, but the high tech industry and commercial airline manufacturers demand greater attention than peas.