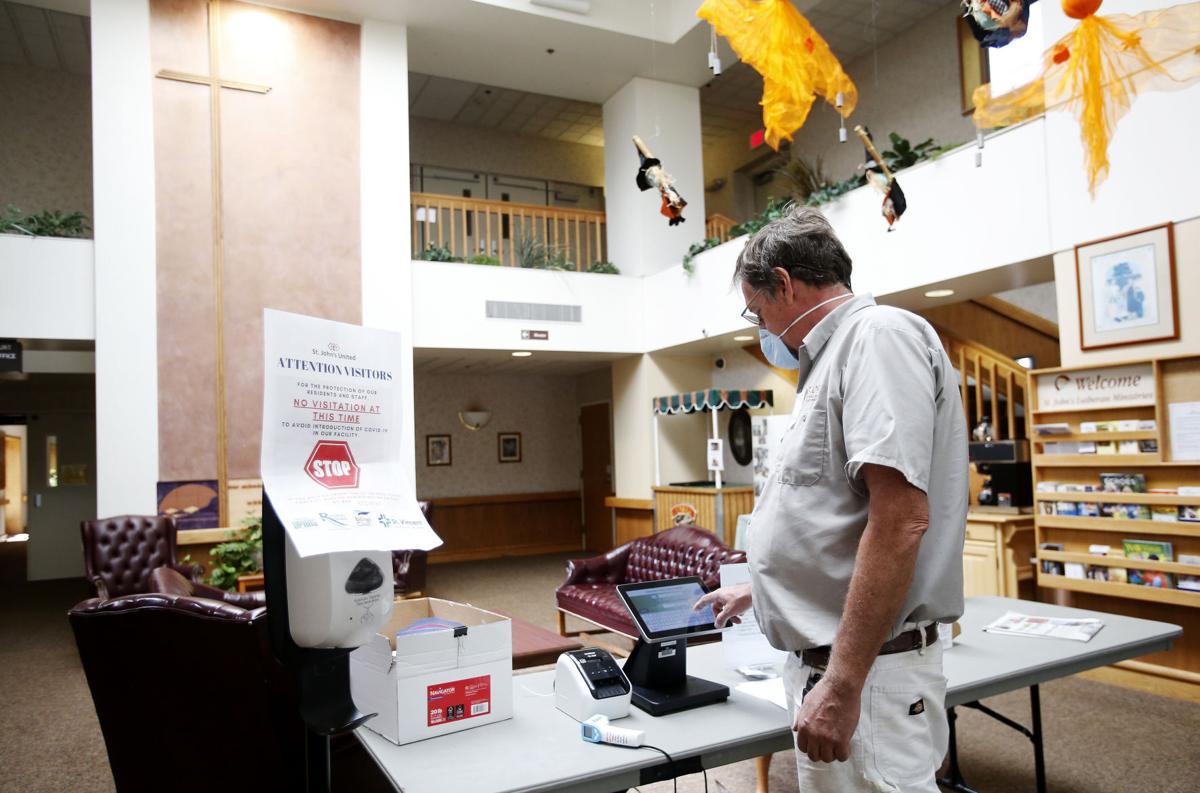 As COVID-19 cases surge across Montana, care homes are struggling to keep up with frequently changing regulations, intensifying the pressure they're under to keep staff and residents safe.
Long-term care facilities such as nursing homes and assisted living centers generally serve older adults with underlying medical conditions, and the communal nature of these facilities compounds the risk, according to health experts.
There are 211 assisted living facilities in the state, along with 73 long-term care facilities. As of Oct. 7, at least 52% of long-term care facilities and 28% of assisted living facilities have reported COVID-19 cases. About 12% of long-term care facilities and 18% of assisted living facilities have had COVID-19 deaths, according to the Montana Department of Public Health and Human Services.
Throughout the pandemic, care homes have been bombarded with new, and sometimes contradictory, rules and regulations. The ever-evolving guidance from both the state and federal governments has been hard to keep up with, care home owners say, especially at facilities where staff — always in short supply — have been among the COVID patients.
Rules, and more rules
Many of the regulations governing nursing homes come from the federal Centers for Medicare and Medicaid Services (CMS). Compliance with those rules is generally overseen by CMS and in Montana by the Department of Public Health and Human Services.
As new rules trickle down, it's up to DPHHS to disseminate the information to county health officials, said Jim Murphy, administrator of the Communicable Disease and Laboratory Services Division with DPHHS. Those county officials then send it on to nursing homes.
Nursing homes can also get rules straight from the feds, and other state regulators.
And counties may institute their own rules, which can be stricter than state and federal regulations. In Yellowstone County, for example, Public Health Officer John Felton issued an order in July ceasing all visitation at senior living facilities in the county. In September, this order was lifted.
Assisted living facilities are now having to meet some standards originally tailored to nursing homes, which offer a higher level of care and have more medical staffers.
"CMS created those standards for nursing homes, (and) we've applied some of those same (standards) to assisted living facilities because that's where some of our more significant cases, or outbreaks, have been and where some of our largest outbreaks of deaths have occurred," Murphy said.
In April, Montana Gov. Steve Bullock ordered the testing, and continued surveillance testing, of all residents and staff in both nursing homes and assisted living facilities. Another directive in July allowed visitation in assisted living facilities, but required a baseline test of all residents and staff and an internal plan for weekly re-testing of staff.
Implementing the rules
St. John's United in Billings is the largest human services organization in the state, providing birth parent counseling, adoption services, housing and health care services for older adults as well as home health and hospice. It serves 600 residents and employs 700 staff members. Housing includes independent, assisted and nursing home living.
As of Friday, almost every housing facility on the sprawling campus had staff members who'd tested positive for COVID-19 or were quarantining, and two of the communities had one or two residents with the disease, said St. John's President and CEO David Trost.
St. John's has its own incident command team. The team meets two to three times a week to discuss protocols and how to apply federal, state and county guidelines, which can change weekly, Trost said.
"We have to disseminate all various guidance and competing external rules, then filter them into something that makes sense for a community such as ours," Trost said. "That's probably been the most challenging thing."
The rules are so numerous and constant that often there can be "two right choices and two wrong choices, and you just land on a decision so that clear communication can be sent out," he said. "There is no one way to handle this pandemic."
Even so, care homes must get it right or they could face possible federal sanctions or penalties.
And sometimes it seems like the federal government is out to protect itself, Trost said. "It's like you're damned if you do and damned if you don't."
Among the biggest challenges care homes face is the constant testing of staff and residents. If the testing requirements are not met the facilities could be cited, facing civil penalties that could exceed $8,000, according to CMS.
And the testing requirements also cause some issues, Trost said. For example, routine testing of staff is based on the extent of the virus in the community, which is translated as a county positivity rate. If the county positivity rate in the past week is below 5%, then testing should be done once a month. If the rate is between 5% and 10%, then testing should be done once a week; over 10% requires testing twice every week, according to CMS.
Testing isn't just swabbing, Trost said. It includes documenting, labeling, delivering the samples, reporting the results and helping with contact tracing if there's a positive case. When an outbreak of COVID-19 happens, both staff and residents must be tested.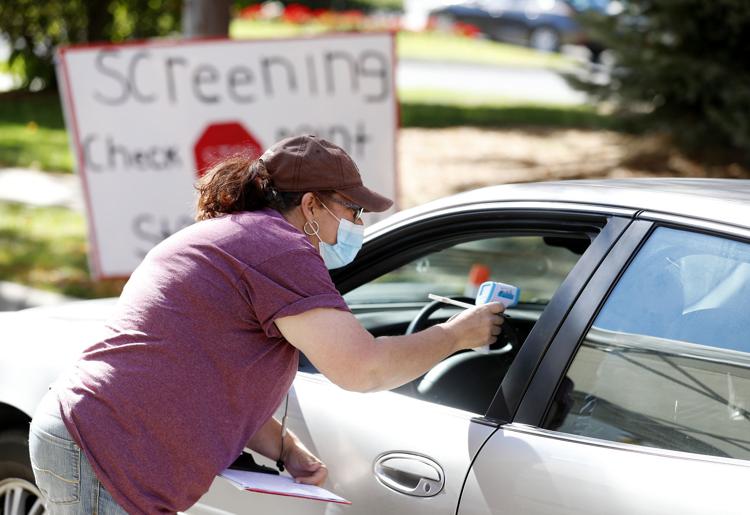 "That's a lot of manpower and human capital to make that happen," Trost said.
To confront the heavy load, in a state overwhelmed by testing, St. John's United is developing its own testing lab. Trost said the RT-PCR testing equipment, which detects the virus's genetic material, will provide St. John's timely testing when the state lab is unable to.
"We are the single largest organization supplying samples to the state of Montana," Trost said.
St. John's received a BD Veritor, as well as Abbot BinaxNOW Cards, for its nursing home after the Trump Administration announced testing units would be sent to nursing homes across the country. The BD Veritor and the BinaxNOW Cards are antigen testing units, which detect certain proteins that can be found on the virus, and are "generally less sensitive" than the PCR testing, according to the CDC.
"Why spend all of this money to make this happen when there could be a vaccine in the next six to 12 months?" Trost said. "Because we're still going to have to test even after a vaccine."
It can also cost up to $19,000 weekly when testing is done twice a week using the BD Veritor antigen testing unit alone. Trost said that this testing will be used for emergencies while the lab is being developed.
State gaps and staffing constraints
On Tuesday, Stillwater County announced that Caslen Meadowlark Assisted Living Facility in Columbus reported that seven employees and seven residents had tested positive for COVID-19. At that time, one death was connected to the facility. A woman in her 80s died in a Billings hospital Monday.
As of Saturday morning, eight new COVID-19 cases were reported in Stillwater County, bringing the total number of active cases to 59, according to the state's COVID-19 map.
The facility has a capacity for 19 people, but had 13 residents as of Tuesday, according to Michael White, co-owner of Caslen Living Centers, which has facilities in Anaconda, Columbus, Helena, Lewistown, Livingston and Whitehall. White said the Columbus facility has 11 staff members.
When the first case was reported in late September, more than half the staff, or six out of 11, tested positive and had to be sent home to quarantine, White said.
"Two people decided not to come back because they were scared to," White said Thursday.
This resulted in four people working, including White, for a few days. Eventually, two more people were hired, although he still had to contact Stillwater County Disaster and Emergency Services and ask for help from the state National Guard or workers from a hospital nearby. 
In Billings, as staff at Canyon Creek Memory Care started getting sick and residents started dying, National Guard members along with Billings Clinic volunteers temporarily helped staff the facility. And, when St. Vincent Healthcare in Billings found itself nearing capacity last month, it flew in workers from its out-of-state sister hospitals to give its own exhausted staff some relief. 
White said he has had little support from the state with staffing issues.
"I got no help. Nothing happened," White said.
In Western Montana, a staffer at the Pines of Polson assisted living facility tested positive about a month ago, but luckily no one else has gotten sick, said Michael Coe, administrator for Pines of Polson and Pines of Mission.
During the first three months of the pandemic, Coe kept a bed in his office because he didn't want to infect his family and wanted to reassure his staff he was there for them.
"Health care and our industry didn't bring this to the state, but we're living with choices everybody makes whether you gown up, mask up, you wash your hands — whatever happens, if it gets into the facility, we have to live with whatever happens," Coe said.
'Staff doesn't grow on trees'
The Montana Health Care Association serves long-term care facilities in the state, and many have reached out to get answers and support, according to Rose Hughes, the association's executive director.
"To me it has just brought forth a whole new experience and lots of questions about how should these things be handled," Hughes said in an interview in September. "What can you do? Because staff doesn't grow on trees and facilities have trouble hiring staff as it is."
Hughes said that several assisted living facilities have reached out for help.
She said the association has asked DPHHS multiple times for written guidance for assisted living facilities.
"Usually the response was, well, they need to follow CDC guidance," she said. But, trying to navigate the CDC website for answers can be daunting.
DPHHS has contracted with two infection preventionists to serve as experts for all health care facilities in the state, DPHHS spokesman Jon Ebelt said in an email. An infection control webinar is held every Thursday for health care facilities, and it offers free infection control assessments to all acute hospitals, nursing homes and assisted living facilities in the state.
The Coronavirus Disease 2019 page on the DPHHS website provides a drop-down menu with links to testing questions and strategies to prevent the spread of COVID-19 through the CDC website. Printable signs are also available.
The CDC has approved work quarantines, which allow those who have been exposed to continue working under certain conditions. But those can be risky, DPHHS's Murphy said. The state also assigns health care personnel to areas that need it.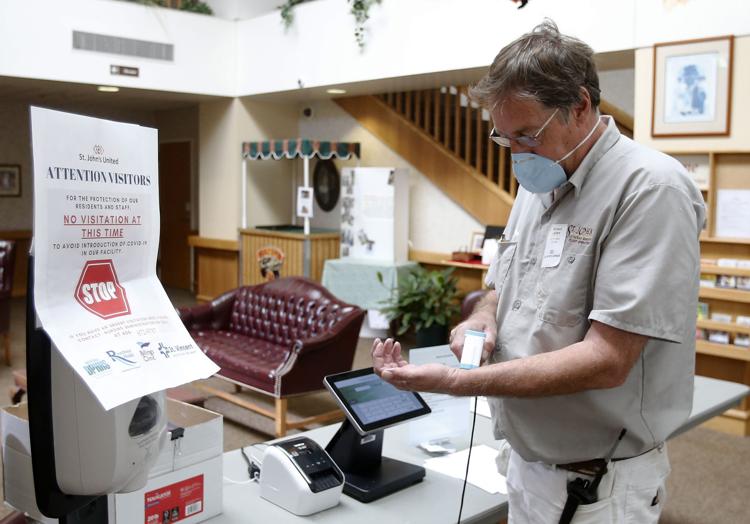 But it still hasn't been enough, Murphy said.
"Unfortunately, there's only so many people around even to fill those positions," Murphy said. "It's getting harder and harder to find more people to fill those slots."
And, there's no end in sight to the pandemic in Montana. On Tuesday, the state reported its highest number of new cases at 733. On Saturday, there were 6,547 active cases.
In Polson, Coe said he's lucky the virus didn't spread in his facility.
"I'm terrified every day and my staff are afraid every day," Coe said. "Convincing staff to come to work is half my job."