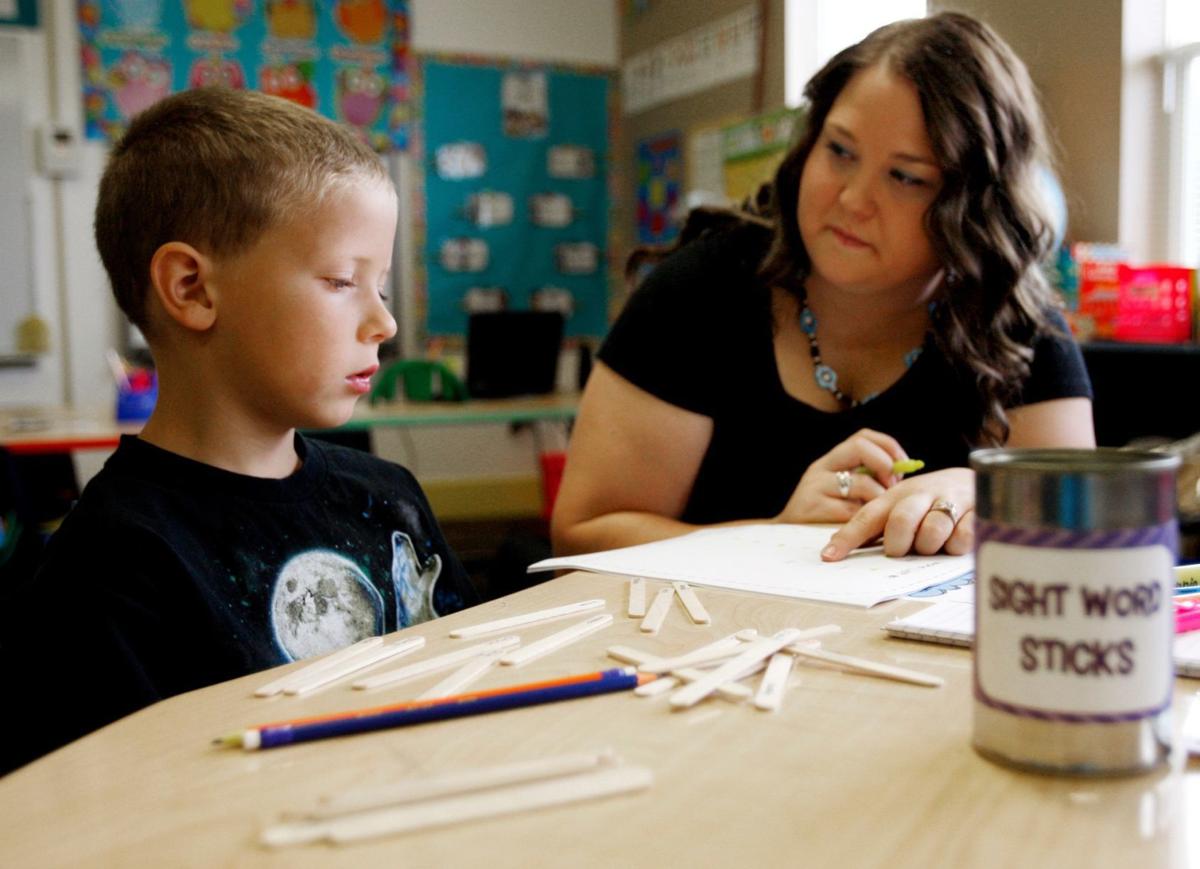 Barely any Montana schools used emergency authorizations to certify teachers a few years ago. Now, that number has jumped to 94, more than double what it was last year. 
And almost all of them are in small, rural schools. 
Whether the jump illustrates a worsening teacher shortage in those schools is unclear. But other evidence has long since established that the shortage reached "crisis levels" in rural schools, and the increase in emergency authorizations lays bare how schools are coping.
"There are some positions that I advertise for, but I get no applicants," said Opheim Schools superintendent Tony Warren. 
Opheim received emergency licenses for three teachers this school year, in science, physical education and music. 
Warren feels like he has good educators in those positions, but he had to look in unconventional places. 
The science teacher is from the Philippines, a market that schools from Shelby to Glendive have turned to. However, the teacher's science education didn't match up properly with OPI's requirements for science, thus the emergency license, Warren said. 
The music teacher is a former certified teacher who now teaches online courses for universities, he said, and agreed to return to K-12 but didn't get re-certified, he said. 
Warren said he mostly tries to market a rural lifestyle and low teacher-student ratio for open positions, but he finds it hard to compete with other states. 
At a recent teacher job fair, he found himself sandwiched between districts from Alaska and Wyoming. 
"On a financial level, we cannot compete," he said. "Both doubled what I could offer to begin with."
Montana offers the lowest beginning teacher salary in the nation, according to the most recent federal statistics and national union information. Generally, those salaries are even lower in rural areas. 
Adding up
Warren, who's been Opheim's superintendent since 2014, has no delusions about Opheim having ever been an irresistible draw for teachers. 
"I'm realistic enough to know that I'm fortunate to get someone for a year or two to get some experience before they move on," he said. 
But in the past, a small percentage of those young teachers would stick and build a career at Opheim, creating a pipeline of veterans. Without a supply of rookies, that pipeline runs dry. 
Two notable inclusions on this year's report were Glendive and Sidney; both are small, rural towns by most reckonings, but they're regional hubs for Eastern Montana. The report does also include one license for the Missoula High School district, and one for a private school in Butte. 
The 94 schools sometimes represent double-counts in the same community. Montana school districts are often split into high school and elementary districts, and if a teacher is certified to teach at both levels and receives an emergency license, it counts for two in the report. 
When totaled by subject area, the state issued 75 emergency licenses to 40 communities. 
Part of the increase is because the Office of Public Instruction is pushing the option to schools who can't find a properly licensed teacher, said OPI Educator Licensure Program Manager Kristine Thatcher. If schools employ a teacher in a position they're not licensed for, they get dinged on their state accreditation. The emergency authorizations have no penalty. 
"The last several years OPI's been making a concerted effort, and especially this past year, to bring awareness of the option," she said, particularly among accreditation staffers who visit schools. 
"I do know that they were also saying, 'OK, it appears that you're also needing someone in this area. … make sure you apply for the emergency authorization."
Teacher certification can be a contentious method of addressing teacher shortages; proponents of expanding teaching qualifications argue that restrictions keep good teachers who haven't jumped through the right hoops out of the classroom, while others raise concerns that easing requirements will lead to a water-down and ineffective teaching workforce.  
The authorizations have been an important tool for Glendive, Dawson County School District superintendent Stephen Schreibeis said. 
"It has helped us quite a bit maintaining accreditation," he said. 
Glendive has used several of the authorizations for long-term substitutes, he said. State law requires a sub to have a teaching license after working in the same position for more than 35 days. 
"We don't have many licensed teachers in Glendive just hanging out, not teaching," Schreibeis said. 
The district also used an authorization for a special education position this year. They hired an educator who is in the process of finishing her schooling that would qualify her for licensure. 
That feeds into the grow-your-own model of teacher recruitment — finding people with roots in the community.
"If you can train your own, you have a higher likelihood of retention," Schreibeis said. 
Legislative action
The licensure report has been produced since 2017; this year's version is the first to include year-by-year statistics on how many new licenses and license renewals Montana issued. 
At first glance, it's hard to pull meaningful trends from that data, Thatcher said, but she thinks it merits a deeper dive. 
She also said OPI isn't able to glean specific information about how many educators have pursued a license through a new pathway created by the Board of Public Education that certifies educators who have five years teaching experience in another state and have gone through an "alternative" teaching program, not a typical four-year university program. 
She estimated that 20-30 teachers and administrators have used the pathway, but said the state would need to upgrade its data systems to track that information. 
"It would be wonderful to have a new and improved system," she said. "They also come with a very large price tag."
So far, any sweeping action at the Montana legislature hasn't been a priority. Superintendent of Public Instruction Elsie Arntzen, who declared teacher shortage her "number one issue" on the 2016 campaign trail, has pivoted to championing school safety amid a national spotlight on the topic after school shootings in 2018. Her legislative priorities for the session list no teacher-shortage specific initiatives. 
Legislators did pass some changes to a teacher loan repayment program to prioritize rural schools in 2017, but then they promptly defunded the program amid a budget crunch. 
Funding appears poised to return in 2019, as legislators have taken up a bill that would move the repayment program under OPI's administration instead of the Office of the Commissioner of Higher Education. 
A bill from Sen. Mike Lang, SB 139, would tweak retiree systems to make it easier for retired teachers to return to work if a school can't find a qualified teacher; Lang pitched it as a potential solution for rural schools. 
But the state retirement system opposed the move, as did the state teacher's union. Both groups characterized the move as "double dipping."
There's no silver bullet for teacher shortages, but several solutions can help. Certification changes, mentorship programs and rural-specific training are scattered across Montana, but most are driven by individual districts or colleges. But Montana has passed on sweeping statewide programs, especially addressing what research shows is one of the most important solutions — salary. 
More than 20 states use diversified pay programs, which offer higher salaries in high-needs districts beyond programs like loan assistance. Seven states require minimum salaries, and 17 states use a statewide salary schedule, that requires minimum salaries depending on experience.
Montana doesn't use any of the approaches. Idaho uses a statewide salary schedule, and Wyoming uses diversified pay.
Montana's funding structure gives schools a BASE level, considered 80 percent. Making up the next 20 percent is up to local voters. Tax increases can be hard to come by in largely agricultural and residential areas, and a community's taste for taxation can affect equitable school funding. 
The state already funds small rural schools at far-higher per-student levels than larger urban schools. But with few students, money doesn't pile up, and a low teacher-student ratio becomes hard to pay for. 
Warren was optimistic about some initiatives in the state, like a Montana State University program that sends teaching students to rural schools to gain experience that Opheim has participated in. Opheim also offers a college-credit course to it's students, EDU 101. 
But even if those strategies lead to a new pipeline, "that takes time," he said. 
"The need is immediate."