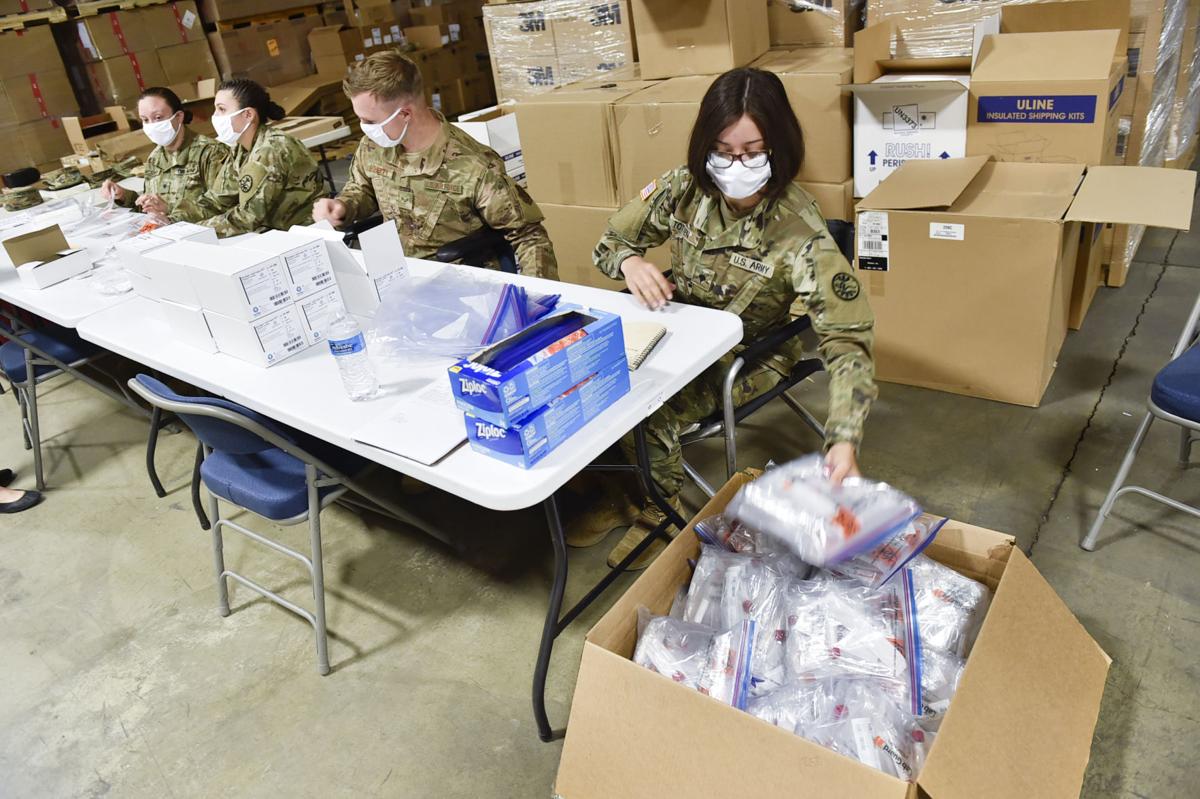 Even with recent outbreaks in Big Horn and Yellowstone counties in the last few days, Montana has fared better than similar states when it comes to growth in cases of the novel coronavirus, something health officials attribute in part to the settings where new cases have popped up.
"All the cases have been connected in these two new clusters, so we're not seeing community spread at this point in time," state medical director Greg Holzman said in a call with reporters Monday. "We want to continue to get out in front of it with our contact tracing to be sure that the outbreak does not get larger."
There are 23 active cases tied to the Big Horn County cluster. Eight of the dozen active cases in Yellowstone County are connected to exposure at the county detention facility. An additional outbreak of eight cases in Ravalli County earlier this month is from people who traveled from outside Montana to work at the exclusive Stock Farm Club.  
That means roughly half of the cases the state has added since starting its gradual reopening have been linked to some sort of cluster. When Montana entered a stay-at-home order in late March, several larger counties reported they had community spread, meaning new cases could not be tied to existing ones, but that's not how cases are increasing now.
Though neighboring states are similar in population density, they have not seen the same trajectory of case growth. Wyoming, which never issued a statewide stay-at-home order, regularly adds more cases than Montana, including a spike of 30 on May 2. Many public health officers here attributed Montana's early stay-at-home order to continued low case growth in Big Sky country.
"One of the things that has not happened in Montana, which has been very lucky, (is) we haven't had a meatpacking scenario," Holzman said Monday. " … But that can easily happen if you have a positive case with contacts that are close, if you have congregate settings. That's where you're more likely to see higher numbers and quickly."
In interviews last week, public health officers from around the state said contact tracing was critical both in lowering case rates enough the state could resume some normal activity and in keeping growth low as reopening starts.
When health departments first began tracing for the coronavirus in Montana, people had an average of about 30 close contacts, Holzman said last week. Now it's more like 10 contacts maximum, and in some cases far less. That's due to things like the stay-at-home order and people continuing to follow distancing measures even as restrictions have lifted.
Contact tracing capacity has increased across the state. In Yellowstone County, John Felton, the president and chief executive officer of Riverstone Health, said in March the county had essentially two public health nurses doing all the communicable disease tracing. Now there are six trained teams of two or three people each.
"As we move forward with more testing and the likelihood that we'll find more positive cases, that's going to be a time that having that extra capacity to do contact tracing is important," Felton said.
Missoula County has also increased staff, health officer Cindy Farr said. And at the state level, Gov. Steve Bullock said last week that 150 National Guard members will also take a contact tracing course to be able to assist counties as necessary.
As Montana moves into its next phase of lifted restrictions, each community is watching for its own risk factors. In Gallatin County, that's the opening of the Montana entrances to Yellowstone National Park, which happened Monday.
As the state expands testing capacity following an ambitious plan by Bullock to test 60,000 a month with a focus on at-risk populations first, Gallatin County is working to build testing capacity in West Yellowstone. Part of Bullock's plan also calls for increased testing in so-called destination communities around Montana that see high tourist numbers, an attempt to catch any cases early to quickly isolate those who are sick.
"We're still in at that really early part in the summer. We haven't had a lot of new visitors come in and a lot of new cases imported in. It's not the time for victory dances. We're still right at that cusp of summer. We've got Yellowstone Park reopening. We've got the quarantine order lifting going into Phase 2. I think we need to continue to be cautious," Kelley said.
In Missoula and Yellowstone counties, health officers are watching large public events closely.
"We've had a couple events that have chose not to operate this year. But we've still got things like the farmers market and we still have what's going to happen with the fair," Felton said. "Like everything in the COVID world, it's a plus-minus analysis. On the plus, those events are outside, they generally involve a lot of mobility so people just don't stand face-to-face for an extended period of time. On the negative side of those events is you do compress a lot of people into spaces."
Holzman, the state medical director, said while tourists can play a role in the spread of the virus, much of what their travel looks like isn't as high-risk as activities in which residents might engage. Though the science about how the coronavirus moves from person to person is not entirely settled, generally the assumption is it takes 15 minutes or more of exposure within a 6-foot distance of a sick person. Just passing someone in the aisle of a grocery store is not thought of as a close contact, while riding together in a car might be.
"It's a reminder that we think of it always as the outsider coming to Montana, but it can easily be spread even further from Montanans coming back to Montana after visiting other places that might have a higher prevalence of the disease," Holzman said. "The tourists that goes to the tourist areas, there might be an outbreak that will stay in that tourist area, but it doesn't mean it will spread all over the place."
Bullock last week said while he recognizes any lifting of restrictions comes with risk, there are still measures Montanans can take, like distancing and frequent hand-washing, to stay safe.
"We can take a measured approach, but we can't keep visitors away from Montana forever," Bullock said. "We'll be doing public awareness, asking folks from out of state to take it as seriously as Montanans have taken it, because that's what has helped us have these low numbers."