Montana ranchers are heading into better economic territory in 2019, said Fred Wacker, newly appointed president of the Montana Stockgrowers Association.
Wacker assumed leadership Thursday of Montana's largest livestock organization as the group met for its annual convention and trade show in downtown Billings. 
Wacker said he expects cattle prices to rebound in the coming year as trade disputes are settled, specifically with China where an agreement for $200 million worth of Montana beef was reached in 2017.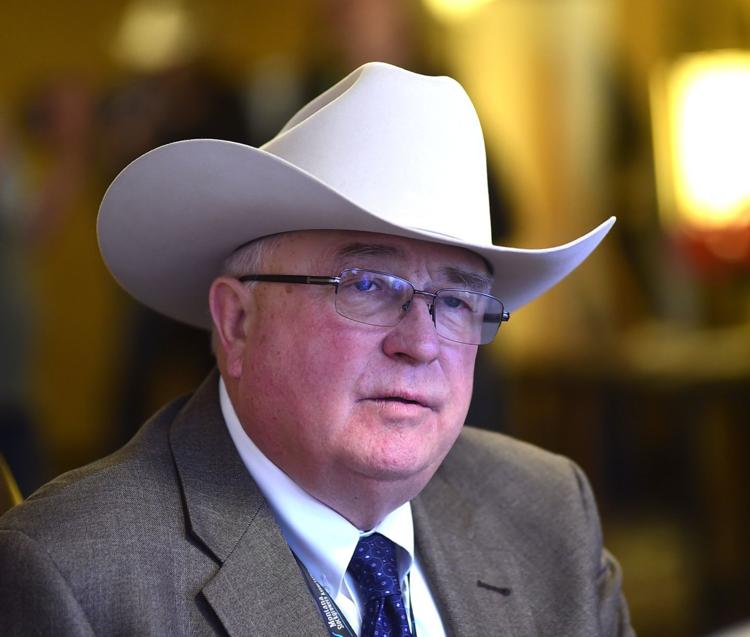 The beef deal, which also included a $100 million commitment to build a future Montana packing plant, was paused in early 2018 after President Donald Trump turned to tariffs to settle the United States' lopsided trade relations with China. The trade war that ensued should expire and when it does, there's still demand in China for Montana beef, Wacker said.
"My feeling is that the tariff situation is going to have to be settled, because all I know is what I read. And when I read the Wall Street Journal, and I read what (Larry) Kudlow says and what Wilbur Ross, says that this thing has to end because it's hurting both sides.
"They (the Chinese) have told us on conference calls 'We want to do this deal. Please tell your government to get rid of the tariffs.' They always put their propaganda in, but the underlying thing is, that if this thing hangs on this time, they've got a bunch of people who travel that have eaten U.S. beef, corn-fed beef. They don't want to go back to eating water buffalo and grass-fed Australian beef. They want what we have and they will pay the 25 percent tariff."
This year has been challenging for ranchers, not only because beef prices softened, but the winter of 2018 was deadly for Montana livestock with five-figure losses statewide.
You have free articles remaining.
Keep reading for FREE!
Enjoy more articles by signing up or logging in. No credit card required.
The Stockgrowers are also keeping a close eye on the U.S. House as Democrats assume majority control in January. Just this week, farm and ranch groups were praising Trump's reversal of the Obama-era Waters of the United States, or WOTUS, rules that expanded the reach of the Clean Water Act to steams and water bodies that didn't exist year-round.
The new rules, announced by the EPA and the Army Corps of Engineers, excluded streams that only flow when fed by rain. Also, wetlands that aren't beside rivers or lakes are off the regulatory hook. But Trump's actions, like Obama before him, are based on executive order and vulnerable to being undone, either by Congress or a future president.
"It's going to be a new challenge to watch Washington D.C. because of the swing in the House, because we're going to have new chairmen in House Ag and Interior and things like that. We have to go back and do the work we did previously so we can make friends with those people and we're looking forward to that challenge," Wacker said. "We think if we get on it early, and we talk with those people and we go to them with an open hand, we want to do things with them, we really think we can make some good strides for Montana."
It's a packed house for The President's Lunch, a meal honoring the outgoing leaders of MSGA. Everyone was all ears for Outgoing President Bryan Mussard's final speech. A big thank you to Bryan and outgoing Director Race King for their years of service an… https://t.co/pqy7yNlEXE pic.twitter.com/zGBdzLxaS0

— Montana Stockgrowers (@MTStockgrowers) December 13, 2018
The first two years of the Trump administration have been good for working with government agencies, said Bryan Mussard, the Stockgrowers' exiting president. The Montana organization managed to meet with Agriculture Secretary Sonny Perdue, Interior Secretary Ryan Zinke, and key second-tier officials in those agencies. A brief meeting with Trump got the regulation of stock tanks on the executive's radar, Mussard said.
"For 40 years everyone has been knocking on those doors and we'd just seen a decline on the relationship and we keep backpedaling and compromising and backpedaling and compromising and two years ago those doors opened up," Mussard said. "And we were all in such shock we didn't know what to do. We didn't know how to walk through the door. Nobody even knew how to play offense."
Stockgrowers in the western part of the state began working with the U.S. Forest Service on regional policy. The group was consulted on a recent regional hire, Mussard said. Negotiating with top USFS officials has allowed livestock producers to circumvent what Mussard called 'a big green clot' of mid-level Forest Service employees with whom ranchers haven't been satisfied. He told the crowd he expected big changes in the Forest Service before the end of Trump's current term.
"They understand the interest of time. They've got two years, they're trying to get some significant changes put through. They also understand the leadership back there is starting to tell their staff at every level 'We have 150 lawyers. Do your job and manage the Forest Service and stop worrying about being sued because we're going to get sued anyway. Now, go and do your job.'"