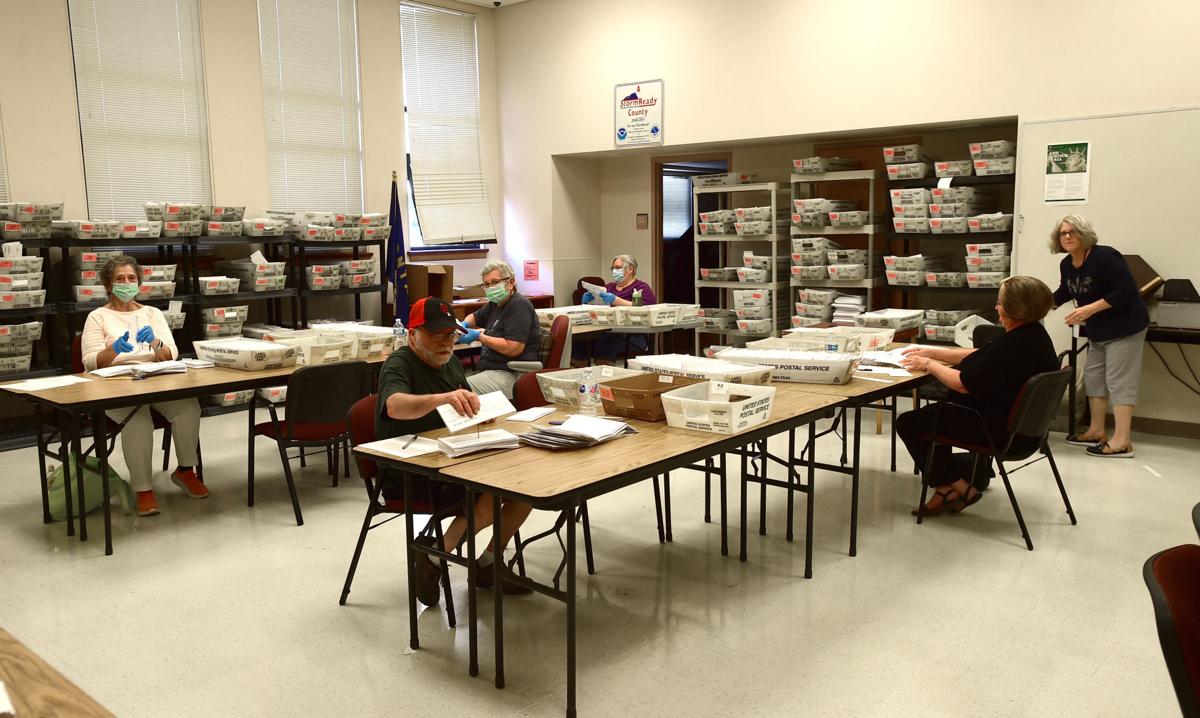 A record number of Montanans has voted in the 2020 primary election with two days left to cast ballots.
State election data shows 312,398 ballots received through Sunday evening. Participation is 18,850 votes better than the old record, set four years ago. Ballots will continue to be accepted until 8 p.m. Tuesday.
This is Montana's first all-mail election, in which every active voter was mailed a ballot with postage paid for return. The last sure day ballots could be returned by mail was May 26. There are drop boxes where ballots may be hand delivered at every county elections office. There will also be drop sites on Election Day. A full list of ballot drop sites is available online at www.votinginmontana.com.
In-person voting is limited to voters who register on Election Day, or have problems with mail ballots.
Turnout through Sunday was 51.8% according to the Montana Secretary of State's office. As a percentage, turnout is not a record, but is the highest primary since the 1978 primary when turnout was 54.5%.
Among the most populated counties, Silver Bow County, with 59.3% had the best early turnout. Cascade and Lewis and Clark counties had turnout at better than 56%. Yellowstone County turnout was 55.2% through Sunday.
Lewis and Clark County turnout is usually better than the state average. The county seat is also at the capital city. Helena voters are engaged. The return envelopes for ballots also included actual stamps. Elections Supervisor Audrey McCue said a Carroll College political science professor had suggested that voters might be more obligated to mail in a ballot to make sure a stamp didn't go to waste.
"The theory is that if you see the stamp you feel like the money's been spent and you should vote," McCue said.
Other counties did business reply mail, or metered postage. The cost of business reply mail was more expensive per ballot returned, but the unreturned ballots cost a county nothing.
One caution about turnout as a percentage, McCue said, is that in the past inactive voters were counted in the mix of potential voters, but in this mail election only active voters received ballots. Inactive voters are people who didn't vote in a federal election and didn't respond to two confirmation mailings sent by the elections office. An inactive voter can come to the elections office on Election Day to receive a ballot and vote, but they weren't mailed a ballot in the first week of May when active voters received ballots. 
Turnout in the state's top two large counties for Democratic votes was much lower. Missoula County turnout was 49.1%. Missoula is home to the University of Montana, the state's second-largest college, where on-campus classes were suspended in March to limit the spread the of coronavirus. Likewise, on-campus classes were suspended at Montana State University in Bozeman, the county seat of Gallatin County, where turnout through Sunday was 43.7%, fifth lowest in the state.
Although the turnout percentage is lower than normal in Gallatin County, the actual number of people voting in the primary is at a record high, said Casey Hayes, Gallatin County elections administrator. The precinct that includes Montana State University is much lower in ballot returns.
"I can tell you precinct 63B, which is the polling places at MSU, has 14% of their ballots returned (voted) and has the highest number of undeliverable ballots returned back to us," Hayes said. "Everyone else as a county right now, or as of yesterday, the average was about 43.8%."
University precincts aren't very active when school is out even in a normal year. Gallatin County's smaller communities were voting in line with the state's 51.8% average, Hayes said. The county has a ballot drop box at each of the 13 sites where polling places are normally.
Missoula sees a drop in primary voting similar to Bozeman's, and there were several hundred undeliverable ballots in the university area, said Bradley Seaman, Missoula County Elections Administrator. But student mailing addresses are spread across Missoula.
Monday, mail ballots were already being counted, Seaman said. He expected a much clearer picture of the election when voting ended at 8 p.m. on Tuesday, than what's normally seen after a normal Election day of same-day voting.
"It will be a more complete set of results than in previous years when it's not until midnight, 2 a.m., that it's been as complete as it will be. But we're really hoping that people will complete turning out," Seaman said. "We'll have through 8 p.m. for people to drop off ballots and we'll get all those ballots counted. In Missoula County, if we have a considerable number at midnight, we're going to pause our process and resume again Wednesday at 8 a.m."
Flathead County, with Montana's second largest population of Republican voters was also among the low-turnout counties with 45.4% turnout. Flathead has a history of better than average in-person voting on Election Day.
Ravalli County turnout was 53.2% through Sunday. Park County turnout was 51.6%.