There are fewer and fewer Pearl Harbor survivors left these days. Montana residents Tom Fultz and Sue Gillespie are intimately aware of that. 
Fultz's father, Wilbur O. Fultz, died in 2001. Gillespie's father, Ed Chlapowski, died in 2011. Both survived the attack on Pearl Harbor. 
On Thursday, Fultz set out from his ranch in Fort Benton and Gillespie from her home in Absarokee to have lunch in Lewistown with one of the last remaining Montanans who survived the attack, 97-year-old Hal Conrad.
Growing up in Michigan, Conrad always wanted to fly. So in 1940 he enlisted in the Army Air Corps.
He was stationed at Hickam Field, separated from Pearl Harbor by a fence. On Dec. 6, 1941, a sergeant gave Conrad a break — a six-hour pass to go into town on a Saturday night. Conrad headed down to Honolulu and hit the town. He caught the last bus back and fell into a heavy sleep until 5 a.m.
"At 5 o'clock in the morning somebody was shaking me — Charge of quarters, CQ as we called them. He was a buck sergeant. He was shaking me. He says, 'Guy who's supposed to guard the water tower is sick, and you'll have to take his place from 6 to 12 this morning.' And so I got dressed, went to the mess hall, had breakfast and had about three cups of black G.I. coffee to wake me up, got on a truck, and they took me out to the water tower." 
Conrad patrolled the area along the water tower as part of his sabotage alert duties that day. 
"My call-in time was five minutes to the hour, and I called in at five minutes to 7 (a.m.) and then I called in at five minutes to 8 (a.m.) Well, three-quarters of the way around the tower, I was only about 100 to 200 feet from the lined fence that separated me from Pearl Harbor and I looked up and saw this flight of nine silver airplanes coming. And I thought, 'Boy, the Navy is going to put on a show for us.' They'd run mock attacks on Sunday every once in awhile."
Conrad noticed that the formation was loose. He saw a bomb drop, and he assumed it was a dummy as part of the mock attack. But the bomb was real. It detonated. 
"And next thing I know all hell broke loose." 
He pulled out his field phone and called it in. At first, no one believed him, but any doubts about what was happening soon passed. Pearl Harbor was under attack.
Remembering together
When the Montana chapter of the Pearl Harbor Survivors Association formed in Billings in 1972, Conrad said there were about 35 members. Now he's aware of only one other former member in the state.
Membership numbers dropped so low in recent years that the group disbanded, Conrad said. 
It wasn't until Gillespie was in high school that she gained a greater appreciation of her father's experience. Chlapowski had originally arrived in Pearl Harbor aboard the USS Arizona before he was transferred to the staff of the commander in chief of the Pacific Fleet months before the attack, The Billings Gazette previously reported. The USS Arizona was among the ships destroyed that day by the Japanese attack.
Gillespie said the survivor's association is part of why her father was able to talk more about the attack as the years went by. Group members used to gather for meetings, meals, cocktails and barbecues, often bringing their spouses along. There were times when members would separate from the larger group to have closed-door sessions. 
"I think it was a place where they could get together and relive their experiences, and it was more or less PTSD therapy, really in today's terms. It was therapy for them where they could actually talk to somebody about it ... because most of them when they got out of the service in 1945, out of the war, most of them went right to work because, you know, they had young families to take care of and everything," Gillespie said. "They just kind of melded back into society and went into work."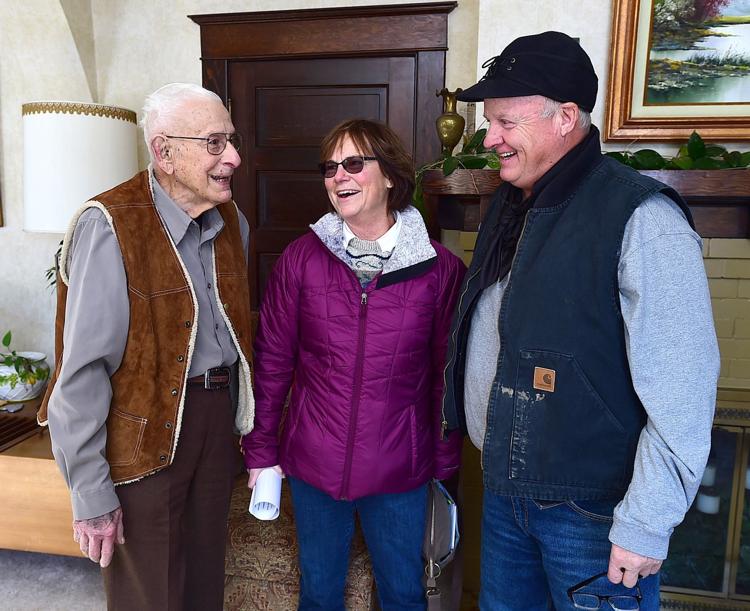 Fultz' father's experience became a point of pride in his life and a connection to history he relished. Wilbur O. Fultz had only an eighth-grade education but read every book about Pearl Harbor he could find, his son said. They'd sometimes talk on the phone about their reading, and the younger Fultz found that his father was nearly impossible to stump when quizzed about the small, interesting details. 
Wilbur O. Fultz was stationed a half a mile away across the harbor from the USS Arizona and saw it explode. The concussion blast was so strong it knocked people down around Fultz. He told his son it was chaos; Wilbur Fultz, who was in the area for torpedo training, was among a group given machine guns and told to get atop a roof and fire at the attacking planes. 
Before Thursday it had been a few years since Gillespie and Fultz had a chance to visit Conrad. The 97-year-old has spent his time visiting family around the holidays in recent years. Often Fultz is swamped with work on his ranch, but he said it's still important to him to stay in touch with someone who was there. 
"I guess it's a part of history that's just sliding away, and it's a great thing to know that you know part of it, you actually could have touched part of it, I guess," he said. "Those days are really getting close to being done now. Everything else is pretty much going to be written in a book."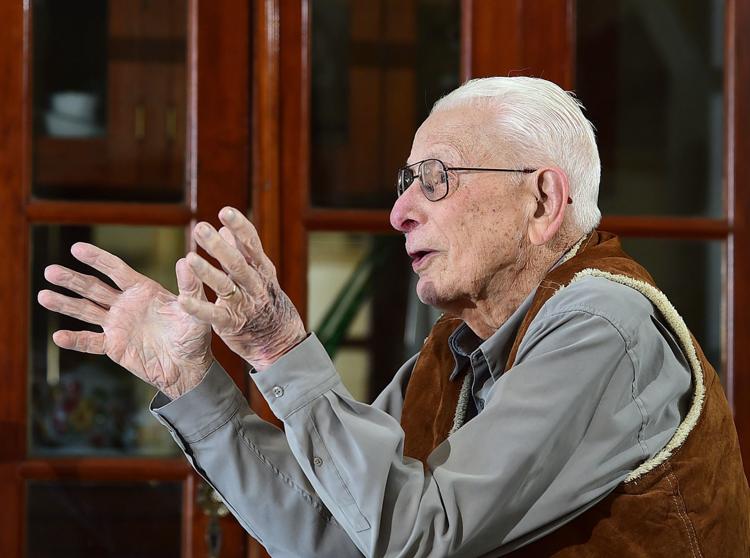 Faint scars
Conrad continued to maintain his post on foot despite Japanese planes firing on him with machine guns. The attack was over in a matter of hours, but it was so chaotic he wasn't relieved of duty for at least a day. He was initially declared missing in action; his family learned he was alive weeks later on Christmas Eve. His survival was considered miraculous enough that he earned the nickname "Lucky," Conrad said. 
"It didn't change (my life) much," he said. "It left a few scars on my memory, but that's it. I lost some friends. But that's about the size of it."
He said he still worries America could see another attack, one involving nuclear bombs. Though he continued on with his life after Pearl Harbor, spending many of the ensuing war years as a test pilot, the memories of that day endure. 
"It's in the back of my mind all the time," he said. "I'll never forget." 
On this anniversary of D-Day, we share stories of Montana veterans who served in World War II.