Lydia Fallsdown has been taking part in Crow Fair since she was 1 year old. She had to be tied to her horse that first year because she couldn't hold on by herself.
Now a grandmother, Fallsdown is in charge of the Centennial Crow Fair Parade, part of the celebrations at the 100th anniversary of Crow Fair, the largest Native American event in Montana, bringing together tribes from across the country Wednesday-Monday to celebrate with the Apsáalooke tribe.
Held in Crow Agency, the annual event turns the community into the "teepee capital of the world," where attendees set up across 60 acres designated for camping. A parade on Friday kicks off a weekend of events, including a rodeo, Indian relay races, and a four-day powwow.
Fallsdown, who lives in Pryor, is a member of the Crow Tribe, renowned for their beadwork. "Our tribe was nomadic," said Falldown of the early days when the Crow roamed the open plains after acquiring horses. "We went from camp to camp visiting tribes, and would wear our best. The Crows are proud people, and we still carry that today."
Crow beaders are known for their distinctive geometric compositions and color pallets inspired by nature, originally utilizing glass seed beads from European traders and sewing them to hides and cloth.
Fallsdown learned how to bead by watching her grandparents and her aunt. "It is passed down to you, but they never once said, 'You have to do this,'" Fallsdown recalled. "They would just sit and bead. I would watch them, and I started asking questions. ... I learned what I saw and put it into motion."
In charge of this year's parade, Fallsdown has created a series of parade categories that will honor the past.
"I'm trying to capture the hundred years, the people, and to look at where we have been and how far have we come. We are still here as a people carrying on our traditions," Fallsdown said. Participants in daily parades will don full regalia that adorns themselves and their horses, including old-time saddles made from cottonwood, a lighter and pliable wood that is able to be bent into a U-shape that is then beaded. The horse is adorned with a beaded breastplate and halter, and a decorative cradleboard and saddlebags are hung from the horse. Each piece of the outfit has been handmade, stitched, tanned and crafted in tradition.
Fallsdown started making her first outfit in 1988. At the time, she was working and going to school, while also taking care of her family, so it took her seven years to complete. Since that time, she's made four complete outfits, each one more elaborate.
Most recently, Fallsdown spent three years creating an outfit that her granddaughter, Azaylea Dust, will wear at the centennial, comprised of beaded roses that were inspired by a parade she attended in Pendleton, Oregon, where fresh roses covered the horses. Interested in replicating this image, Fallsdown incorporated traditional geometrical Crow beading with red, purple, and pink beaded roses.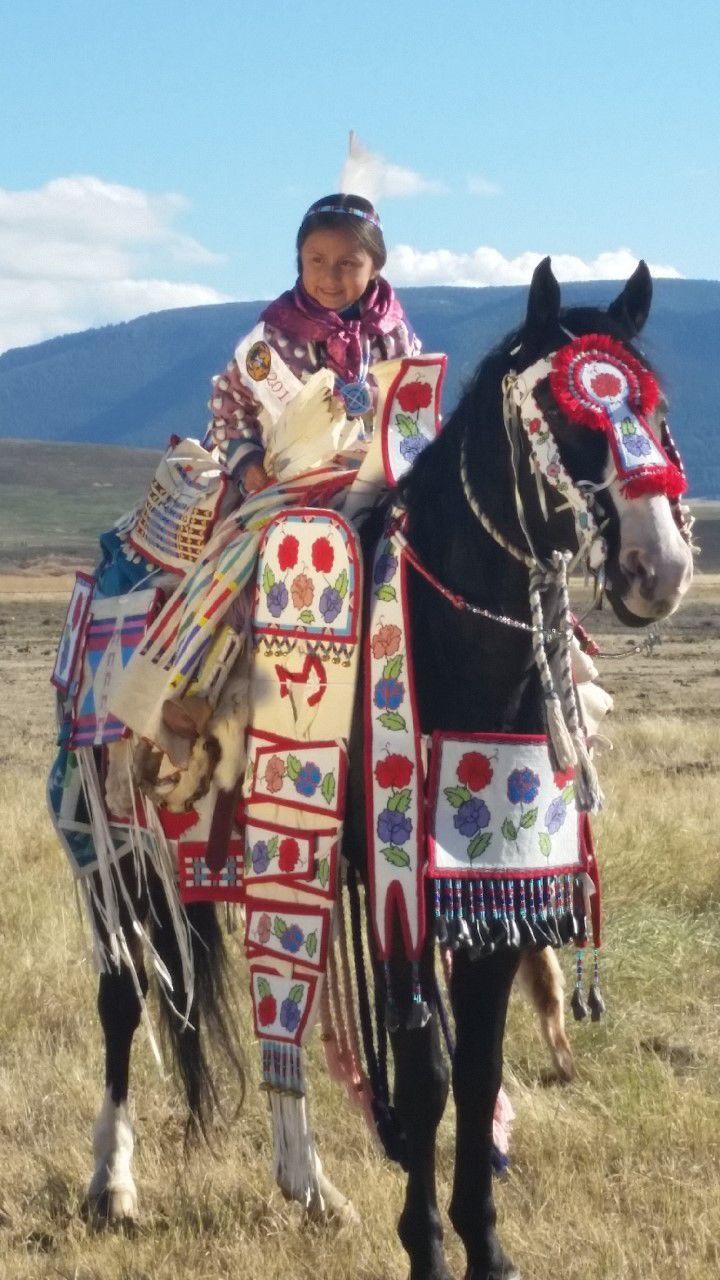 Flowers are not traditionally part of the design, but she did an adaptation that incorporates geometric designs with roses.
Fallsdown said she loves to work with bright colors that stand out, so roses were an ideal choice. She also rides a black horse, because that brings out the colors in the attire — a red elktooth dress with the pop of red flowers against a white beaded background.
There is a great significance to the elk teeth that are sewn into the dresses and shirts of the Crow people. Only the incisors are used, and each elk has only two incisors. Fallsdown said the reason elk teeth are used for adorning clothing was because of an abundance of elk that roamed the mountains of the area.
"A dress with a thousand elk teeth, that means you killed 500 elk," said Fallsdown. "We didn't waste anything, used the hide to make buckskin dresses and bags, rawhide, meat for food," Fallsdown said.
Clothing adorned with elk teeth carries great significance. "That means that you have strong love," Fallsdown said. "A man would kill an elk, give his teeth to a sister or wife. That means that man is a good provider."
Crow Fair is a time of giving and also giving people. The handmade regalia often is gifted to show honor and welcome new members into the family.
"People adapt and they change to the time, but we've managed to keep this tradition intact," said Fallsdown. "You work on these things all year, and come out and show the people that we have traditions."
Jared Stewart, media liaison and Crow Fair Administrative Officer, describes the event as an amazing undertaking. "It's just so beautiful and deep in that tradition and cultural values, and it's also the celebration of the families in our community coming together and showing their family histories throughout their regalia and participating in the events."
Each year, enrolled members of the Crow Tribe are elected to positions that oversee aspects of the event, including the parade, rodeo, races and powwow. Each bring new ideas forward. "This is our annual celebration, and it's known throughout the land," Stewart said. "That gives people a sense of pride. Every year is special and has its own identity."
This year, the parade route has been extended and will travel across two miles of Crow Agency. Fallsdown has themed each day differently, starting Friday with a parade to honor those couples who have been married 50 years or more.
Continuing the theme of honoring family, Saturday's parade featuring women's old-time saddles and elktooth attire is dedicated to Janice Little Light, who passed away three years ago.
"Aunt Janice taught me about my colors and designs," Fallsdown said. "She was a positive influence on me and what I do. I want to honor her and how many outfits she completed."
Sunday, participants are asked to capture 100 years of Crow Fair in their float.
"I like to see how they would interpret the 100 years," Fallsdown said. "I would capture how we used to live — the teepee and the way that grandmas used to dress — in cloth dress, with leather belts and high-top moccasins, and wear their scarves. ... I'm a grandma, but you don't see me going to work like that," she laughed. The last person she knew to dress in the traditional attire passed away a few years ago.
The parade, like the entire event, is open to anyone. "The more, the merrier," Fallsdown said. "We just try to make it fun."
Tilton Old Bull Sr., director of the cultural committee, traces the roots of Crow Fair back to the 1900s, when the U.S. Government was heavily involved in assimilation of the Crow people. "This started off as them trying to get the Crows to grow corn and become farmers," Old Bull said. As time went on, they started having harvest celebrations, getting together for powwows and various competitions like arrow throwing. The annual celebration evolved into Crow Fair, which has grown to one of the largest gatherings of Native Americans in the region.
For the centennial, the Tribe is expecting upwards of 50,000 people to attend.
"It's really an exciting time for our people," Old Bull said. "We are all going to rejoice and camp together like we usually do." He likens the gathering to a family reunion — of epic proportions. "One of the biggest things for me is to be with the family," he said. "See new additions to the family and enjoy time with the family."
Old Bull is the camp crier who rouses the people each morning in advance of the parades. "You have to have the voice, and the elders backing you up," he said.
---
Lots of great faces at annual Crow Fair powwow