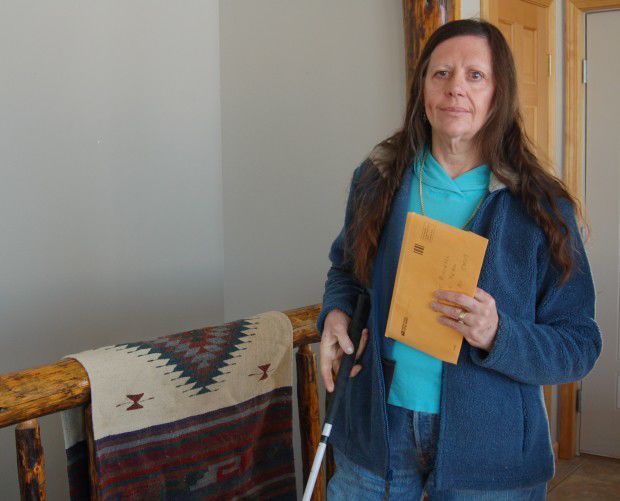 COLUMBUS — The panoramic view from Rose Marie Mitchell's front door is a jaw-dropper. But it comes with a price.
Rose Marie and husband Dan live atop a knob in the hills southwest of Columbus. The snow-draped Crazies float on the western horizon and the Beartooths loom to the south. But the private road to their house, narrow and steep, stands between the Mitchells and their expectations of rural mail delivery.
The United States Postal Service said "it's too dangerous for their employees to come up the road because it's too steep," Rose Marie said. "But it's not too dangerous for me to walk?"
Rose Marie cites two factors in her request to have mail delivered to the end of her driveway. Not only is she legally blind, but she frequently spends long periods of time as the sole occupant of the house.
"Dan's on call 24/7," Rose Marie explained. "When they need him, he needs to go."
Dan works for a company that sets up asphalt plants across the country. When he's called to work, he's frequently gone for weeks at a time. Rose Marie, a registered nurse, has learned to do just about anything on her own — even with her limited eyesight. But she cannot drive, making it difficult, especially during winter months, to access her mailbox more than a mile away. To pick up their mail, the Mitchells must navigate six-tenths of a mile down the steep private road and almost another mile along the county dirt road.
To request an extension, Dan contacted the postal service via an 800 number. The East Coast contact directed him to the Columbus Post Office, which eventually forwarded the matter to Billings. A postal employee made an on-site evaluation and the Mitchells' request was denied.
The Mitchells found a lawyer, but backed off when they were advised that postal regulations trump any federal American With Disabilities Act requirements.
"I don't understand why it is so problematic," Rose Marie said. "We just didn't anticipate any problem."
When the Mitchells moved to Montana in September, they were fulfilling their long-held dream of returning to the Billings area. Despite the cold, the snow and their desire for extended mail delivery, they're thrilled to be back.
Before circling back to the region, the couple had lived outside Sheridan, Wyo., in Albuquerque and more recently in Georgia. With each move, they've always lived out of town and they always had mail delivered to the end of their drive if not to their door. In Georgia, Rose Marie said, their mail lady gladly came to their house to deliver packages and pick up packages they wanted sent out.
"I'd give her a blank check," Rose Marie said.
Lisa Blomquist, spokesperson for the post office in Billings, said hardship requests are rare but there is a national policy for dealing with them. Each is considered on a case-by-case basis, she said.
"We certainly read every request," she said. "Believe me, because of financial constraints, we very closely monitor any kind of extension."
But first and foremost, Blomquist said, a request for any extension — whether it be for hardship or some other reason — must meet specific criteria. One of those criteria is a minimum of one new residence per mile. Secondly, she said, delivery extensions will not be approved for private roads.
"I understand their desire," Blomquist said. "But when those criteria are not met, we cannot even consider a hardship request."
The postal service has offered to hold the Mitchells' mail when Dan is gone, but Rose Marie says that's unacceptable.
"They could be holding my mail for two to three weeks," she said.
Instead, she suggests the postal service deliver up their road every other day.
"And I wouldn't expect them to deliver if there's a snowstorm," Rose Marie said. "I'm not an unreasonable person."
As the Mitchells hope for a better solution, Rose Marie relies on help from neighbors. Though they're glad to pick up her mail when Dan is away, they're not always home and some have their own health issues, she said.
As a nurse, she says she's always been a patient's advocate. And that's how she looks at her situation.
"It's not just me," she said. "I'd like attention brought to the public for the law to be changed."
Rose Marie is convinced they'll eventually have mail delivered to the top of their hill. But in the meantime, she's thinking about Christmas and the packages she'll be sending to her 13 grandchildren in places near and far. If the postal service won't accommodate her, she knows that UPS and FedEx will.
"I'll go online and print up labels. That's exactly what I have to do and have done," she said. "But the mail? I think that should be a given. To be able to send and receive mail should be a normal thing to expect."