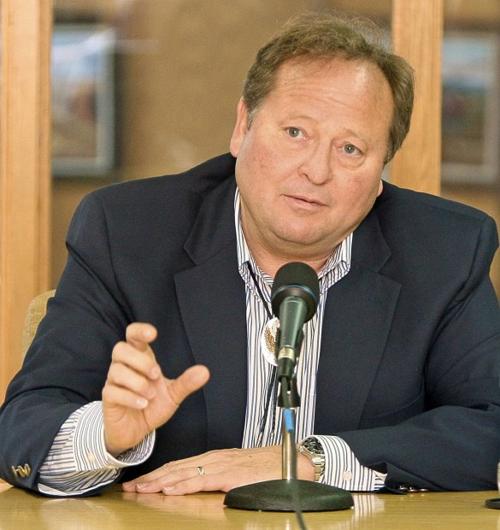 HELENA -- A hearings officer Wednesday recommended Gov. Brian Schweitzer pay $4,100 in fines for violating state ethics laws, in connection with his taping and distribution of a state public-service announcement when he was a candidate for re-election in 2008.
The recommendation from University of Montana law professor Bill Corbett now goes to state Political Practices Commissioner Dave Gallik, who will decide within 90 days what penalty to order.
The executive director of the Montana Republican Party, which filed the original complaint against Schweitzer, a Democrat, said Wednesday the party has been "vindicated" by the recommended fine.
"The governor has resisted admitting this at every step of the way, but now the time has come for him to fess up," said Bowen Greenwood. "The lesson is taxpayer resources are not for advancing your own political career."
Schweitzer, however, has said previously he did nothing wrong and that any final ruling against him from the political practices commissioner will be challenged in state court.
His office issued a statement Wednesday saying that Corbett's recommendation is "incorrect," that the law he's supposed to have violated is confusing, and that no taxpayer funds were used to tape and distribute the radio spots in question.
The long-running case stems from a radio spot that Schweitzer taped in March 2008, one day after he filed to run for re-election as governor. At the request of a Lewistown radio station, he taped two spots promoting Montana agriculture and "Montana Ag Week" and had them sent to 39 other stations.
The ads featured Schweitzer talking about agriculture and he used the phrase "Montana is on the move," which he'd also used in campaign material.
The Montana Republican Party filed a complaint with the Political Practices Office, saying Schweitzer had violated a law that prohibits elected officials from using "state funds" for any public-service announcements that use the official's name or voice while he or she is a candidate for office.
The hearings officer in the case, William Corbett, had recommended the $750 fine, and then-Political Practices Commissioner Dennis Unsworth declined to accept it, instead saying there should be a separate process to determine the number of violations and the ultimate fine.
The Republican Party said then there should be a separate proceeding to determine how many violations occurred. Unsworth agreed, but that process was delayed nearly two years while Schweitzer unsuccessfully tried to block the proceeding in court and the GOP switched attorneys.
Corbett, who presided over both the original case and the penalty phase, said Wednesday that Schweitzer violated the law 41 times, because 41 copies of the public-service announcements were sent out to 40 separate radio stations for their use.
He said Schweitzer should be fined $100 per violation, or $4,100, rather than the $750 that Unsworth had originally ordered.
"Because very little taxpayer money was spent in the production and distribution of the 41 PSAs, it is reasonable to select a low per-violation penalty amount," Corbett wrote.
The law allows fines of $50 to $1,000 per violation. Corbett said the case is the first of its type and should serve as "an excellent learning device" for public officials and media that use PSAs, and therefore Schweitzer shouldn't be subject to an "exorbitant administrative fine."
He also declined the Republican Party's request to charge Schweitzer for the costs of the lengthy proceeding, for the same reasons.
"This is an important and serious case for both parties, and there is no record justification to require the (governor) to bear its costs," Corbett wrote.