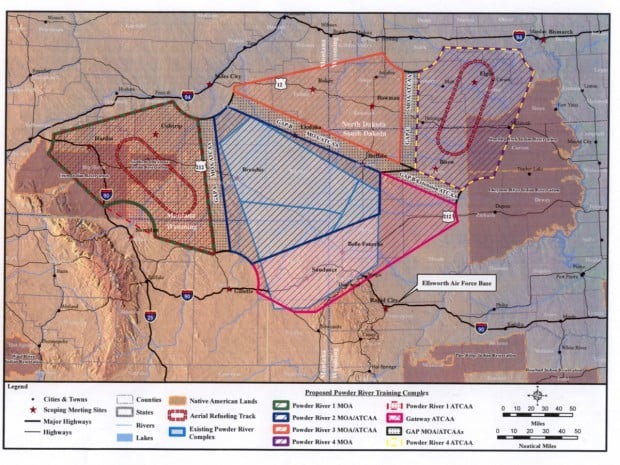 RAPID CITY, S.D. — The Air Force is moving ahead with plans to quadruple the airspace for its bomber training complex over South Dakota, Wyoming, Montana and North Dakota, despite objections from some ranchers and small aircraft pilots.
The Air Force needs additional airspace to provide more realistic training for its B-1B Lancer and B-52 Stratofortress, said Col. Jeffrey Taliaferro, commander of the 28th Bomb Wing at Ellsworth Air Force Base.
The B-1s from Ellsworth, along with B-52s from Minot Air Force Base in North Dakota, use the current Powder River Training Complex.
The complex covers a small area of northwestern South Dakota north of Belle Fourche, a small area in Wyoming north of Sundance, and a larger area of Montana roughly between Alzada, Broadus and Ekalaka. Total air space is about 3.8 million acres. Under the full proposed expansion, air space would increase to more than 20.3 million acres, not including a high-altitude segment called Gateway in South Dakota and Wyoming.
The proposal would expand the training air space into more of northwest South Dakota, much of southwestern North Dakota and more of southeastern Montana. The training area's northern boundary would stretch about 300 miles between Billings and Bismarck, N.D.
Exact boundaries are to be determined.
Air Force officials hope to have the proposal ready to submit to the Federal Aviation Administration by January. The Air Force also plans to issue a draft environmental impact statement sometime next spring. That will be followed by a 60-day comment period and a series of formal public hearings in the region next summer.
The FAA, which controls the airspace, has the final decision.
The expansion is needed because the current training complex is too small for modern combat training, Taliaferro said. Ellsworth B-1 pilots have had to travel at considerable cost to bigger complexes as far away as Utah and Nevada for certain types of training.
Taliaferro said the Powder River Complex is valuable because airspace in most of the country is so heavily trafficked.
B-1s training on the current complex use electronic technology to aim at targets on the ground. They don't drop bombs. Under the expansion, the planes could drop chaff made of aluminum-coated silica, as well as hot flares intended to deter anti-aircraft missiles.
Taliaferro said the expanded complex would be slightly bigger than the training area around Nellis Air Force Base in Nevada.
The expanded complex would increase the capacity for training at Ellsworth, both for new missions or exercises involving visiting forces, Taliaferro said.
Safety concerns
The proposal has met with objections from some ranchers, pilots of small planes and the Montana congressional delegation.
Montana Sens. Max Baucus and Jon Tester wrote the secretary of the Air Force in 2008, saying the proposal could affect flight patterns of medical and other small aircraft. Montana Rep. Denny Rehberg said the concerns of farmers and ranchers should be addressed.
The Montana Pilots Association also opposes the expansion.
Del Dinstel of Colstrip objects to expanding the training complex over Montana.
Dinstel said he already worries about encountering low-flying B-1s in the existing training range when he[s flying his Cessna, checking cows on his summer range along Belle Creek, about 35 miles west of Alzada.
"At times they're not even 500 feet off the ground when they cross the ridge line," Dinstel said.
"What's disconcerting is when you're flying, looking at the ground for cows, and you happen to glance horizontally, and you see the rear end of one of them, knowing he just came by you."
Dinstel said he wants the best training possible for the military. But he believes the expansion involves some politics in building a stronger case for keeping Ellsworth open.
Traffic unwelcome
In South Dakota, Clark Blake is unhappy about the expansion. Blake ranches in the Camp Crook area in Harding County and flies a small plane to hunt coyotes for himself and other ranchers. The existing training range goes over his land.
"I'm not looking forward to this new deal at all," Blake said in a phone interview. "The traffic we've got now we can kind of live with. This sounds like it's going to be several times busier than what we have now, with a lot more aircraft and a lot lower than what we have now."
Blake said the military aircraft can spook livestock, causing them to break through fences and out of corrals.
And he says it will be more difficult for him to shoot coyotes from the air. "We're flying usually at 300 feet. We could have an F-16 or a B-1 in the same altitude we're at."
Blake says he has never had a close call with a B-1 while flying, but "not every pilot up here can say that."
He said the Air Force should use the big training areas in the Southwest, which contain a lot of federal ground. "Better there than up here, where we're trying to make a living with livestock."
Blake also said the rural counties in the Powder River Training Complex don't see much benefit from Ellsworth, even though it's obviously important to the Rapid City economy.
Sen. John Thune, R-S.D., said the expansion will provide valuable and realistic training needed by B-1 aircrews to prepare for combat missions like those being flown over Afghanistan.
Thune said there will be ample opportunity for people to express concerns, and the Air Force will take their comments into account.
Taking precautions
Ellsworth officials say that despite legitimate safety concerns, there are precautionary procedures in place.
George Stone, airspace manager at Ellsworth, said safety is obviously a concern not only for civilian pilots but for B-1 pilots, also.
Stone said the B-1s fly about a fourth of their training missions below 5,000 feet, with some training as low as 500 feet off the ground, which could cause conflicts with ranchers flying low to check cattle or shoot coyotes.
But he said the Air Force notifies the FAA whenever it sends planes into the Powder River complex to train.
Stone said pilots are required to call an FAA flight service station for a weather report, and at the same time they can ask if the complex is going to be "active" with military aircraft.
Blake said that system hasn't always worked.
Stone admitted that a few years ago, a private contractor operating the flight service stations wasn't putting out those Notices To Airmen.
But that problem since has been fixed, and all pilots should be able to find out if military aircraft are going to be in the area, Stone said.
Stone also said most local pilots flying low are under visual flight rules, meaning they must be able to see and avoid other planes. Under visual flight rules, they can't be flying in clouds or overcast conditions at low levels.
Stone, a former B-52 and B-1 navigator who has flown the Powder River, said a B-1 flying at more than 600 mph 500 feet off the ground can take evasive action if it spots a small craft flying in front of it.
However, the 146-foot-long B-1 can't swerve like a fighter.
"B-1s don't do aerobatics," Stone said. "But you turn and avoid, and you climb and avoid."
Small aircraft off to the side are no problem, because there's no way they can get in front of the speeding B-1.
But if they're out in front of a B-1 closing at nine miles a minute, it could be a problem, Stone said.
"Our eyes are always outside looking. His eyes should be outside looking," Stone said, referring to civilian pilots.
Stone said if a B-1 enters the training complex and spots a small plane, it typically just flies to another part of the complex.
Air Force planes also avoid all airports and airstrips in the complex.
The Air Force also has certain areas it avoids at certain times. For example, some ranchers north of Broadus bring their cattle together in the spring for calving and branding and have asked the Air Force to avoid their area at those times. The B-1s honor that request, Stone said.
More planes
Stone acknowledges that more planes will likely be using the complex after it is expanded, although the current complex is getting less use simply because Ellsworth's B-1s are deployed much of the time.
After the Iraq and Afghanistan wars wind down, Ellsworth operations should return to normal, he said.
Only one or two B-1s at a time can use the current complex. Having another three sections similar in size to the current complex could mean several B-1s could operate simultaneously.
And he said the Air Force would like to bring in other forces, as well, including F-16s from the South Dakota Air National Guard in Sioux Falls, for larger-scale training exercises.
Areas that currently don't see any Air Force planes would see them under the expansion. But, Stone said, it is also possible that there might be less traffic over the existing Powder River Complex as aircraft spread out into the expanded range.
The Air Force needs to continue training with large-scale air forces, including combinations of B-1s, B-52s and fighters, Stone said. "We need to keep that sharp as well as keep up to date on what's going on in our two theaters."
The Powder River Training Complex expansion would increase the airspace from about 3.8 million acres to more than 20.3 million acres.
Current complex:
• 14,100 square miles for high altitude training flights. • 5,900 square miles for low-altitude flights. • Covers parts of South Dakota, Wyoming and Montana.
Proposed expansion:
• High-altitude flights would fly over 37,800 square miles. • Low-altitude flights would fly over 22,800-31,700 square miles, depending on which of three alternatives is chosen. • Covers parts of South Dakota, North Dakota, Wyoming and Montana.
The proposal also would authorize:
• Additional training sorties. • Use of training chaff and flares. • Supersonic flight above 10,000 feet.
For more on the proposed expansion, go to
www.ellsworth.af.mil/prtc.asp