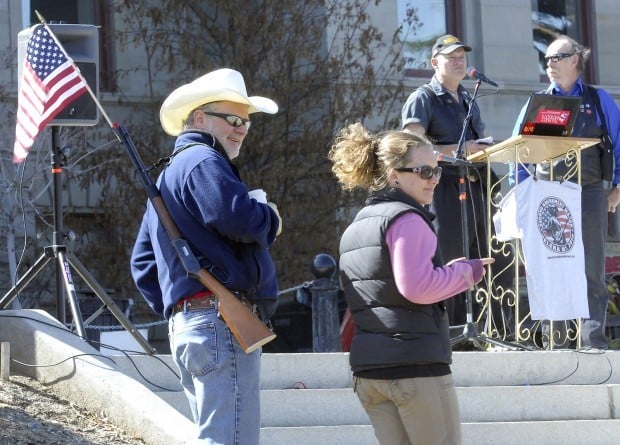 HELENA — Esther Suhr stood on the Capitol lawn Saturday afternoon proudly displaying her .54-caliber black-powder rifle.
Suhr, who lives in the Townsend area, said she came to the rally to show her support for the constitutional right to bear arms. About 200 others also participated.
The event was a precursor to the national Second Amendment March, which will be April 19 on the grounds of the Washington Monument in Washington, D.C.
Suhr and her husband, Bill Waldron, said they are hunters and sport shooters and also carry guns for protection. They both also have concealed weapons licenses.
Waldron had in a holster a .500 Smith and Wesson handgun, which he uses for grizzly bear protection. He said his time overseas in the military taught him to fight for his rights at home.
"People need to see Third World countries so they appreciate what we have here," he said. "People take their rights for granted. They need to take an active part or they'll lose it."
"Don't want to be asleep at the wheel — and that goes for all of us," Waldron added.
Gary Marbut, president of the Montana Shooting Sports Association, told those gathered that the Montana Firearms Freedom Act has led the way nationally in a challenge to the federal government.
"It's swept the nation," Marbut said, adding that other states have cloned the law, which exempts firearms made and kept in Montana from federal firearms regulations.
Organizers of the event said the mission of the rally was to send a message to elected officials about their right to bear arms and remind residents that the Second Amendment is necessary to maintain the right to self-defense.
Police said those who congregated at the Capitol lawn were orderly and complied with laws to have their guns unloaded and secured.
Jim Walker of Helena said he has been to many rallies, but this marked his first supporting the Second Amendment in particular. He stood with his semi-automatic handgun holstered as he listened to the speakers.
"I think it's great. We need more Montanans to pay attention and get involved," said Walker, a member of the Big Sky Tea Party Association.
Speaker Eric "Spike" Kiesche, founder of the Order of the Constitution Defenders, traveled from his home in Tennessee for the rally. Kiesche said it's a shame that most people do not read the Constitution.
"We need to make a statement and let our numbers be known," Kiesche told the crowd.