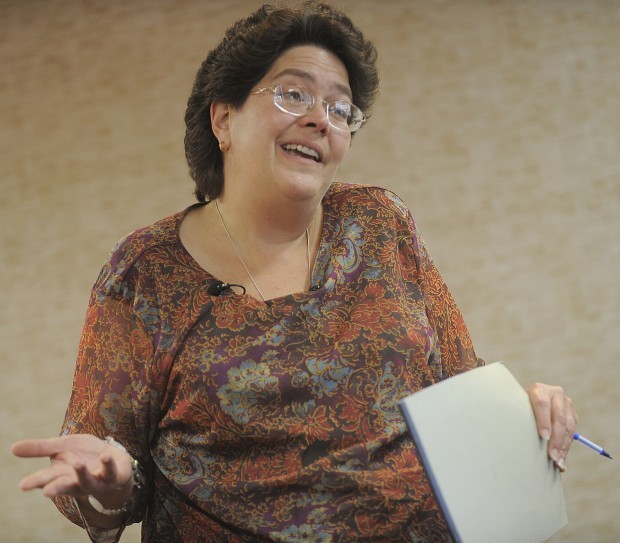 The Hardin jail deal is off, said a spokeswoman for the cryptic California company contracted to run the for-hire hoosegow, now two years empty.
Becky Shay, spokeswoman for American Police Force, said Friday that her company withdrew its offer to operate the 464-bed facility. The announcement comes after investigative reporters revealed that APF's frontman, Serbian immigrant Michael Hilton, has a criminal record and that some APF claims about its jail proposal were bogus.
The canceled deal leaves Hardin's economic development arm, Two Rivers Authority, which owns the jail, without a contractor yet again. Officials for the organization did not respond to interview requests Friday.
"TRA deserves a less-controversial partner," Shay said.
Shay also said the jail required more than $1 million in infrastructure improvements, including medical equipment and repairs needed because it stood empty for so long. Outdoor security cameras that have now weathered two winters need repair. Heavy steel doors inside that have hung open on tired hinges need to be trued up. The building didn't have heat when Shay took office space there two weeks ago, she said. In a digital world, the facility has an analog phone system.
"We just cannot make infrastructure investments at this time," Shay said.
Shay called the process arduous.
After news reports about Hilton's record of crime and fraud, Shay was contacted by state Justice Department officials demanding that APF prove its legitimacy. This week it was also revealed that Two Rivers Authority hadn't fully vetted APF's credentials, including Hilton's criminal background, until after it contracted with the company.
APF remained secretive to the end, which made things difficult, said Shay, who quit her job at The Billings Gazette two weeks ago to become the company's spokeswoman. The lack of information evoked not only allegations of fraud by the community but also grand conspiracy theories in alternative media about secret government jails and corporate skullduggery on the High Plains.
"There was never any fraudulent intent in Hardin," Shay said. "It's very frustrating that the company hasn't been more transparent. It's been very frustrating that we have not given you the opportunity to separate Michael Hilton from APF."
State Attorney General Steve Bullock's request for information appeared to still stand. Shay said she was encouraging Hilton to honor Bullock's request and deadline of Monday.
Specifically, Bullock demanded that APF prove claims that it frequently contracts with the U.S. government and operates in all 50 states. The federal government said it has never contracted with APF.
"In response to significant concerns that were raised about the proposed deal, my office opened an investigation into American Police Force," Bullock said in written statement. "While reports suggest that this deal is off the table, because the investigation has not been completed we're unable to elaborate further on our inquiry. I also wish to express my understanding of the continued desire of the community to fill the unoccupied facility and to bring jobs to Hardin."
Two Rivers officials were hopeful APF would come through. The 10-year deal with the California company was presented by local economic developers last month as Hardin's best chance to profit from the $27 million jail, which Shay reiterated Friday.
"There was finally a contractor who was willing to come in and try to open that detention facility. There was finally a contractor who wasn't afraid of (Gov.) Brian Schweitzer's administration and the state of Montana's attempts, backhanded or straightforward, to restrict opening up that facility," Shay said. "And that opportunity has now been lost. I truly believe another will step up and the facility and Hardin will have its chance."
Shay and other officials tied to the jail have asserted that Schweitzer had undermined efforts to fill the jail.
Schweitzer on Friday said he thought that American Police Force was just another con, with no intention to run the jail.
"This seems to be one huckster who's been in and out of jail over the last 20 years, that's gone from one con to the next and this was just the next one on the road," he said. "There was (no agreement) to pull out of. There was nothing there."
Two Rivers began working on the jail before he was elected, Schweitzer said. Even then, Hardin officials had no deal with Gov. Judy Martz that Montana would house state inmates. After the jail was completed, state and federal authorities all declined to use the space. Two Rivers also floated the idea of housing terrorism suspects now being held by the U.S. military at Guantanamo Bay, Cuba.
Schweitzer sent letters to correctional officials in Wyoming, Colorado and Washington, inviting them to tour the facility and consider housing overflow inmates at Two Rivers. All declined, with some, including neighboring Wyoming and other Montana sheriffs, saying the facility's design could not safely house inmates. Later, when Schweitzer tried to interest the Bureau of Indian affairs in the facility, Two Rivers officials rebuffed those efforts, he said.
Schweitzer said he thought the Texas-based consortium that approached Hardin, built the jail and sold the bonds to pay for it, may also have been hustling a scam.
"The people of Hardin are good people," he said. "But the people that they have elected to serve them have been duped by con artists over and over and over and over again."
There was supposed to be a job fair for the Hardin jail next week, but it was called off earlier this week. The deal was expected to create 120 local jobs.
There were doubts about APF from the beginning, but Greg Smith, Two Rivers executive director at the time of the deal, said concerns were unwarranted.
"There will be naysayers and critics," Smith said last month. "But, you know, we're doing the very best with what we have to make this a success. What I'd like to do is ask them to sit back and let us be successful. There is always time for people, if they want to, to be critical. This has been a long fight. Let us do what we believe is the right thing."
Smith resigned Monday after being placed on paid leave a month ago.
Shay said she will continue to work for APF. Although she wouldn't say if she has received a paycheck, the spokeswoman did say she has been compensated, including the cash bonus she received when hiring on.
A state group of high school students had arranged a dinner at the jail. Shay said she would help with the event.
Gazette State Bureau reporter Jennifer McKee contributed to this story.