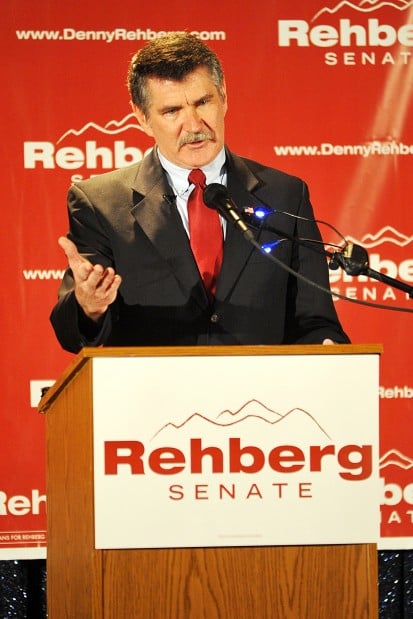 HELENA - Republican Rep. Denny Rehberg made it official Saturday night, telling a packed GOP dinner he is running for the U.S. Senate seat now held by Democrat Jon Tester in 2012.
A crowd of 400 people stood and cheered louder and louder when Rehberg declared he would run for the Senate.
Rehberg, a six-term congressman, said he is challenging Tester for several reasons, including the Montana Democrat's steadfast support for President Barack Obama and Senate Majority Leader Harry Reid, D-Nev.
"The truth is that Jon Tester has been a reliable 'yes man' for Barack Obama and Harry Reid - and he's voted for the Obama administration 97 percent of the time," Rehberg told a crowd at the Lewis and Clark County Republican Party Lincoln/Reagan Day dinner.
When Reid wanted a $1 trillion stimulus bill to pass the Senate, Tester voted yes, Rehberg said. Likewise, Rehberg said, Tester fell in line with Reid and supported "Obamacare on Christmas Eve," $500 billion in higher taxes, $500 billion in cuts to Medicare and the use of taxpayers' money going for abortions.
If elected, Rehberg said he would continue to make job creation his top national priority by cutting taxes and cutting federal red tape.
Rehberg also called for an "all-of-the-above" energy strategy that makes the most of Montana's natural resources.
"I will vote to cut federal spending, reduce the federal debt and repeal Obamacare," he said. "I will fight to delist the gray wolf, fight against the Obama administration's secret plan to take over millions of acres of our state by declaring them a 'national monument.'"
Rehberg said he will never be ashamed to stand for "the life of the unborn child and the sanctity of traditional marriage."
If elected, the congressman vowed to help stop "the next wave of liberal judicial activists" in the West.
He noted that "liberal" U.S. District Judge Don Molloy of Missoula has announced he will go on senior status, opening a new judicial vacancy. As a senator, Rehberg said he will use "the blue slip to block any appointments to the federal court in Montana who are outside the judicial mainstream."
Earlier in the night, about 20 protesters, including the state Democratic Party executive director, stood outside the convention center with signs that said, "Stop the vet cuts!" "Remember 9/11" and "Don't Sue Firefighters!"
Earlier, Rehberg told the Gazette State Bureau he intended to offer Montanans a contrast between someone who will tackle out-of-control federal spending and Tester, who believes government is the solution.
"If this is a campaign on the issues with two contrasting philosophies, I better represent the state of Montana," Rehberg said.
As it stands now, Rehberg said Montana now has two senators in Democrats Tester and Max Baucus voting the same way and not helping Montana.
"Rehberg added, "If you believe that the stimulus worked, then you got Max and Jon."
Unlike himself, Rehberg said Tester and Baucus both voted for the 2009 federal stimulus, for the 2010 federal health care overhaul and against supporting a moratorium on federal earmarks, or special projects that members of Congress seek to fund.
"It's contrary to what Montana people want: stop the spending, slow down the spending, find waste, fraud and abuse and right the ship," he said. "Government spending is not the right solution."
Rehberg called it a "hard decision" to give up his House seat.
The Republican was asked whether he and Baucus wouldn't just cancel out each other's votes if he defeats Tester.
"Not necessarily," he said. "If we're working together, maybe we can work together on a jobs and recreation bill, how to reform health care with association health care plans, we can talk about defensive medicine. When you have two people opposing tort reform, you don't have a seat at the tort reform table."
He added, "If Max and I are working together on a consensus, I think we'll have a better solution."
This is Rehberg's second run for the U.S. Senate. As lieutenant governor in 1996, Rehberg gave Baucus the toughest race of his political career, ultimately losing by about five percentage points.
The difference in this Senate challenge, Rehberg said, is he believes he has a better and stronger base."
The Rehberg-Tester match-up figures to be one of the top one or two Senate races nationally in 2012, Rehberg said.
He looks for a tough campaign.
"I just don't know," he said. "I know it will be competitive."