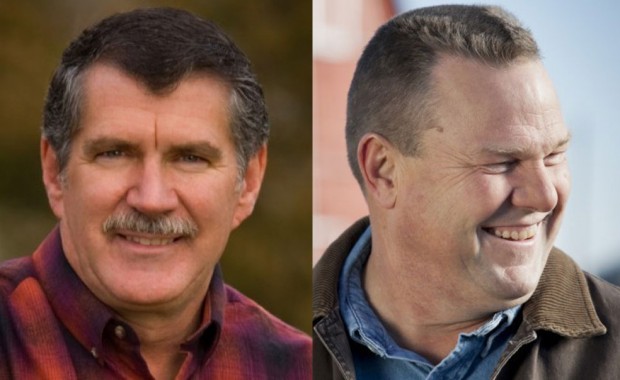 HELENA — When it comes to the boatload of outside money being spent to influence Montana's high-profile U.S. Senate race, Republican Denny Rehberg and Democrat Jon Tester each say the spenders should "fully disclose" who they are and what they spend.
Tester, however, supports a bill before Congress to require that disclosure, while Rep. Rehberg and most of his fellow Republicans do not.
The proposal, known as the Disclose Act, narrowly passed the House two years ago and fell one vote short of passage in the Senate in September 2010, with 39 Republicans lining up to block it on a procedural vote.
A slimmed-down version of the Disclose Act has been reintroduced this year in the House and Senate. It requires special-interest groups that spend money trying to influence congressional and presidential elections to report any spending over $10,000 within 24 hours, and to name their top donors.
The Democratic-controlled Senate may take up the bill later this year, but Republican congressional leaders have made it clear they'll oppose it — and their party controls the House.
The reporting requirements would apply to campaign spending by outside, independent groups, such as political committees, business groups, corporations, various nonprofits and unions.
"Jon believes money influencing voters should be disclosed, no matter where it comes from," Tester's campaign spokesman, Aaron Murphy, said Friday. "Both Rehberg and Tester are public officials with the power to change (these requirements). Only one of them is trying to do it."
Rehberg has said publicly that those spending money to influence an election should report what they spend and who they are.
But Rehberg has not advanced or supported any proposal to force this disclosure, and he voted against the Disclose Act in 2010.
His campaign spokesman, Chris Bond, said Friday that Rehberg has had concerns that the Disclose Act would make it "unnecessarily difficult to engage in political speech," but that the congressman will look at a "clean disclosure bill" if it comes to the House floor." The Disclose Act has been locked up in a House committee since February.
Opponents of disclosure, such as Republican Senate Minority Leader Mitch McConnell, R-Ky., say it would be used as a "political weapon," with donors of certain groups possibly becoming targets for reprisal by political enemies.
The issue of outside spending has been magnified by a series of court rulings that say corporations and unions can spend directly on TV ads and other expenditures to support or oppose candidates, and that this spending cannot be limited.
In the Rehberg-Tester race — one of the most closely watched U.S. Senate contests in the nation — more than $5 million has been spent already by outside groups attacking or supporting either candidate.
Most observers expect millions more to be spent by various outside groups before the race is over in November.
Rehberg has said he's fine with the court rulings that freed up corporate and other spending — as long as the spenders disclose information about themselves.
"We should make this as simple as possible, and that means if you buy an ad intended to influence an election, you have to say who you are and where your money came from," Bond said Friday.
Tester favors a constitutional amendment overturning the U.S. Supreme Court decision that said corporations can spend directly to influence elections.
"Jon believes voters deserve to know who is behind the messages they see and hear, because people and their ideas — not corporations and their money — should determine our elections," Murphy said.
Be the first to know
Get local news delivered to your inbox!