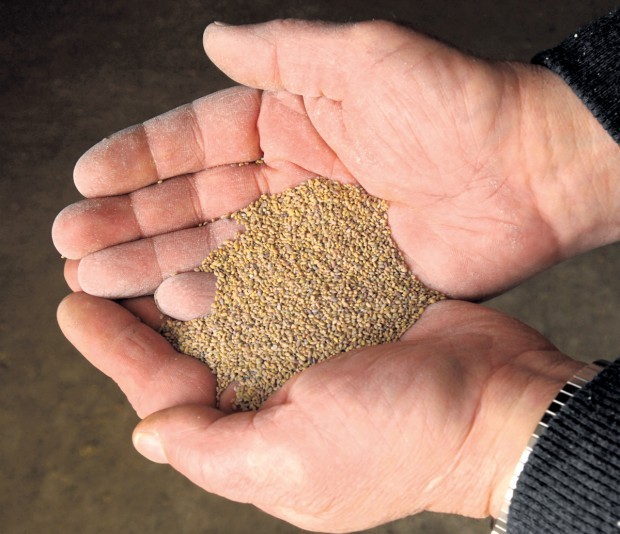 The battle over Roundup Ready alfalfa edged closer to conclusion Tuesday as the U.S. Supreme Court considered lifting a three-year ban on the genetically engineered crop.
In a case closely watched by Montana farmers, agrichemical giant Monsanto Co. argued that its herbicide-resistant alfalfa posed no irreparable harm to other crops or the environment. Three years ago, the hay was growing in popularity before a lower court, siding with organic farmers and seed exporters, banned the crop until further environmental study could be done. Study conclusions aren't expected until next year.
Industry curbed
Curbed with the ban was an expanding genetically engineered seed industry in Montana and Wyoming, which used Laurel silos as a primary collection point.
A Supreme Court ruling expected by June's end could give farmers the OK to plant Roundup Ready alfalfa ahead of the environmental impact study being performed by the U.S. Department of Agriculture.
Conversely, a ruling favoring the farmers who brought the original lawsuit could permanently force the government to increase its scrutiny level of genetically engineered crops. If so, the Supreme Court will have sided with judges in lower districts who concluded that cross pollination by migrating bees and pollen drift is a possible danger.
"If Monsanto was to succeed in the release of this perennial plant in this world, they would laugh their way into the history books," said Pat Trask, a South Dakota seed farmer and plaintiff in the original lawsuit against Roundup Ready alfalfa.
Cross pollination
Trask, interviewed after the court hearing, accused Monsanto of eliminating other hay varieties via cross pollination by bees. Organic seed farmers and exporters of seeds to foreign countries weary of genetically engineered crops contend that cross pollination with Roundup Ready alfalfa will be their undoing.
Proponents of Roundup Ready alfalfa like John Wold of Laurel say that kind of cross pollination is unlikely. On Wold's hayseed farm, pollination is done by tiny leafcutter bees that rarely leave the field in which they work. Larger honey bees do travel, but because of their size, they aren't good hay pollinators, Wold said. To pollinate alfalfa the bees have to release a little pistillode on the male part of the plant. When triggered, that pistillode springs so quickly that it gives larger bees a punch they don't appreciate. Smaller bees are nimble enough to dodge the punch.
Wold was hoping Roundup Ready alfalfa would be OK to plant this fall. Before its ban, the hay was a hit with dairy farmers shopping for weed-free hay.
The Supreme Court lobbed tough questions about the irreparable harm of Roundup Ready alfalfa. Chief Justice John Roberts questioned whether a small percent risk of cross pollination could be considered an irreparable danger. Maybe the percentage should be closer to 50 to be considered irreparable, according to news reports.
Attorney Lawrence Robbins, who argued the case for Trask and other plaintiffs, asked if the court would apply a 50 percent danger threshold to a factory polluting the New York water supply.
"This isn't contamination of New York City's water supply ... This is not the end of the world, it really isn't," interrupted Justices Antonin Scalia. "The most it does is affect the farmers who want to cater to the European markets."
The irreparable environmental harm is the threshold, not economic harm. Monsanto, in a statement released before the hearing, said the case was about farmers being able to rely on USDA biotech crop approvals. The USDA approved Roundup Ready alfalfa for planting and 5,500 farmers were raising the crop, some for a couple years, before organic farmers and others sued to stop the planting. Monsanto argued that the lower court's decision should have been based only on scientific evidence, but wasn't.
"I would definitely like to have Justice Scalia and the other ones contemplate the analogy of losing conventional alfalfa," Trask said. "It's not the end of the world, but it makes a big hole in it."
The plaintiffs noted that in the public comment period for USDA's environmental study, more than 145,000 people have commented in opposition to Roundup Ready alfalfa. Those commentors include the Billings-based Western Organization of Resource Councils and Montana organic farmers concerned about cross pollination.
Conventional farmers and organizations like the American Sugar Beet Growers Association, facing its own legal challenges to Roundup Ready sugar beets, commented in Monsanto's favor.