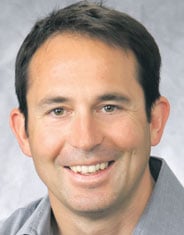 A Red Lodge Republican candidate for state Legislature is apologizing for sexual remarks posted on Facebook.
Jason Priest submitted an open letter of apology to the Carbon County News for remarks he recently placed on an acquaintance's private Facebook account.
In the back and forth of a discussion about the federal stimulus spending and economist John Maynard Keynes, Priest referred to Keynes as a "big homo" and suggested that President Barack Obama was figuratively painfully sodomizing America with the American Recovery and Reinvestment Act.
"I offended people with an in-artful and hurtful remark and I apologize for it," Priest said.
In a letter of apology to the Carbon County News, Priest wrote "recently I posted a comment online that was offensive to some of those who read it. My passion for controlling spending overcame my better judgment and my crude metaphor understandably detracted from the point of my comment. It was a poor choice of words and I apologize to anyone I have offended."
Priest's remarks were posted on the Facebook page of Michael J. Morse. Morse's Facebook account is only accessible to people he's granted permission. One of the 318 people granted access to his postings captured an image of the dialogue in question and emailed it to several other people. The e-mail doesn't identify the person who shared the Priest posting on Morse's page.
When the image landed in Allison Smith Estelle's e-mail box nine days ago, the director of the community's domestic violence and sexual assault program was disappointed. Priest is her neighbor, and their children are the same age. The candidate's comments were the kind of remarks Smith-Estelle tells Red Lodge children aren't appropriate.
"What I see is the issue of language that is derogatory and often hurtful and hateful speech that can also lead to other forms of violence," Smith-Estelle said.
She contacted the candidate to see if the remarks were truly his. Priest acknowledged they were, and Smith-Estelle forwarded the post to others. A week later, people were forwarding Priest's Facebook remarks to her.
Priest said he has heard from a few residents. Despite the e-mail churn, few people have openly criticized Priest's remarks. The day the Carbon County News published Priest's letter of apology, which didn't mention the social network Facebook or the gist of what the candidate said, there was no other reference to the incident in the local paper.
Many residents are mad, said Betsy Scanlin, a former Red Lodge mayor who worked with Priest on the City Council. Scanlin called the comments pornographic and socially inappropriate. She said the remarks gave Priest's opponents a glimpse of how he refers to them when he feels he can be candid.
"My feeling is that his passion is overriding his rationality and good taste," Scanlin said. "These times beg for responsible and rational people. These times don't call for inflammatory and disrespectful discourse."
In an unrelated incident involving Facebook, the president of the Big Sky Tea Party Association, Tim Ravndal, was ousted by his board of directors over the weekend for appearing to condone violence against homosexuals.
On July 23, Ravndal posted a message saying "Marriage is between a man and a woman period! By giving rights to those otherwise would be a violation of the Constitution and my own rights."
That post, according to an Associated Press report, prompted another Facebook user to respond: "I think fruits are decorative. Hang up where they can be seen and appreciated. Call Wyoming for display instructions."
Ravndal responded: "Where can I get that Wyoming printed instruction manual?"
They were apparently referring to the 1998 murder of a gay University of Wyoming student, Matthew Shepard, who was beaten and tied to a fence post.