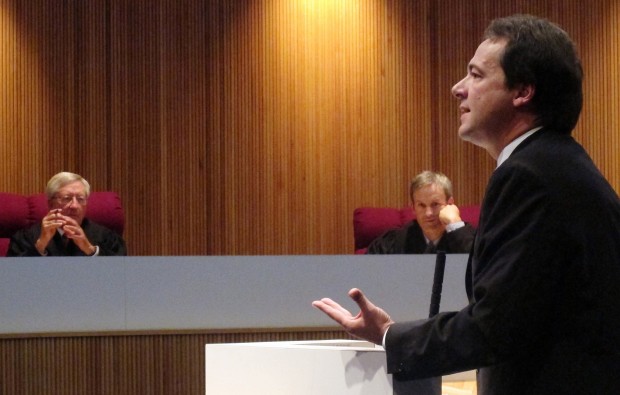 HELENA — Skeptical Montana Supreme Court justices grilled Attorney General Steve Bullock on Wednesday over why the state's century-old ban on corporate political spending shouldn't be declared unconstitutional after a 2010 U.S. Supreme Court decision.
But the justices also fired plenty of tough questions at Margot Barg, the Bozeman attorney representing Western Tradition Partnership (a Virginia-based group now known as American Tradition Partnership) and two corporations seeking to strike down the state ban.
Judges homed in on the partnership's secretive political activities and its separate lawsuit seeking to throw out state laws requiring groups to disclose where they spent their money for or against candidates.
The Supreme Court heard oral arguments on the state's appeal of a Helena district judge's decision last year that struck down the state ban on corporate spending last year based on the U.S. Supreme Court's 2010 ruling in Citizens United v. Federal Election Commission. In that ruling, the U.S. Supreme Court cleared the way for corporations and unions to spend money from their treasuries to pay for political advertising for or against candidates.
After hearing the arguments, the state Supreme Court took the appeal under advisement.
The court's ruling could have major impacts on future Montana elections. Critics say it will open the floodgates of third-party, independent expenditures to help elect or defeat candidates, while supporters argue that corporations have free-speech rights to express their views by spending for or against candidates.
Justice after justice asked Bullock how the Montana ban on corporate spending can possibly stand up after the U.S. Supreme Court decision.
"There are meaningful differences," the attorney general said, suggesting the court could craft a ruling upholding the Montana ban within the context of the U.S. Supreme Court decision.
Bullock told the court that Montanans in 1912 passed the initiative to ban corporate political donations in reaction to copper mining companies and their owners, known as the Copper Kings, that corrupted state politics in the last 1890s and early 1900s.
"We did build a record that supports there was and could be corruption," Bullock said.
Justice James Nelson said to Bullock: "I don't disagree with anything you say with regard to the Corrupt Practices Act. The problem is we have a U.S. Supreme Court decision that is the law of the land. They've spoken."
Just as the Montana Supreme Court expects state District Courts to follow its precedents, "I'm having some difficulty telling the U.S. Supreme Court, 'You're all wet,' " Nelson said.
Bullock said corporations are not banned from political speech in Montana now. They can give unlimited amounts to ballot issue campaigns now, they can form political action committees through voluntary employee donations and give to campaigns and they can lobby the Legislature.
"They've been able to speak and speak loudly through their actions," said Bullock, a Democratic candidate for governor in 2012.
Then Barg began her arguments about why the Montana ban should be tossed. She said if state law banned individuals from making political expenditures it would be unconstitutional, and she and asked why corporations should be treated differently.
You have free articles remaining.
"Do corporations have a right to vote?" Chief Justice Mike McGrath asked.
McGrath asked if they have a right to habeas corpus, privacy and some of the other rights in the Montana Constitution.
She said they didn't but that the U.S. Supreme Court said that due process clearly must be extended to corporations.
As for Bullock's explanation of why Montanans passed the ban on corporate political spending in 1912, Barg said, "But this is not 1912. It's 2011."
After Justice Beth Baker asked her about disclosure of corporate political spending, Barg said, "This is not a case about disclosure, it is not about limits, it is about individual expenditures."
"Isn't that somewhat hypocritical?" Nelson asked. "Isn't your client attacking disclosure?"
"Yes," Barg acknowledged, referring to the separate lawsuit.
In a slideshow for a 2010 election-year briefing, Western Tradition Partnership told potential contributors that donations to it are confidential. "If you decide to support the program, no politician, no bureaucrat and no radical environmentalist will ever know you helped make this program successful," the presentation said.
At one point, McGrath said to Barg, "We don't even know who Western Tradition is? So who is Western Tradition?"
Barg said it's a corporation registered in Colorado doing business in Montana that wants to enjoy its right of political speech.
The partnership bills itself as a conservative, pro-business, anti-environmentalist organization. It first surfaced in Montana in 2008 and has made both primary and general election attacks against candidates, including incumbents, since then.
A previous political practices commissioner asked a judge to impose penalties on Western Tradition Partnership for not filing reports disclosing its political spending.
McGrath pressed Barg about the group's separate disclosure lawsuit.
"I think the disclosure laws as they stand now certainly allow for the state to require certain disclosure," Barg said.
Joining Western Tradition Partnership in the legal challenge were Champion Painting Inc. of Bozeman and Montana Shooting Sports Association Inc. of Missoula.