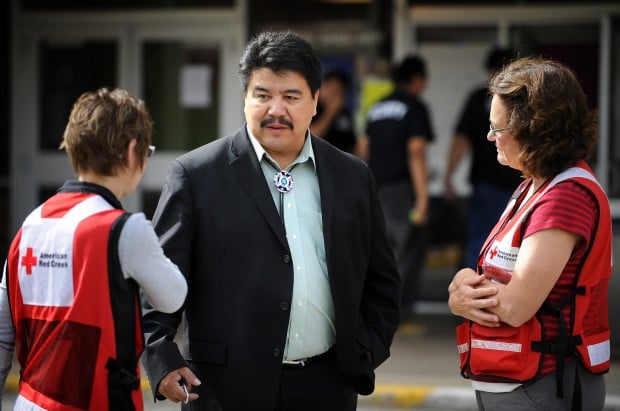 Flood victims bivouacked in dorm rooms at Montana State University Billings will be moved Friday to the Multipurpose Center at Crow Agency, according to the Crow Tribe and American Red Cross of Montana.
Crow Tribal Chairman Cedric Black Eagle said the Multipurpose Center, used for such things as large funerals and basketball games, has ample room to handle victims of the May 22 disaster brought on by overwhelming rains along the Bighorn River and its tributaries.
"Our priority is to get them back to Crow and comfort them and assess the damages," Black Eagle said. "It's going to be several months before we get them back to normal, but we're going to do all we can. That's all we can do."
Roughly 200 homes are flood-damaged, Black Eagle said. While as many as 307 people sought refuge at Petro Hall on the MSU Billings campus, others moved in with friends and relatives. Black Eagle said he visited a small home recently where 16 people now live. Tribal officials said there are several large families crammed into small homes for the time being.
Flood victims have been steadily checking out of Petro Hall, said Larry Laity of the Red Cross. Of the 300-plus victims staying at Petro Hall when it opened last week, 158 people remained Wednesday.
Earlier, MSU Billings had informed the Red Cross the dormitory would have to be cleared by Wednesday to accommodate a host of previously scheduled campus events this summer, including a student orientation that begins next week.
The 10 p.m. curfew for the flooded area also has been lifted.
Donations to help those affected by the flood are greatly appreciated. They may be sent to: Little Big Horn College, 1 Forestry Lane, Crow Agency MT 59022. Perishable food isn't being accepted. Bottled water, toiletries, clothing and baby items are needed.
Updated recovery information is available between 8 a.m. and 5 p.m. by calling 638-2247.