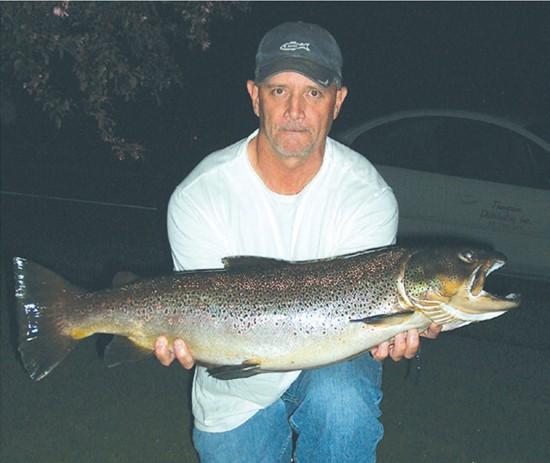 BUTTE - Bob Kingston and Gary Keeler of Butte bought their first raft as teenagers and have been floating the Big Hole River ever since. Now in their mid-50s, the longtime fishing buddies have their best fishing story yet.
On June 12, Kingston caught what appears to be the elusive, monster brown trout that has been the talk of many area anglers in recent years. It measured 35 inches and made its way to the raft cooler following a roughly 30-minute battle between man and fish, said Kingston, who is having the trout mounted. The fish weighed slightly more than 20 pounds after it was wrapped in a damp towel in preparation for the taxidermist.
"He just kept going wherever he wanted," he said of the fight. Kingston caught the fish with a five-weight fly rod rigged with 8-pound leader and two stonefly nymphs above Mallon's, west of Wise River, after launching from East Bank.
"I was just throwing my fly right by the bank and it gobbled it up," he said.
Keeler rowed the boat to shore and remembers Kingston saying he might never land the fish.
"It was a big log," Keeler said. "We've never seen one like that."
A survey crew with the Montana Department of Fish, Wildlife and Parks caught a similar fish while electro fishing in the same area of the 153-mile river in fall 2007, said Jim Magee, a fisheries biologist with the agency. The crew snapped a photograph at the time of a surveyor mugging with the lunker, and the photograph soon was being circulated among anglers who hungered to have the fish on the end of their line.
"The size is so much different than what we normally see," said Magee, a 15-year employee with FWP. "That was an anomaly. That was a big fish."
Markings on Kingston's fish are similar to the one caught and released during the 2007 FWP survey, which means Kingston - a 55-year-old optician at Big Sky Optical in Butte - may have landed the much-discussed fish.
"That's the trout of a lifetime," said Bob LeFever at Fran Johnson's Sporting Goods in Butte.
Longtime fisheries biologist Dick Oswald remembers two brutes he surveyed while electro fishing the Big Hole in the late 1980s. He never heard of an angler claiming to have caught either one of those fish, which included a 20.5-pound trout nicknamed "Big Mamma" that lived in a deep pool above Melrose, and an 18-pound trout dubbed the "Hogback Hog" below Glen.
Oswald said those fish lived more than 10 years and presumed that Kingston's fish could have been around the same age. To reach those sizes, Oswald said the big browns eat other fish while also having "unique genetics" that allows them to focus on gobbling fish rather than slurping caddis and mayflies from the surface like an average brown that would likely reach a maximum length of 19.5 inches.
"These things have to be freaks," he said. "Those fish are exceptions in many ways."
Kingston, who has snagged big steelhead on Idaho's Clearwater River, agreed he may have caught the fish of a lifetime when it comes to fly fishing the Big Hole River.
"I'll probably never catch one that big again in my life," he said. The state's record brown trout weighed 29 pounds; it was caught in 1966 at Wade Lake.