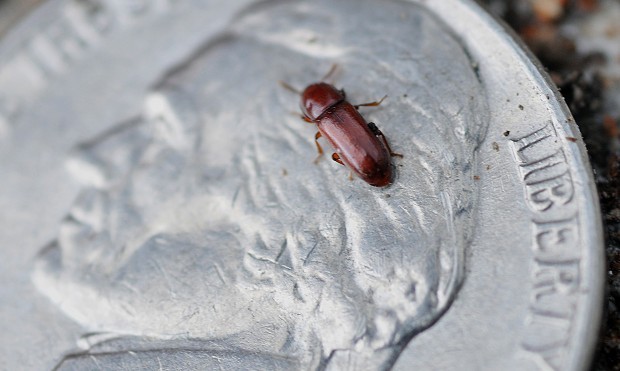 Frigid as the winter of 2010-2011 has been, it probably has had little effect on the mortality of bark beetles that have transformed more than 2 million acres of Montana forest into rusty-brown kill zones.
"It would have to be pretty cold for a long time," explained Barbara Bentz, a Logan, Utah, entomologist for the Forest Service's Rocky Mountain Research Station.
"If it was -45C (-49F) for three weeks in a row, it would kill a lot of beetles," she said.
"We just don't get that here," said Diana Six, professor of integrated forest entomology and pathology at the University of Montana College of Forestry and Conservation.
Weather does play an important role in the life-cycle of the voracious little buggers, but to really do damage, cold has to hit them when they are most vulnerable, in the spring and fall, she said.
The rice-sized beetles bore through the outer bark of their favorite hosts — lodgepole pine and ponderosa pine — in the fall and each of the females lays about 75 eggs. The budding beetles go through several stages, building up a kind of antifreeze compound as they develop, Betz said.
Once the process is complete, they can tolerate long periods of extreme cold. But if temperatures drop below minus-10 before they're ready, the morphing beetles freeze and die.
The same thing can happen in the spring if severe cold strikes after the incipient beetles start feeding again, said Brytten Steed, entomologist with the Forest Service's Missoula field office.
The beetles' deadly progress was slowed in some areas of the state by an October 2009 cold spell that caught the insects unprepared, she said.
A report by state and federal forest officials, available on the Montana Department of National Resources and Conservation website (www.beetles.mt.gov), shows an overall decline in bark beetles in 2010 in the wake of the 2009 event.
But the report cautions that the figures maybe skewed by the fact that more area was included in 2009 aerial surveys than in 2010. It also said decreased growth may have occurred because the beetles have already killed all the susceptible trees in the survey areas.
The biggest factor in the spread of bark beetles is the susceptibility of trees.
Before the last two wet years, Montana suffered through a 10-year period of dry weather, which made trees unable to build defenses against insect attacks and made recovery from an attack unlikely, Six said.
Recent moisture has improved forest health and healthy trees are more likely withstand an insect invasion, she said.
When asked whether the beetles' advance had been derailed, Six replied, "It all depends on how long it lasts. If it goes back to being dry, the beetles will be back."
Montana has about 2.8 million acres at high risk of invasion both because of the age of the trees and overstocking of trees, a DNRC report says.
Trees at highest risk are those 80 years old and older. The report said that 71 percent of lodgepole pine on federal lands in Montana are in that age category, as are 29 percent on state, private and tribal lands.
Millions of them are crowded in forests overstocked with trees that are all about the same age. Overcrowding allows the beetles to move easily from host to host. The report estimates that 506,000 acres in Montana are at fully or overstocked levels.
Bark beetles are concentrated in the western mountains, but eastern Montana has not been immune. They've been noted in the Beartooth, Bighorn, Pryor, Snowy, Little Rockies and Bear Paw mountains.
Jon Thompson, parks supervisor for the city of Billings, said he has seen bark beetle activity locally on the Rims and in some parkland.
"This past spring we treated 800 park trees, so there are no losses there," he said. "Experts predict that the bark beetle population should start declining now. But we are going to error on the side of caution and treat park trees again this spring."
Thompson said that the cost last year was about $24,000, but it was a good value since each of the large trees saved is worth between $3,000, and $5,000.
Bark beetle specialists agree that infestations come in cycles and have long been a part of the forest ecosystem.
The first recorded outbreak was in 1884. The last major outbreak was in the early 1980s when 4 million acres were devastated.
Whether the current outbreak is something out of the ordinary depends on who is talking. Six said longer periods of warmer weather put increased stress on trees.
"In the period we're in right now, drought is the normal state for trees," she said.
There are more than 20 million hectors of forest across North America with infestations, which is 10 times what it's been in the past, she said.
"No outbreak has ever been as bad as this," said Six, who has spent 18 years studying the beetle.
But Steed said the present outbreak in Montana is not unprecedented and not of the magnitude of past outbreaks.