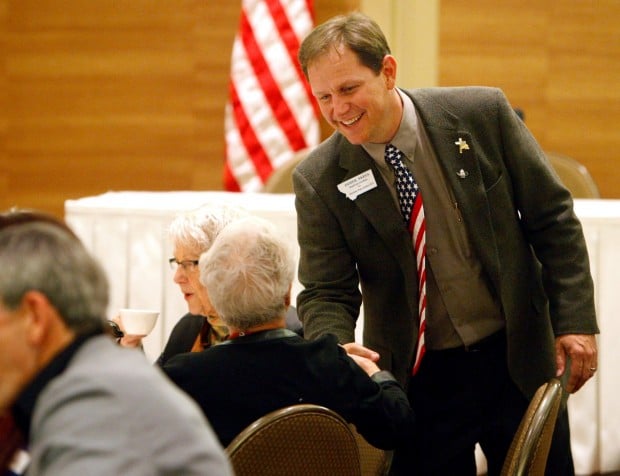 Pick and shovel politics ruled the day Wednesday as State Auditor Monica Lindeen and challenger Derek Skees tried to out-coal each other during a Billings campaign forum.
Speaking at the forum organized by three women's groups, oilfield consultant Derek Skees said he would be a yes vote on the State Land Board for developing natural resources on the 5.2 million acres of state land.
A legislator from Whitefish, Skees singled out southern Montana coal as a resource that needed to be developed.
The board is comprised of the statewide office holders in Montana government. Development proceeds help finance public schools, universities and the Montana Veterans Home. Lindeen, of Huntley, who represented Montana coal country in the state Legislature, said she is a big proponent of developing natural resources on state lands, which is what the Land Board approves.
You have free articles remaining.
As State Auditor since 2008, Lindeen has repeatedly approved coal, timber, oil and gas development on state lands, including an $86 million contract to develop the Otter Creek coal tracts in 2010, a decision that angered environmentalists. In September, Lindeen voted to lease 12 million tons of coal for the expansion of the Signal Peak mine. The mine near Roundup employs about 250 people. Development must be done responsibly, Lindeen told members of the Montana Association of Female Executives, the Yellowstone County League of Women Voters and the Zonta Club of Billings.
Natural resource development isn't the primary job of state auditor. Lindeen oversees insurance and investment industries in Montana. She said her office has forced insurers to pay $15 million in claims owed to Montanans who were originally denied payment. She said her office receives about 42,000 requests for help annually and has recovered more than $200 million for Montanans caught in insurance scams.
Skees said that if elected Nov. 6, he would impose a customer tracking system so the state auditor could monitor cases to completion. He also said he would collaborate with like-minded Republican legislators to keep the state free from the requirements of federal health-care reform, or "Obamacare."
Lindeen said Skees doesn't understand what's necessary to ensure the state autonomy he promises. The federal government allowed states to develop their own programs for implementing the law. But, if states declined to come up with their own plans, the federal government's plan would kick in by default. In 2011, the Republican-lead Legislature chose not to create a state plan. As a result, the state has less authority than it could have, Lindeen told the forum.
Skees said the health-care reform law would be headed for repeal if he and Republicans prevailed in races from state auditor to president on Election Day.