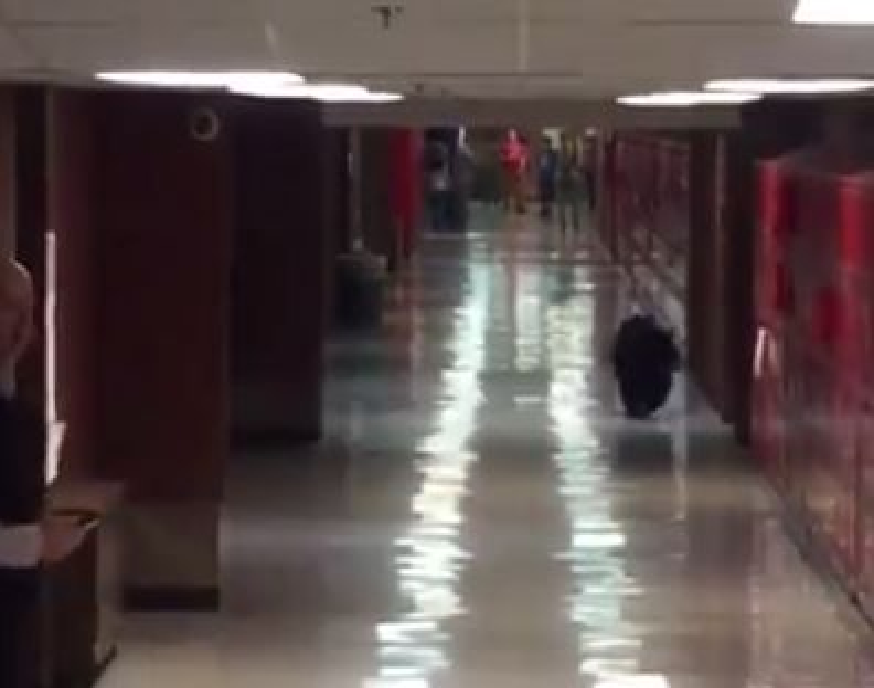 A black bear visited Bozeman High School today, according to a district representative and Fish, Wildlife and Parks.
The bear entered the school through an open garage door in the back of the building at around 7:30 a.m., nearly an hour before school started. Students and staff were in the building, according to Bozeman Public Schools Superintendent Rob Watson. The bear left through another open door after about a minute. 
FWP bear specialist Kevin Frey said Bozeman police and an FWP warden responded.
"They got it out of the school," but it wasn't captured, Frye said.
A video posted on Twitter that says it is of a bear in Bozeman High shows people watching the bear as it meanders through a hallway.
The Gazette is unable to independently confirm the authenticity of the video, but the operator of the Twitter account Senior List, who posted the video, said it was taken by Bozeman High School teacher Matt Clark. A person in the foreground appears to fit the appearance of Bozeman High Principal Kevin Conwell. Watson said he was "sure" the video was authentic, but hadn't seen it.
Frey couldn't recall another instance of a bear getting into a school.
"We have bears get into things every year," he said.
Watson said the bear was first spotted on the school football field by a school custodian, who alerted Conwell. Conwell was in a booster club meeting with a sheriff's deputy, who joined Conwell to go look for the bear. 
The animal entered an open garage door to an area that's used to store equipment and moved into a nearby hallway, Watson said. There were no up-close personal interactions with the bear, he said. 
"He just left the building."
Bozeman Police Department officer Rick Musson said the bear was pushed north into an open field with trees and bushes, where officials lost sight of it. There's been no reported bear sighting since, he said.