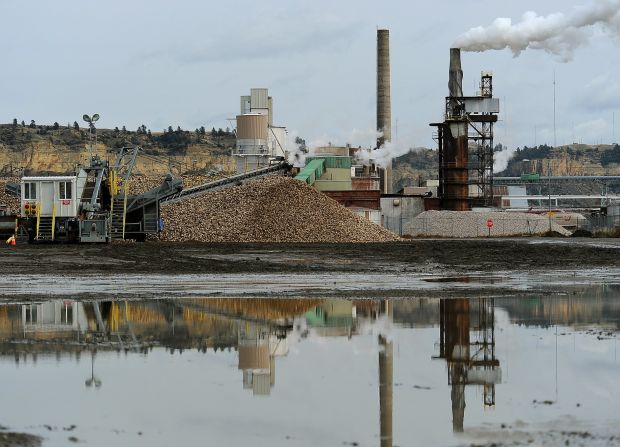 Officially, the precipitation in Billings has been average this year, as in 101 percent. But normal? No. Kelly Brester wouldn't go along with that.
Monday, Brester should have been unearthing sugar beet acres from sunup to sundown and trucking the tawny roots to a Western Sugar Cooperative beet collection pile.
Every passing day brings farmers closer to the inevitable hard freeze, but the rain this month has been relentless. Brester's fields are too muddy.
"You can't put that kind of mud in the pile. You just can't," Brester said, because mud in the beet pile leads to spoilage.
The National Weather Service has recorded 2.19 inches of rainfall in the Billings area since Oct. 1, which comes on the heels of a wet September in which more than 3 inches of rain fell. All that rain has pushed precipitation gauges to 101 percent of average for the year to date, but the timing has been abnormal.
Farmers like Brester were desperate for rain most of April and half of May. Some had to seed twice as crops first planted sprouted and died for lack of water.
Brester has managed to get in his fields for just five days since the beginning of the month. Monday, after days of stopping to pull out trucks and working with half loads to avoid getting stuck, the farmer chose to plow a pen through his account books and give his fields a rest.
Overall, Western Sugar Cooperative members are about 40 percent harvested, said Randall Jobman, agricultural manager. Farmers feeding the Lovell, Wyo., sugar refinery have had easier weather. Farmers feeding the refinery in Billings haven't.
There's a limit to how much dirt farmers can leave clinging to their harvests when the beets come to the pile. They can't bring the farm, Jobman said. Producers are pretty good about getting the beets cleaned off.
In the Sidney area, farmers harvesting beets for American Crystal Sugar were shut down by wet weather Monday, but were 90 percent harvested already, thanks to a long dry spell, said farmer Don Steinbeisser, Jr.
Steinbeisser said the beet harvest has been good this year, though the amount of sugar in each beet is down. Several farmers were repeatedly clobbered by hail this summer. When hail shreds the leaves on a sugar beet, the plant puts its energy — and the sugar it has accumulated — into growing new leaves.