CROW AGENCY — In the years he has been studying Brazilian jiujitsu — and more recently teaching it at Little Big Horn College — Jared Stewart has come to understand the inevitability of submission and the opportunity that comes from defeat.
"We always tell people, everybody taps out," Stewart said at a recent class. "They get to the point where they have to submit."
"But they can always ask questions. And when you ask questions, you might get different answers around the room about how to refine your technique. All of a sudden it becomes an oral history-type thing. It becomes a kind of council. People begin to trust."
In the past year Stewart has asked himself and others uncomfortable questions. He lost 40 pounds in a matter of months and increasingly felt fatigued. Shakiness in his hands that he had noticed for years suddenly intensified, and his fingers struggled to find their way around the guitar with which he has made his reputation and career as a musician for more than 20 years.
In mid-November, weeks after he announced at the Magic City Music Awards that he was retiring at age 45 from performing as a guitarist, a doctor told Stewart he had hyperthyroidism. Recovery could take as long as it took for his symptoms to manifest over the years, he was told.
Still, Stewart knows the bad news could have been worse.
"Considering all the types of illnesses that could do those things to your hands … " Stewart said. "It renewed that vigor for life."
In addition to raising his children, working as a sound technician and assisting in the administration of the new Crow Tribe Chairman Alvin "A.J." Not Afraid, Stewart is turning to Brazilian jiujitsu. It's a passion he has had for decades, he said.
"This is what keeps me sane. This is where I let it all go," he said. "This is where I can help people."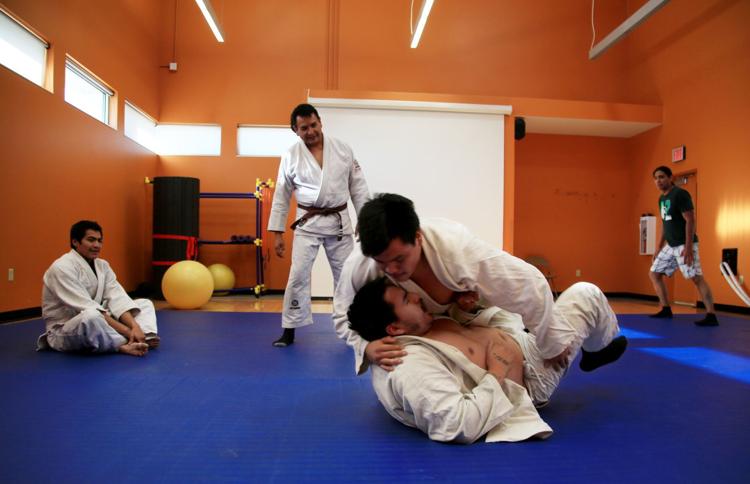 Learning to fight
Stewart's infatuation with Brazilian jiujitsu began in the mid 1990s, when the Ultimate Fighting Championship's viewership began to grow with each brutal, no-holds-barred cage fight it filmed.
In a burgeoning fighting sport in which there were no weight classes and few rules, one fighter stood out almost immediately to Stewart: Royce Gracie.
Gracie's family is credited with developing Brazilian jiujitsu from the Japanese martial art that shares the same name. The techniques were developed by a sickly member of the family named Helio, who had to adapt the original martial art to make up for his physical shortcomings.
When Stewart saw Royce Gracie fight, he marveled at the beauty and almost kindness that he showed amid the violence of a fight.
"He was able to beat these guys without brutality, and they would get up and walk away," Stewart said. "He didn't brutalize them, but he made sure they knew they'd been beat. To watch that kind of finesse, that control over your body, to me that was something."
For several years Stewart was simply a fan, until sometime in 1996 when he noticed a deal in a martial arts magazine for a video set offering beginner and advanced Brazilian jiujitsu instruction.
Stewart ordered the video and began learning by himself in his home. Eventually his sons got involved, and they began sparring.
Meanwhile, Stewart's reputation as a guitarist in Billings and beyond was continuing to grow.
Stewart, who has lived his entire life on the Crow Reservation, said he first picked up a guitar when he was a senior at Lodge Grass High School after a friend played him the Guns N' Roses song "Patience."
"I thought, 'This can't be all that hard,'" he said. Stewart asked a choir teacher to write out the chords for him and began teaching himself the guitar, finding time to play and practice by borrowing the guitars of friends and relatives, and even in some cases going door-to-door asking to borrow guitars, he said.
"I'm left-handed, but I learned how to play right-handed because I didn't know any better," he said.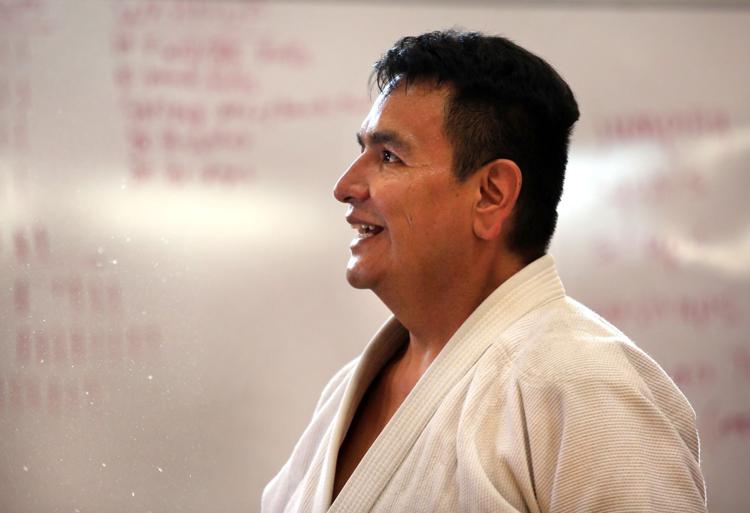 From the heart
As his skills grew, Stewart began venturing regularly into Billings, playing Monday night blues jam sessions at Casey's Golden Pheasant, a now-shuttered Billings bar that used to be a popular music venue. In Billings, Stewart tried to learn by sticking close to local blues musicians like Dale Renee and taking every opportunity he could to perform.
"Coming from Crow Agency to Billings, I was like religious with it," Stewart said. "I was like, 'How can you not improve if you afford yourself all those opportunities to play?'
"I met a lot of awesome players in Billings," he said. 
Scott Prinzing, a former music columnist for the Billings Outpost, said he saw Stewart and The Jared Stewart Band for the first time in the early 2000s when they played a show at The Carlin, another former Billings bar and music venue.
You have free articles remaining.
"It didn't seem like he was a technical player that was out to wow you," Prinzing said. "It just seemed like he really played from his heart and his gut."
"I sought after an organic tone with my guitar, and that speaks a language that people can understand, they can feel it," Stewart said. "Every show was special to me because I played with my heart, you know, like with everything I do, I have a lot of passion. It didn't matter the size of the venue, the size of the crowd. I put it out there. I wasn't going to leave anybody thinking that I didn't put it all out there."
In 2001, at the first Outpost-sponsored Tuney Awards — now known as the Magic City Music Awards — Prinzing said Stewart and his band took home almost 10 first-place finishes of out of the roughly 30 categories — including a Best Guitarist award for Stewart.
As Prinzing recalls, Stewart got on stage and insisted on giving the award to another member of his band, guitarist Steve Melia.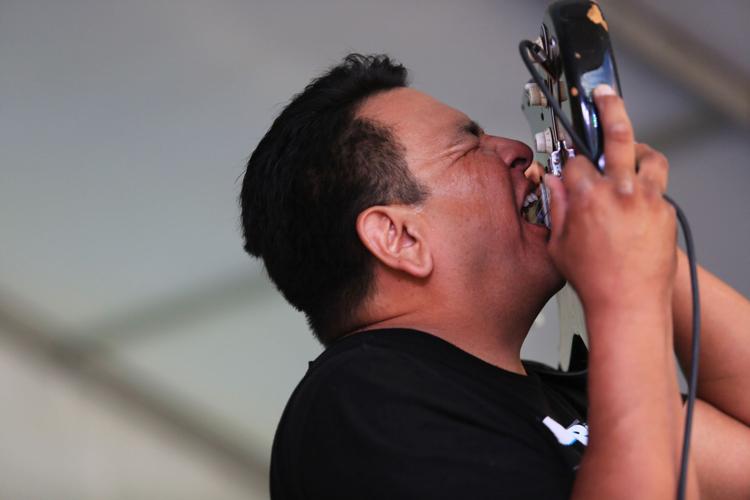 "He handed him the award," Prinzing said. "I thought it was so classy for someone who could've been real cocky about something like that."
That desire to give is apparent in Stewart's Brazilian jiujitsu teaching. "That's what I want to do with the Brazilian jiujitsu-side is enlighten people, get them involved," he said. "Make them feel the same things I do, that sense of accomplishment and that sense of well-being."
After taking home his first Tuney for Billings' best guitarist, Stewart became a frequent contender at the awards show. He began expanding his touring circuit, venturing as far away as Texas to play shows. This past summer, Stewart played as an opening act at the Magic City Blues Festival for headliner Ziggy Marley. 
On the road he would stop into gyms to train with different Brazilian jiujitsu instructors, furthering his knowledge. On his frequent trips to Billings he would train with Terrill Bracken of Fusion Fight League and more recently with Will Grundhauser of The Grindhouse, a local fighting gym.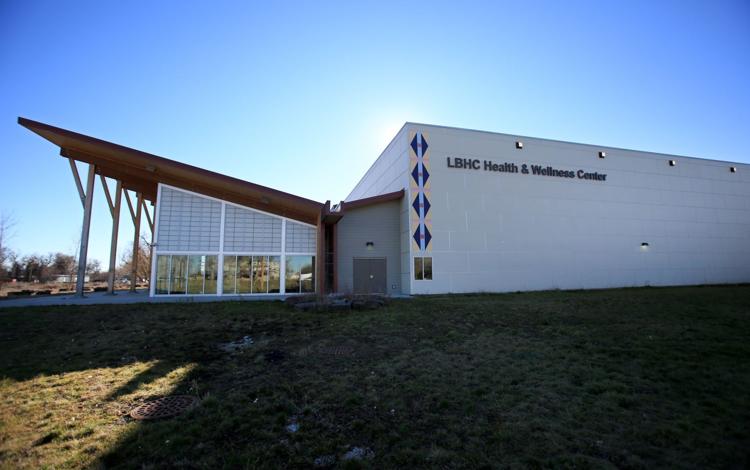 Teaching
The opportunity to teach at Little Big Horn College came about five years ago. A friend of Stewart's, Justin Oleyte, helped persuade the college to green-light Stewart's class on the grounds that Brazilian jiujitsu is applicable to self-defense.
Stewart's class meets twice a week for an hour each session. Enrollment fluctuates, he said; at times he has had more than 20 students enrolled. Currently he has two. Former students often drop back in to continue their training with Stewart, who at a recent belt promotion night at The Grindhouse in Billings got the fourth stripe on his brown belt. That puts him on the cusp of achieving a black belt in the martial art.
One of Stewart's former students, Clinton Half, said he used Stewart's training when he was attacked by three men on his way home from a night of work at the Apsaalooke Nights Casino in Crow Agency.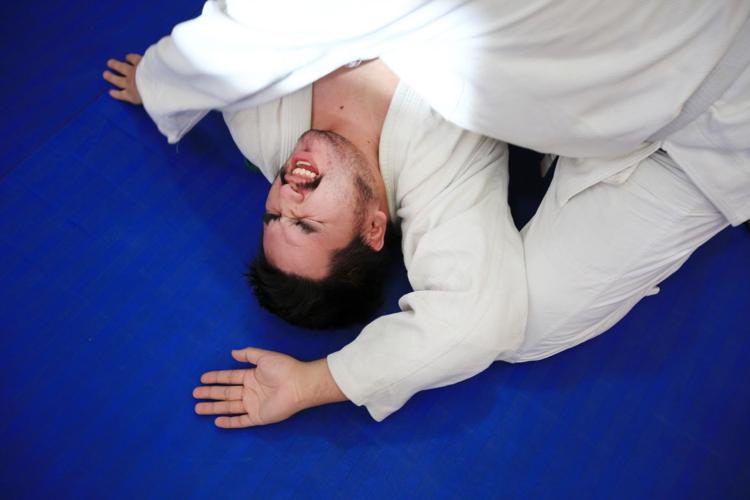 Stewart says self defense is knowing when you don't have to fight.
"You have a lot more confidence and you can stay out of things, rather than fight your way out of things," he said.
Sometimes, though, situations call for violence. Watching Stewart walk his students through moves and techniques seemed a lesson in the conservation of energy. 
The brute force and raw energy that characterize street fights takes a backseat in his class to traditional Brazilian jiujitsu concepts like decision-making, leverage and technique. Those can be used to outmaneuver, physically exhaust and submit opponents. 
With his weight and strength diminished by his medical condition, Stewart said he's had to rely on proper technique.
"It makes me an even better teacher for my students," he said.
As Stewart showed students how to counter a headlock into an arm bar, he hinted at the power technical knowledge can have in a fight. 
"It only takes about 6 pounds of force to pop an elbow," he said, a student's arm strung out like a taut clothesline above Stewart's shoulder. 
"I feel more safe to myself now," said Sayra Long Fox, one of Stewart's students. "He totally has been through almost everything everyone else has been through."
Not everyone wants to learn self-defense from Stewart. Some, like Spur Roundstone, his brother Reuben Roundstone and their friend Chris Two Moons, make the trip from Busby to train with Stewart to improve their skills as MMA fighters.
From his own experiences as a guitarist, Stewart said he tries to emphasize consistency in his teaching.
"Even with my class, it's all about consistency. You always have to have the same performance every time, and I strive to make sure you never fall below that level."
Stewart said he might continue to play shows here and there but does consider himself retired from playing guitar.
"Yeah, there's some disappointment realizing my hands couldn't take it just from being so shaky, but the hand tremors are something that I'll deal with," Stewart said. "Life's terminal, but we don't need anything hindering us while we're seeking our joy."