Precipitation fell in Montana this week with nearly three-quarters of the state in severe drought, bringing welcomed assistance to firefighting crews who've worked through a historically tough summer.
In northeastern Montana, where exceptional drought covers 25 percent of the state, the moisture isn't enough to reverse crop losses this season. But ag producers are happy to see Mother Nature join the fight against wildfires.
"We are thankful for any moisture we receive at this point, particularly for the fire danger relief," said Shelley Mills, Montana State University Extension Ag Agent for Valley County. "Tension has been high for all residents in this area due to the extreme fire danger we have been experiencing."
According to the U.S. Drought Monitor, the entire state is experiencing less-than-normal moisture, with the vast majority in some level of drought.
The last time the National Weather Service monitor in Glasgow registered more than 0.10 inches of precipitation was Aug. 2. Before that, it was July 11. Historically normal precipitation for August in that area is more than an inch.
"Two times in four months that we've had a tenth of an inch or more," said Brian Burleson, observing program leader at the Glasgow NWS office.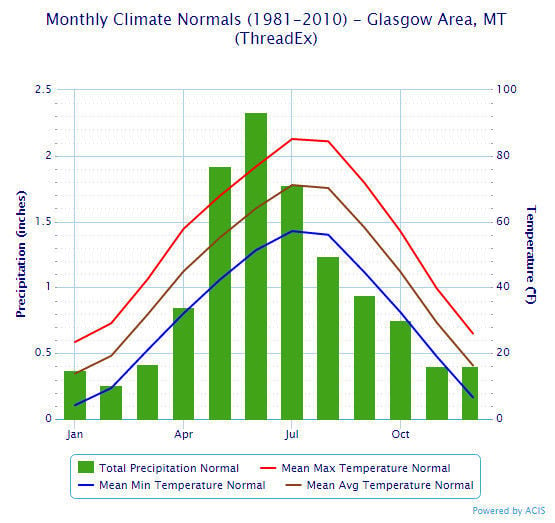 The rain came this week. For most areas it started on Thursday. By Friday morning, more than a quarter-inch of rain had fallen in much of the area.
A monitor for NWS, located northeast of Mosby, recorded 1.31 inches. That was about the site of the massive Lodgepole Complex fires that burned hundreds of thousands of acres this summer.
About 0.6 inches was recorded north of Winnett and 0.7 inches near Terry, according to the Glasgow NWS office. Many areas closer to the North Dakota border still marked less than a tenth of an inch on Friday morning, Burleson said.
The fall sugar beet harvest is ongoing, though a bit waterlogged at the moment. The Western Sugar refinery in Billings reported an early seasonal start of operations on Aug. 30.
Randall Jobman, Western Sugar's vice president of agriculture for the northern region, told The Gazette on Friday that most of the beets headed for their refinery are still in the ground, but the delay is expected to be short.
"This is much-needed moisture for the area," he said. "It will temporarily slow beet harvest down but we expect to able to resume harvest operations early next week."
Winter wheat planting is still uncertain for some farmers, Mills said. She said it will depend on how much moisture falls at this time. 
"The exceptional drought conditions have depleted not only surface moisture but subsoil moisture as well, so we will need a fair amount of precipitation to recharge the soil moisture profile before planting will be considered," she said.
She added that they're hopeful strong winter precipitation will set up a productive 2018 season.
Some of the precipitation this week fell as snow. Mountain highway passes and other high-elevation spots noted snowfall Friday morning. 
After this summer, there was little gloom about an overcast and rainy couple of days.
"We haven't had any complaints," said Burleson.