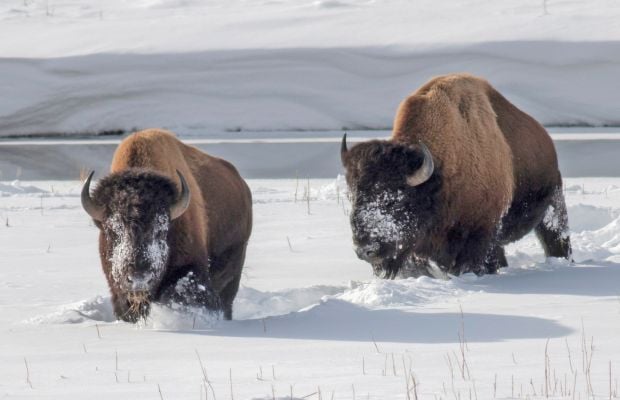 Yellowstone National Park's bison have dodged the bio-bullet, again.
Following a 30-day public review, the National Park Service's intermountain regional director signed a record of decision on March 3 scrapping the expensive and controversial remote vaccination program, an attempt to fight brucellosis infections in Yellowstone's bison.
The fear is that brucellosis will be contracted by nearby cattle, which can lead to quarantine of a herd and destruction of infected animals.
The decision by Sue Masica officially completes the environmental impact statement process and outlines the park's plans to continue its vaccination of female bison calves and yearlings.
The bison are vaccinated when they are captured at the Stephens Creek corral in the winter as they migrate out of the park near the northern boundary. Only a small percentage of bison captured by state and federal workers in past years have been vaccinated.
"What the ROD confirms is our earlier selection of the preferred alternative as no action," said Al Nash, Yellowstone's chief of public affairs. "What we've been doing in recent years, we will continue to do in the future."
The Park Service had predicted that the bio-bullet effort — a means of inoculating bison with an air rifle and absorbable bullet — would have cost $9 million over 30 years and produced only modest results.
Representatives of the Montana Department of Livestock and the cattle industry have said they were disappointed that the park didn't pursue remote vaccinations. But Yellowstone's decision to maintain the status quo has been supported by the Interagency Bison Management Plan Citizen's Working Group, most engaged American Indian Tribes, the Inter Tribal Buffalo Council and the conclusions of a science panel.
About half of Yellowstone's wild bison herd, which stands at about 4,000 following the hunting, capture and slaughter of about 600 bison this winter, has been exposed to brucellosis. The disease is spread through infected birthing material and can cause cattle and bison to abort.
Under a 2000 agreement with Montana, the Park Service this winter had 258 bison shipped to slaughter by contract haulers and American Indian tribes that agreed to take the animals for their meat. Hunters killed at least 264 bison, and 60 more were captured and placed in a U.S. Department of Agriculture animal contraception experiment.
Additional information, including an electronic copy of the Record of Decision and of the Final EIS, is available online.
A printed copy of either document can be requested by contacting the National Park Service, Bison Management Program, P. O. Box 168, Yellowstone National Park, WY 82190.