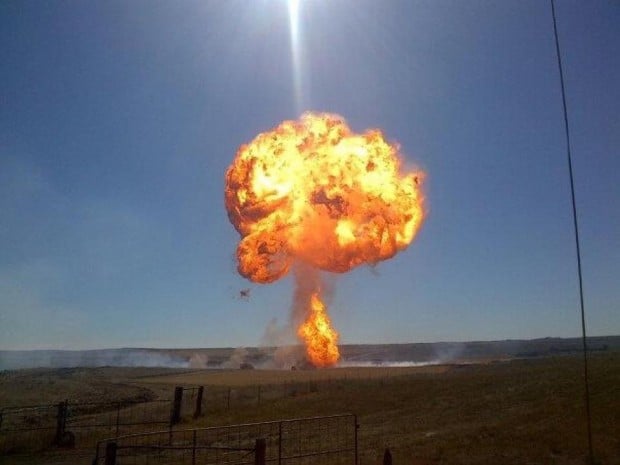 A train west of Plevna has derailed and eight cars carrying alcohol are on fire.
Burlington Northern Santa Fe reports that 15 rail cars went off track around 2:45 p.m. Sunday. Fourteen of the cars were carrying denatured alcohol, which is used as a fuel additive. The fifteenth car was carrying cardboard.
No injuries have been reported. Highway 12, which is near the derailment, has been blocked off at both ends to secure the accident scene.
"Eight cars are on fire. It was a chain reaction of one car catching fire and another car catching fire as well," said Gus Melonas, BNSF spokesman.
"It's a fuel additive. There are no air-quality issues. They are letting the product burn."
Four or five of the tank cars are on their sides.
No lives or property have been threatened.
Firefighters rushed in to extinguish grass set on fire by the derailment, then retreated to a safe spot a half mile away as the rail cars exploded.
"We were just waiting for the cars to blow up and got a good mushroom percussion," said Kelly Gray, of Plevna, who fought the fire with her father, Roscoe. "The heat felt like your eyebrows were going to singe."
One after another, four of the cars exploded, then the fire crews rushed back in to put out new grass fires, which they were still mopping up seven hours after the derailment.
The 106-car train from Aberdeen, S.D. was on a single lane of track that doesn't get a lot of use, Melonas said. Only 63 of the cars involved were loaded with freight.
BNSF crews will work to have the track operational again by Monday. Roughly eight to 10 trains pass through the area daily.