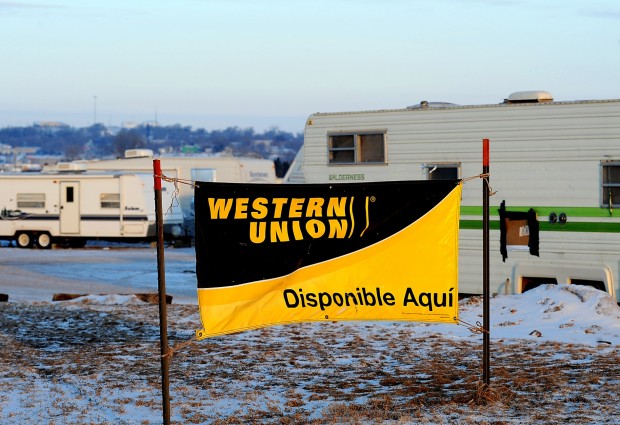 WATFORD CITY, N.D. — Watford City is in the midst of a complete makeover.
The once quiet community on the edge of the scenic North Dakota Badlands used to welcome visitors to a bit of the old West. Now it is renowned for something else — the epicenter of the Bakken oil boom.
"We are kind of in the eye of the storm now," said Gene Veeder, McKenzie County Tourism and Job Development Authority.
Rusty old pickups coated with a mixture of red scoria and gray dust with a rugged rancher behind the wheel were once common on Watford City's Main Street.
Today the pickups are almost exclusively newer models, the trademark method of travel for workers maintaining the furious pace of progress in the Bakken. Unlike a mere year or two ago, the street is almost always crowded with vehicles. Pedestrians braving crosswalks do so with utmost caution.
Other changes are visible, too, in all parts of town. New hotels, housing developments, apartments and retail stores continue to be constructed at a breakneck pace. As the race for oil continues, so, too, does the unprecedented growth in the region.
"It feels better here now than it did last year," Veeder said. "A lot of construction is going on but we are kind of turning the corner now. Coming from a town of 1,600 we figure a population of 8,000 to 10,000 is a pretty fair statement. I'm being conservative. Everyone was crashed into a small space here."
No more, not quite as much anyway. Watford City now has seven hotels and hundreds of apartments. Two additional housing areas are expected to further alleviate congestion. Plans are being made for a new high school. A funding project for a new hospital is underway, too. Construction of both the school and the hospital could begin in the spring of 2014.
Near the intersection where Watford City's east bypass meets U.S. Highway 85 on the city's south side, a number of new retail stores are either open for business or will open soon. Cenex opened a massive new facility earlier this month featuring 16 pumps and a convenience store.
The old Cenex was in a small building on Main Street. It is vacant for the time being.
"Tractor Supply is building, too, and should be open soon," Veeder said. "Our car dealership is expanding. We just broke ground on a new vet clinic. Everything that is getting built is of good quality. The way it looks, we're becoming more of a regional center like a Devils Lake or Valley City."
Adjacent to the sprawling Cenex store is a new CashWise Food store and ALCO. There's a new Chinese buffet restaurant, too, along with Happy Joe's Pizza and Taco Johns. All of the new businesses have been welcome additions to a town striving to keep pace with a rising influx of people.
"The food center really changed people's attitudes. It is a really nice store," said Veeder. "People were waiting for that kind of development. Never again will we be a town of 1,600."
Like it is in many places throughout the Bakken, traffic is heavy in and around Watford City.
"There's nothing good to say about the traffic," Veeder said.
Nevertheless, with the completion of area pipelines the truck traffic is declining in many areas of the Bakken. Watford City's traffic problems are primarily on the south side of the city. A set of signal lights has made movement of traffic much more orderly than before. Further improvement will come when a new bypass is constructed. The project has already received approval.
The impact of the Bakken is evident throughout western North Dakota, particularly so south of Watford City where a number of camps and oil field support facilities can be found for several miles on either side of Highway 85.
It is there that temporary food vendors ply their trade. One vendor promises "Cajun prairie home cooking." At certain times the menu features alligator at $40 per plate. Other choices include crawdad and catfish, meals indicative of the national melting pot known as the Bakken.
"There's lots of work and businesses here are doing well," Veeder said. "A lot of property has been purchased and the level of interest for investors is real high."
Where the expansion ends and when it will slow down are unknowns.
Much depends on improvements in drilling and new technology evolving in the oil industry.
What is known is that life has changed dramatically in a short period for Watford City.
residents and that mo changes are expected in the weeks and months ahead.