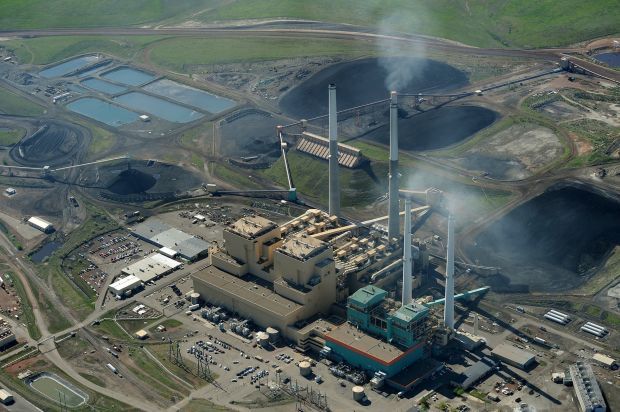 HELENA — The Bullock administration Friday unveiled five options for how Montana can meet proposed federal rules to combat climate change by reducing greenhouse gas emissions — and none includes shutting down or curtailing existing coal-fired power plants.
The options, in an analysis prepared by the state Department of Environmental Quality, include developing more renewable power and increasing the efficiency of existing coal-fired plants or capturing some carbon emissions from those plants.
In a letter released Friday, Gov. Steve Bullock said DEQ's analysis suggests the federal rules can be met without shutting down coal-fired power plants in Montana or causing substantial rate increases for electric consumers.
Bullock's options are in response to the U.S. Environmental Protection Agency, which in June announced targets for reducing carbon dioxide emissions by 2030 and asked each state to draw up a plan for meeting the target.
The administration's proposals drew praise Friday from environmentalists, organized labor and the owner of Montana's largest coal-fired power plants, which are big emitters of carbon dioxide.
"This is a good conversation starter," said Anne Hedges, program director for the Montana Environmental Information Center, a staunch critic of coal development. "I don't agree with it all, but the point is to figure out how things work, and what's the best way forward. …
"A lot of work went into this (analysis). My guess is we're going to end up with a combination of these options."
David Hoffman, spokesman for PPL Montana, which operates a 2,400-megawatt plant at Colstrip that emits about half the state's carbon dioxide, said the company is pleased with the message that the standards can be met without shutting down the plants.
The actual impacts on coal-fired plants depend on the final rule, he said, and the company plans to be involved in the rule development.
The coal industry, however, and the state Republican Party criticized Bullock Friday for "embracing" the Obama administration's proposed crackdown on greenhouse gases, saying its costs will outweigh any benefits.
"What we should be doing right now is looking at the pros and cons of the EPA rule and whether we should be doing it or not," said Chuck Denowh, spokesman for Count on Coal Montana, a coalition of the industry and supporting businesses.
"We're seeing other elected officials raise those questions, other governors," he added. "It's disappointing that Governor Bullock has chosen not to participate in that discussion and instead embrace the president's rule."
Montana's target is a 21 percent reduction of its 2012 CO2 emission levels by 2030. EPA doesn't plan to approve final rules until 2016.
Bullock, who left Friday for a trade mission to China, said in his letter that Montana is an energy-producing state, but that he's "very concerned" about the impacts of climate change on the economy and the environment in the state.
The DEQ analysis is not meant to "provide all the answers," but rather to "generate meaningful thought and discussions and serve as a starting point for all Montanans to better understand the implications of these rules for our state," he said.
Bullock said increasing demand for electricity means Montana and the country will need both carbon-based and cleaner, renewable sources of power in coming decades — and that the country needs more emphasis on research to develop clean energy.
Al Ekblad, executive secretary of the Montana AFL-CIO, said the five options put forth by the governor are "responsible solutions" that will maintain middle-class jobs and protect the current energy industry.
The Montana Chamber of Commerce and Count on Coal Montana predicted the options would lead to much higher energy rates for Montana consumers and cost jobs in energy-reliant industries.
"Our elected leaders need to proceed with care and caution to ensure a proper balance between reducing carbon emissions and maintaining jobs and energy affordability," said Glenn Opel, government relations director for the Chamber.
Republican Party Executive Director Bowen Greenwood said Friday the rule was "crafted by the same environmental activists who dumped hundreds of thousands into the governor's election campaign," and now they're getting paid back by "a governor who seems to willingly follow the president's radical agenda."
Kevin O'Brien, deputy chief of staff for the governor, noted that each option "would keep Colstrip open, create new, good-paying, clean-energy jobs and protect Montana's way of life and family farmers and ranchers – the backbone of our economy."
Hedges also said it's unrealistic for opponents to argue that Montana should be resisting the rule.
"Bullock is a problem-solver and they are obstructionists," she said. "We either let EPA make a rule for us, or we can make our own rule. Those are our options."