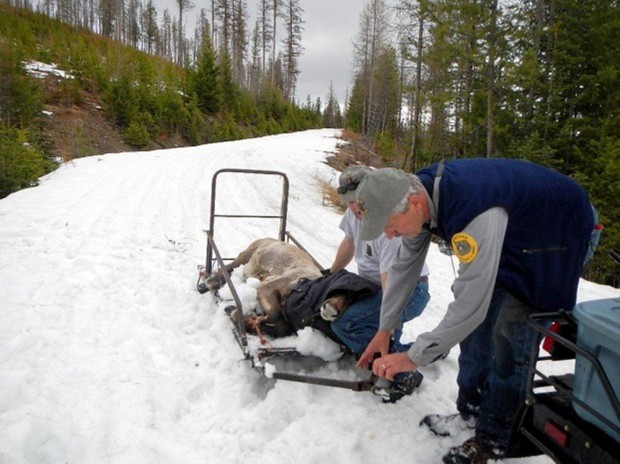 We finally get a new caribou in Montana, and we have to give it back.
Montana Fish, Wildlife and Parks biologists thought they were recovering the satellite collar of a British Columbia caribou that apparently wandered into the mountains near Eureka and died. But when they reached it on Thursday morning, the recovery mission turned into a rescue.
"I was looking for signs of blood or hair," FWP wildlife manager Jim Williams said on Friday. "I saw wolf tracks, and then we found a drag mark, so I'm thinking mountain lion. All of a sudden this head pops up, and there's a caribou looking at us."
The mountain caribou cow was bigger than a mule deer but smaller than an elk. It was one of 19 transplanted into the Purcell Mountains of British Columbia on March 3. For the past 10 days, it had been wandering the forests south of the Canadian border, swimming across Lake Koocanusa three times.
Then B.C. Ministry of Forest Lands and Natural Resource Operations wildlife biologist Leo DeGroot got a "mortality signal" from the collar, indicating the animal hadn't moved for at least six hours. He called Williams in Kalispell and asked if FWP could find the carcass and learn what happened.
"I was expecting at end of day to have a call on what it had died from," DeGroot said from his office in Nelson, B.C. "Instead they called and said they have it live in the back of their truck."
Williams and fellow FWP biologists Tim Manley and Tim Their snowmobiled up into the Pinkham Creek area south of Eureka, guided by the caribou's GPS signal. They found it lying in some bushes, able to lift its head but not its body.
Knowing how much investment their B.C. colleagues had put into the transplant effort, the Montana biologists decided to bring the caribou to care. They had no tranquilizers, but the cow didn't resist their efforts to move it onto a sled. Williams said its legs seemed "rubbery."
"We assumed starvation, although it didn't look thin -- it looked good," Williams said. "Then Tim Manley noticed a bunch of big gray ticks behind its ears. Tim had llamas, and he knew they can get tick paralysis. It can kill the animal, or it can be just fine in three or four hours."
They got the caribou to veterinarian Nancy Haugan at Mountain Vista Clinic in Eureka. Haugan gave it some antibiotics and IV fluids, and the cow began a dramatic improvement. Williams went to call DeGroot.
"I told him not only do we not have a carcass, we have a live caribou -- I assume you want her back," Williams said. "Leo set the wheels in motion to work with the Border Patrol."
That involved getting special permission from both U.S. and Canadian border authorities to let the animal drive through the border it had previously walked across. A Cranbrook wildlife biologist hitched up a horse trailer and met the Montanans 30 minutes north of the border.
Mountain caribou are a separate species from the larger tundra caribou that travel in huge migratory herds in the Arctic. They eat lichens that grow on conifer trees, and generally prefer remote, high-elevation places where wolves and mountain lions don't roam.
Although people have reported finding shed caribou antlers as far south as Lolo Pass, Williams said there've been no resident herds in Montana since the 1940s. Bull caribou occasionally roam south from Canada, and one gets sighted every three or four years. A few small bands of mountain caribou enjoy endangered species status in the Selkirk Mountains of Idaho and Washington.
Mountain caribou are also protected from hunting in most of British Columbia. While there are limited permits to hunt bull caribou near the border of Yukon Territory, the rest of the province has been safe habitat since the 1970s.
DeGroot said the March transplant was intended to augment a herd of 14 caribou in the Purcell Mountains of British Columbia. They were able to helicopter 10 newcomers to a spot within 100 yards of the resident herd, but bad weather delayed the second half's delivery. Regardless, all of the transplants opted to go exploring, eventually disintegrating into ones and twos.
Fortunately, DeGroot still had about 20 pounds of tree lichen left from the 150 pounds a group of volunteers had gathered for the initial transplant effort. He put the load on a Greyhound bus for an overnight delivery to Cranbrook, where it was served to the rescued caribou on Friday morning. As of 8 a.m. Friday, it was able to stand on its own.
"We will wait a day or two to let it get its strength back," DeGroot said. "Then we'll fly it back to a resident group. Hopefully it stays this time."
Be the first to know
Get local news delivered to your inbox!