Arabelle Laddusaw feels at her most independent when she's riding her horse and competing in the rodeo. She's in control and it's the best thing she does all week. 
"It's exciting and I love doing it," she said. 
Arabelle is 7 and will be a second-grader at Big Sky Elementary when school resumes this month. As a 1-year-old she was diagnosed with cerebral palsy and has spent most of her young life learning to live with it.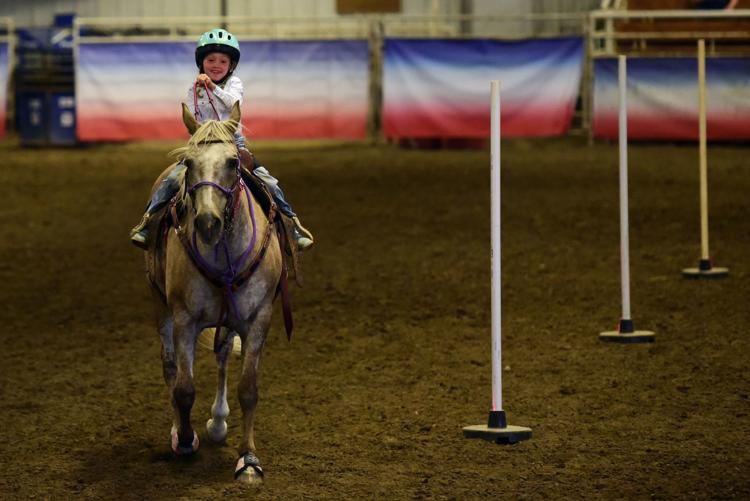 And horses and rodeo is how she does it.
Horses have long been a big part of the Laddusaw family. 
"My mom has always ridden horses," said Christine Laddusaw, Arabelle's mother. 
Christine's parents have owned horses nearly all their lives, and Arabelle's older sister was a barrel racer all through high school. It wasn't long after Arabelle learned to talk that she started asking about riding horses. 
"She said she wanted to do it and so I told her, 'We'll figure it out,'" Christine Laddusaw said.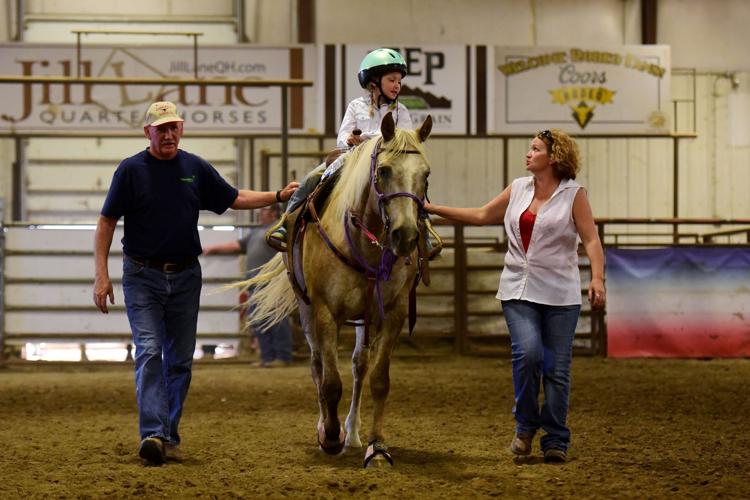 Arabelle was born prematurely, and Christine knew at the time that her daughter would likely have cerebral palsy. When the diagnosis was official, Christine knew there would be activities other kids could do that Arabelle likely couldn't. 
Cerebral palsy is a type of damage to specific brain matter that affects a person's ability to move. When Arabelle explains it to her friends, she tells them that the signals that fire from her brain giving directions to her legs get lost on the way down. 
Specifically, Arabelle has spastic diplegic cerebral palsy. The nerves that tell the muscles in both legs to contract are constantly firing, meaning Arabelle's legs are rigid and immovable. As a toddler her legs settled in a stiff, scissor position. 
That was about the time Arabelle started seeing Susan Apkon, a doctor at Seattle Children's Hospital in rehabilitation medicine. Apkon specializes in children with disabilities. 
To help loosen the rigidity, Apkon had Arabelle undergo a surgery that clips selective sensory nerves in her lower back to reduce the amount of signals telling her legs to flex. 
"It's a really cool surgery and really effective," Apkon said.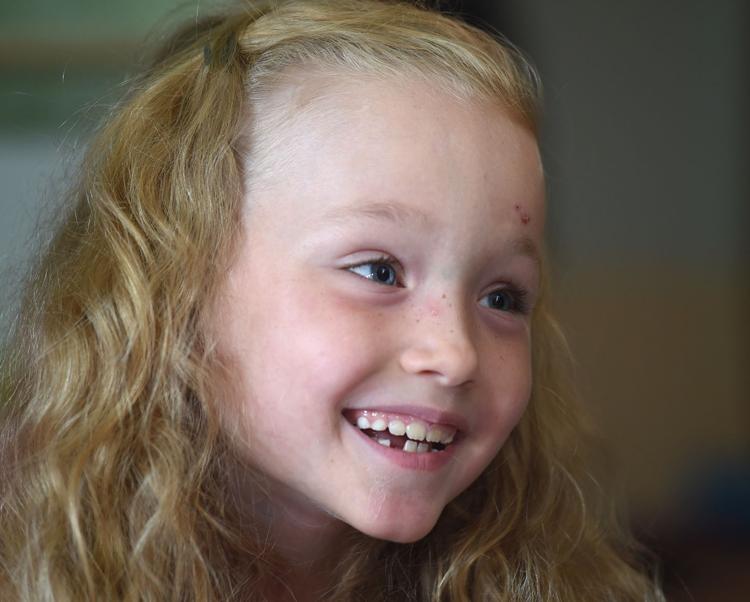 It's been a success for Arabelle. Her legs are no longer rigidly scissored and she can use them with the aid of crutches and a walker to get around. But really, nothing would have held her back. 
You have free articles remaining.
Keep reading for FREE!
Enjoy more articles by signing up or logging in. No credit card required.
"I've had a lot of kids who've done horse-based therapy," Apkon said. "I've never had anyone quite like Arabelle."
Arabelle is bright, funny and headstrong with a shock of curly blonde hair. And being able to participate in the Tomorrow's Rodeo Champions program she gets to experience complete independence, something she constantly pushes for in her everyday life. 
"I say to my aide at school, 'Just let me do it,'" she said, smiling. 
Christine was never really nervous about Arabelle participating in rodeo. Horses and rodeo are a big part of her family culture. But more to the point, for the younger children who participate, the horses are led around the arena by adults and the events are tightly controlled.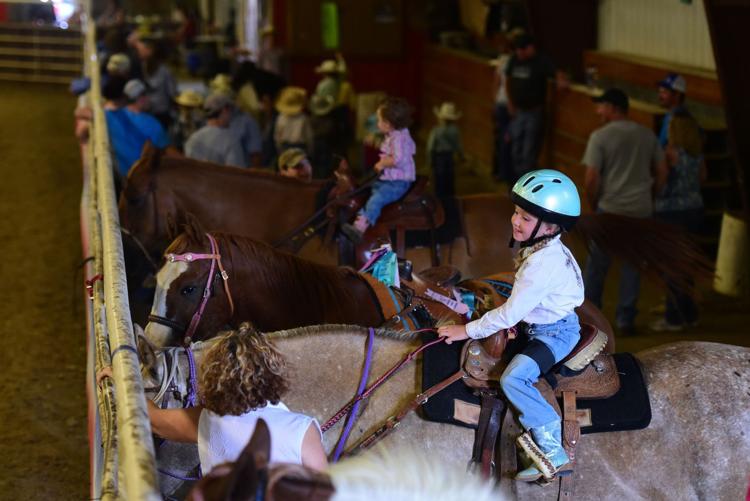 But now that Arabelle is 7, that's not the case. 
"This year has been the scariest," Christine said. 
The horses are no longer guided in competition, and the children control the animals on their own. With the cerebral palsy, Arabelle can't kick to spur the horse forward, so she uses sounds to control it. She's more or less strapped onto the horse with a special harness so there's no danger of her falling out of the saddle. That brings her mother some comfort. 
"And it's great therapy," Apkon said. "Her participation in that rodeo, it's just perfect." 
Participating in the rodeo helps Arabelle build core strength and upper body strength. It sharpens her concentration and provides a specific type of mental rigor. 
"She constantly has to think ahead," Christine said. 
Most importantly, practicing and competing with the rodeo places Arabelle among peers. It's a setting in which she can comfortably socialize and create genuine friendships. She's able to find confidence. 
"It's being part of a group," Christine said. "She's not left out."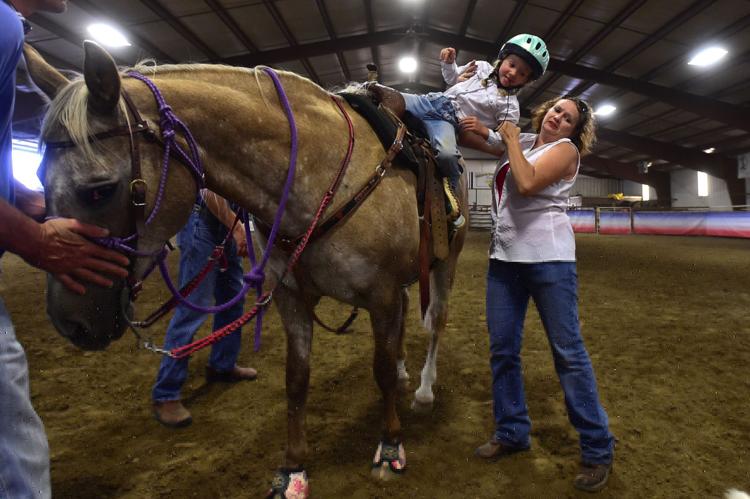 Apkon sees its value because it allows Arabelle to be a kid and for a few moments not to have to think about cerebral palsy. 
For Arabelle, it's just another way to push a bit on the borders that define her everyday world. She pushes to play unaccompanied on the playground and often tries to talk her mom into letting her try something new. More often than not, Christine will relent just a bit and discover that Arabelle can do some surprising things. 
"It's us that hold her back, not her," Christine said, smiling.