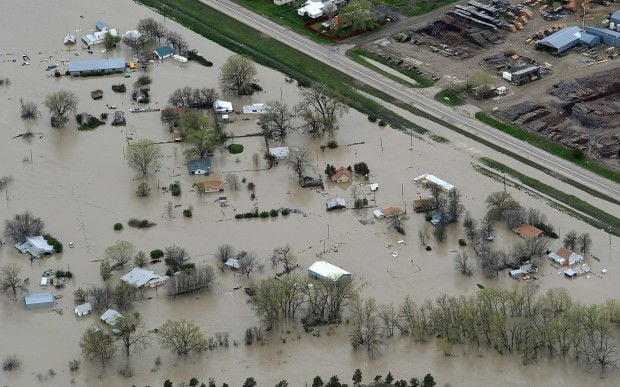 There are 9,000 feet of horizontal coal mine tunnels around the community of Roundup, so many that the maps denoting their whereabouts resemble a cityscape.
There are tunnels under the Musselshell River with entrances that are occasionally consumed when water reaches flood stage. There's one that interacts with the drinking water for the town of 1,900. Most are long forgotten, though now and then one will reveal itself under the slow-turning wheels of a farmer's tractor.
"Right around the town of Roundup, within six miles of the town, there's 40 to 45 mines," said Scott Graham, of the Department of Environmental Quality. "There's 142 in the county."
Roundup gets its name from the ranchers who handled livestock in the area, but coal and the Milwaukee Railroad played a significant role in this south-central Montana community. This is where 35 miles of oxbows in the river were trimmed to accommodate the train and coal was gouged from the hillsides.
The environmental cleanup list for the area is also pretty long. Graham and DEQ will hope to start cleanup later this fall on the remains of the Davis and Jeffries No. 18 mines. It will hold a public hearing on its plans June 28 in Roundup. The meeting is from 5:30 to 7:30 p.m. at the Ambulance Barn, 701 First St.
Davis mine, located on Meathouse Road, is the most significant part of the project, Graham said. The mouth to the Davis mine is on the same side of the river as the town, an unusual location; most mines are on the other side of the river. The Davis runs under the Musselshell, and because of its proximity to the river, the mine's entrance is protected by earth piled high enough to keep the river at bay except during the most extreme flood years. The problem is, during exceptional flooding, the earthwork protecting the mine prevents water that floods south Roundup from draining back into the river.
DEQ wants to restore the floodplain to its natural state, which will also improve wildlife habitat.
Jeffries No. 18 mine is 1.25 miles downstream from Davis Mine. There's a large concrete mine feature, a road prism, that once was used to help deliver coal by bridge across the river to Roundup. DEQ had planned to remove the concrete, but now is thinking about leaving it be because the flooded Musselshell claimed the concrete this spring. The goal now is to remove Jeffries waste coal deposits from the river bank and restore the floodplain, while also protecting No. 4 Road — at least until it can be relocated.
Be the first to know
Get local news delivered to your inbox!