COLSTRIP — Some say it was only a matter of time before the 1.6 million people at the other end of Colstrip's 500-kilovolt power lines became aware of this southeast Montana coal town.
Those energy consumers, alarmed by climate change, are now knocking on Colstrip's door. The community is in trouble.
"The world has caught up to us. We were isolated from it and we're not now," said Donna Tauscher.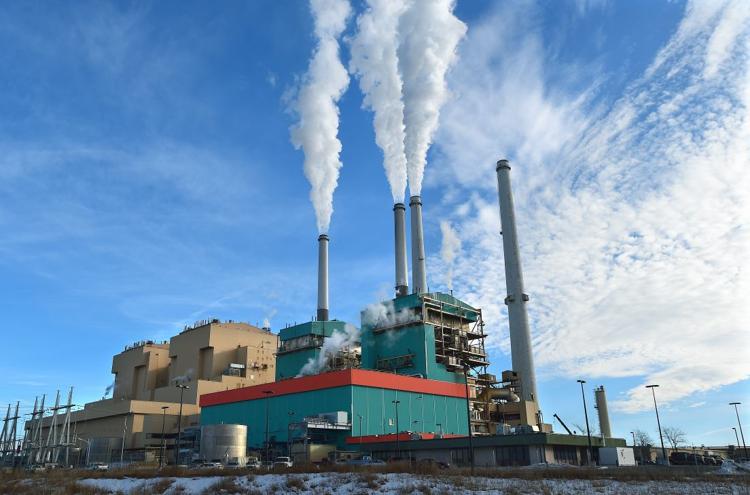 The 30-year resident of this company town sees palpable changes in Colstrip, brought on not just by pollution-weary consumers, but also new Environmental Protection Agency regulations for greenhouse gases, dubious matters according to residents.
"To me, it seems like the impression of Colstrip is that we're a horrible hazy place where people are dying of cancer," she said. "I get that impression, and it's not true."
Colstrip is a well-manicured town with 32 public parks, seven miles of trails, an Olympic-sized swimming pool and sterling public school facilities. It is a company town lost in the beige, sagebrush dotted plains for one reason: Powder River Basin coal, enough to power America for centuries.
The air isn't hazy. On this January day, it's hard to stare at the bright blue sky for more than a few seconds without squinting. But passing the eye test isn't putting Colstrip in the clear.
Colstrip Power Plant is the nation's 15th-largest producer of greenhouse gases, emitting 13.5 million metric tons annually, according to the EPA.
The 40-year-old facility, owned by six different power companies, is under pressure to shutter its two oldest portions. Roughly 80 percent of the households in this community of 2,300 depend on a job either at the power plant, or Rosebud Mine, which feeds the plant one rail car of coal every five minutes.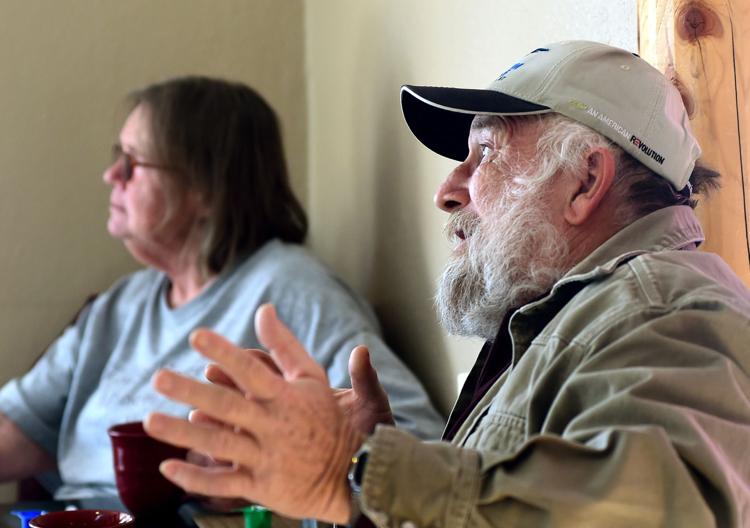 As goes the power plant, so goes the community. Selling a home in Colstrip has become extremely difficult. Newcomers are leery of buying a home unsellable in the future.
The tax revenue from the power plant could be cut dramatically if the older portions of the Colstrip plant are decommissioned.
"I don't think Montana realizes either, that it's addicted to coal," Tauscher said.
Montana receives $103 million a year from various coal taxes, reports the state Department of Revenue. It's about 4.6 percent of Montana's $2.2 billion tax revenue. Much of that coal money is dedicated to infrastructure projects.
The state's coal severance tax trust fund, which funnels interest to various state causes, totals $1 billion.
None of the stakeholders in Colstrip say they're positioned to cut the cord on coal power tomorrow. Utilities are developing plans to phase out coal power, through energy conservation and using cleaner energy sources like wind, solar and hydropower dams.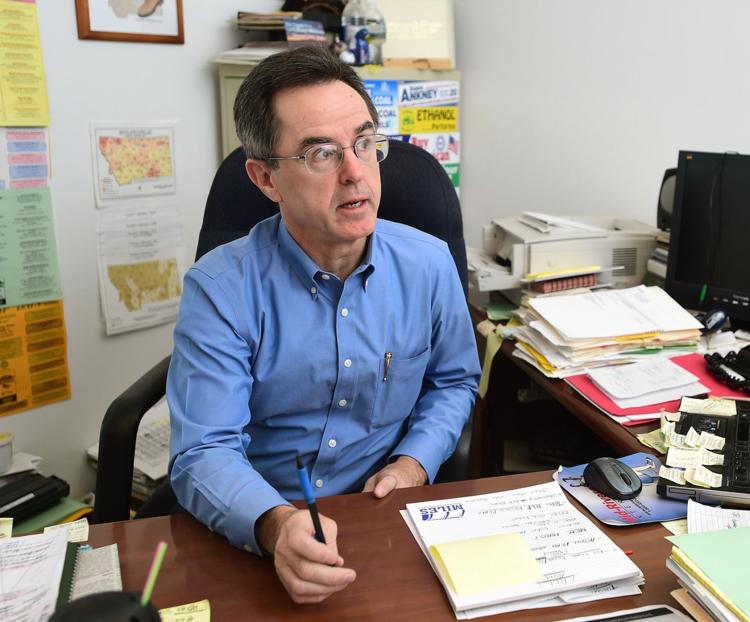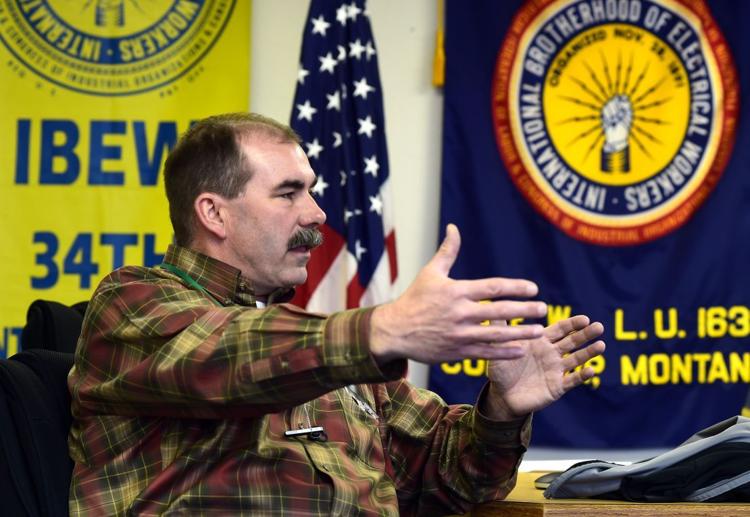 Community fear about Colstrip's future is already changing things.
At the Southeastern Montana Economic Development office, director Jim Atchison said the level of uncertainty around Colstrip's future is affecting the labor force. Rural Colstrip isn't for everyone and the town 100 miles east of Billings is not as attractive to young workers looking for career certainty as it once was.
However, the challenges are more than regulatory, said Rex Rogers, representative of the International Brotherhood of Electrical Workers. Colstrip pay, with wages ranging from $24 to $42 an hour at the power plant, has not kept up with the industry.
"If this job is only going to last 10 years and you were going to pay me $80 an hour, I think I would take it, but when wages are not very outstanding and you have other issues, like whether a spouse would move here, a lot of times it's challenging," Rogers said.
The power plant in Wheatland, Wyo., pays 13 percent more than Colstrip, Rogers said. That's an example of more than regulatory challenges keeping workers away.
For Lacy and Tony Mansfield, Colstrip's changes can be measured in dollars. In 2014, the Mansfields refinanced their six-bedroom, three-bathroom home. They upgraded the house by replacing its baseboard heat with a propane furnace and remodeling the basement. The bank appraised the property at $180,000.
But Lacy was leaving her job as an emergency medical technician to become a licensed midwife, a change requiring additional education. Tony, who is an instrument technician at Colstrip, would keep paying the bills, but the family couple chose to move into a smaller home to save money. That's when they discovered the Colstrip market had changed.
"When we refinanced our house, it ended up appraising at $180,000. So we thought that was a fair," Lacy Mansfield said. "The appraisal for our buyers, who purchased the house, was $144,000, which was pretty darn low compared to the year before."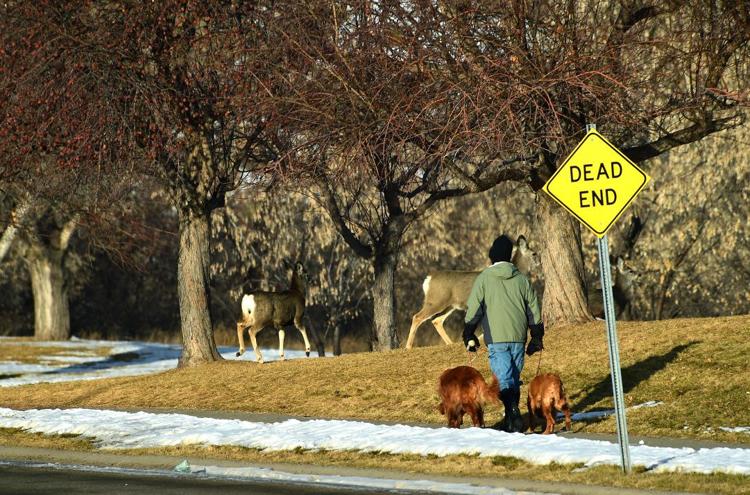 The Mansfields don't think changes to Colstrip operations are imminent, few residents in this community do. Unlike wind or hydropower, which fluctuate with the weather and the seasons, coal power is constant. There's a need for reliability.
But in the Pacific Northwest, where wind, solar and even biomass are coming online, the willingness to tolerate coal's pollution issues in exchange for reliability is waning.
HELENA — Though the buzz in Colstrip last week was over the uncertainty facing the town's co…
In Washington, utility regulators are looking at the feasibility of shutting half of Colstrip down. Two of the state's power companies, Puget Sound Energy and Avista Corp, are Colstrip shareholders. There's political pressure for them to abandon "coal by wire."
Washington's Utility and Transportation Commission will soon decide whether decommissioning half of Colstrip's power generation is in the best interest of Puget Sound Energy's 1.1 million customers. PSE shares ownership of Colstrip turbines 1 and 2, with Talen Energy. PSE would most likely have to buy Talen out to shutter 1 and 2, which are the older and dirtier of Colstrip's four generators. If the commission decides the price of shuttering 1 and 2 is more beneficial than the environmental liability of leaving them be, then a years-long phase-out process will begin. PSE customers would foot some of the bill.
Last Thursday, stakeholders Portland General Electric and PacifiCorp endorsed an Oregon bill preventing the utilities from using power from Colstrip units 3 and 4 after 2035.
Built in the 1980s with better pollution controls than the original power plant, units 3 and 4 have received less regulatory scrutiny. The Oregon utilities draw enough power from Colstrip now to light 367,000 homes.
You have free articles remaining.
Keep reading for FREE!
Enjoy more articles by signing up or logging in. No credit card required.
The other stakeholders are Pennsylvania-based Talen Energy and NorthWestern Energy. NorthWestern provides electricity to half of Montana's consumers.
Meanwhile, the federal government is asking Montana to cut power plant emissions 47 percent statewide by 2030 under the new federal Clean Power Plan. Gov. Steve Bullock and other state officials who initially believed the state would meet the new federal regulations with minimal changes to Colstrip, are now scrambling to develop an adequate plan B. Clean Power Plan estimates for pollution cuts needed in Montana are the deepest in the nation. Bullock has accused President Barack Obama of "moving the goalposts" on Montana by raising expectations dramatically from a previously expected 21 percent reduction.
Also, the Sierra Club and the Montana Environmental Information Center are suing Colstrip over alleged violations of the Clean Air Act.
Colstrip at a crossroads: Town's future uncertain as pressures build on coal
Pressures are building on coal-fired power plants. Colstrip units are the nation's 15th-largest producer of greenhouse gases, emitting 13.5 million metric tons annually, according to the EPA.
If any of the challenges facing Colstrip result in decommissioning units 1 and 2, the town will struggle with basic services, namely water, said Mayor John Williams.
"There are common facilities that we all use. Our water comes from an intake on the Yellowstone River that brings water up to the facilities here. It's pumped 30 miles up here and we are dependent on that water," Williams said.
Colstrip Power Plant pumps the water, which is deposited in Castle Rock Lake a few miles from town. The community then pays the power plant for the pumping. If units 1 and 2 are decommissioned, the town's water costs will increase, Williams said. There's good reason the community doesn't use local well water.
"When we got our water from wells, it had an odor when you got it out of your spigot at your house," Williams said of Colstrip's early development in the 1970s. "Those wells were 600 to 800 feet deep and the water quality was still poor, didn't meet standards."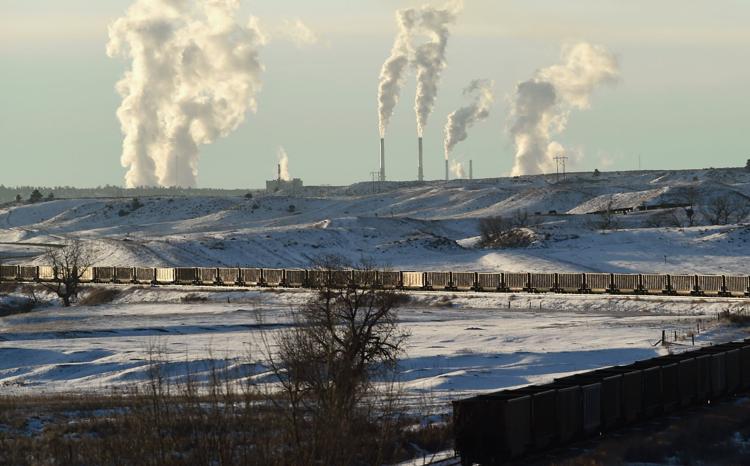 Williams got in on the ground floor of Colstrip's development in the 1970s. At that time, the community consisted of a few homes, some wooden boardwalk and a mine that broke ground in 1924 to provide coal to the Northern Pacific Railway.
Northern switched to diesel-powered locomotives in 1958 and shut down the mine, which was purchased by Montana Power Co. in 1959 and reopened in 1970.
From the beginning, Colstrip's power production was tied to the growing population and manufacturing in Washington and Oregon, which needed more power than could be provided by dams alone. There were public and regulatory challenges to both the mine and the power plant from almost the beginning. However, the consumers in the states that use most of Colstrip's power were fairly unaware of the power plant's existence.
Other utilities had ownership in Colstrip, but it was operated by Montana Power and then PPL through an MPC sale in 2000. PPL then spun off its Colstrip interests to Talen.
Only recently have Pacific Northwest states expressed concern about Colstrip. Washington Gov. Jay Inslee and the state's Democratic legislators are looking for ways to cut carbon fuel out of the state's power supply. Getting the state's utilities to drop Colstrip is big part of that plan.
Montana A to Z: C is for Colstrip
 The Sierra Club, which is a driving force behind the Washington effort the phase out Colstrip, said it will work to help the company town transition from coal, as it has done elsewhere.
"When transition happens, Sierra Club will work aggressively to support the workers and the community just as we did for TransAlta coal plant in Centralia, Wash.: no layoffs and a $55 million transition package," said Doug Howell. "We need to know what are the transition needs for workers and the community."
There are transition funds written into EPA's clean power plan, Howell said. From Sierra Club's viewpoint, the closure of Colstrip is inevitable.
However the challenges are different in Colstrip than TransAlta, where the power plant is on schedule for conversion to natural gas. There's no natural gas line servicing Colstrip to help the power plant transition to something else.
Regulations aren't Colstrip's only challenges, Howell said. Plenty of market-driven activity is pushing Colstrip units 1 and 2 toward closure.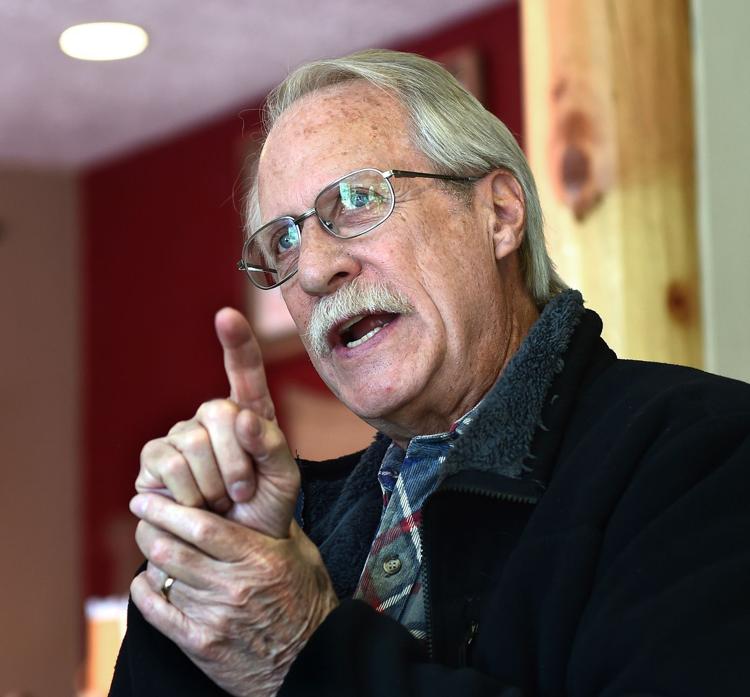 Talen devalued the plant in 2015 company reports. Low natural gas prices, increasing production costs and less demand for coal power are also pulling the units toward phase out, Howell said. Those factors weigh on Colstrip regardless of new federal regulations.
Talen isn't conceding the phase out of any Colstrip units, said Todd Martin, company spokesman.
"From our perspective, it is impossible to speculate on what may or may not happen next with the Colstrip units," Martin said. "There have been no announcements made and we have no visibility into what may or may not happen in the state of Washington."
Montana has to come up with a plan for complying with the federal clean power plan. Talen has a seat on the planning committee and it's possible units 1 and 2 won't have to be phased out, he said.
"Our employees have a singular focus at Colstrip and that is the safe and efficient operation of that plant so we can deliver value to our customers and shareholders and to the Colstrip community, Martin said."
Colstrip residents say Washington and Oregon will find out quickly, once they cut the cord, how important Colstrip power is to their energy supply. Puget Sound Electric gets 33 percent of its power from coal. Avista Corp. in Eastern Washington gets 19 percent if its power from coal, more in the dry months when Columbia River dams don't deliver much.
Tauscher hopes that closing Colstrip won't be the final answer.
"There are distinct advantages of coal energy and there are distinct dangers," Tauscher said. "My feeling is, we as human beings are going to be able to work it out, because our strongest need is for survival and we as human beings will do that."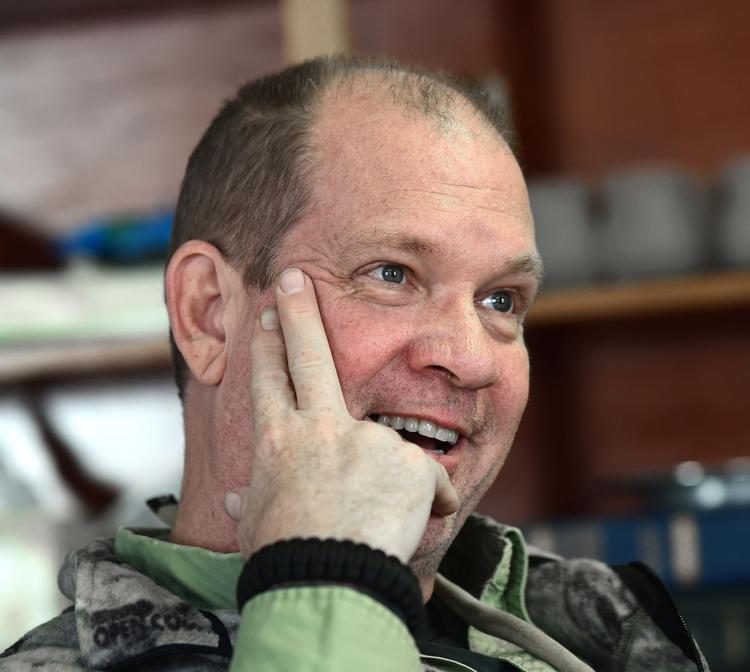 It isn't just people in the Pacific Northwest who are concerned about the environment, said Pastor Robert Shy, of United Community Church. But there has to be a better way forward.
"There's a lot of prayer here for common sense," Shy said. "Seriously, I often think we're sawing the branch we're sitting on. Everybody is concerned about the environment. We all fish. We all live here."
Outside of town, a line of empty coal rail cars stretches west for 11 miles. This is where BNSF stores what its customers don't need. Right now, what they don't need is more coal.